The current challenge at Jitterbuggin' is to follow the sketch, add a Cricut cut and emboss something. 
I'm not sure where my colors for this card came from — I must have been in a "bright" mood.  I recently received an order from Stampin' Up and it was sitting in a box and I started pulling out colors.  All the colored cardstock is from Stampin Up'.
I embossed the three center sections using my Cuttlebug and the following folders:  Spots & Dots, Textile Texture and Forest Branches.  I inked each folder with a different color of ink and then ran white cardstock through the Cuttlebug.  The white scalloped trim around the center section is a Martha Stewart Punch Around the Page set called Scallop 3-Dot.  I used just the very top part of the punched piece — the top dot.  I had to piece it because my cardstock size was not the exact size to take advantage of the punch-around-the-page feature.
I used my Cricut to cut out the skunk from the Create a Critter cartridge.  I also cut the heart-shaped balloon from Create a Critter.  The "thanks" is cut from Don Juan.  I attached some ribbon to the ballon and then attached it to the skunk's hand.  I added a bow to the ballon.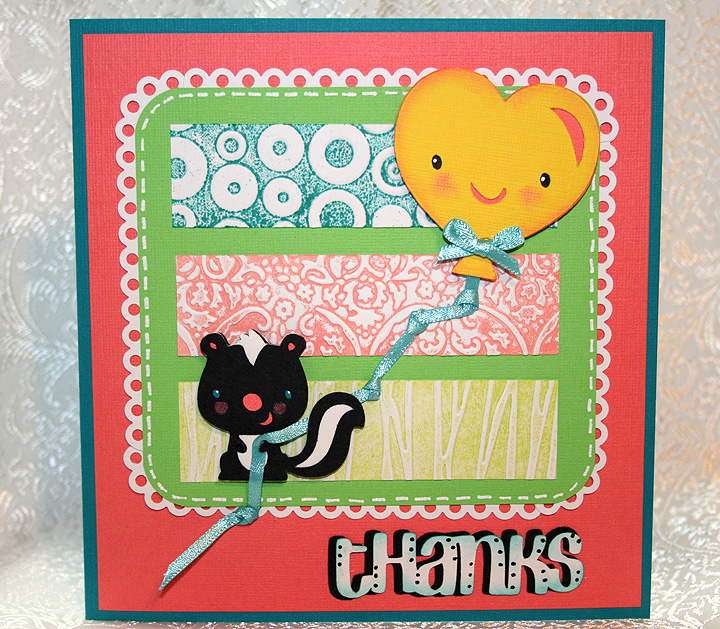 For the inside of the card, I cut another heart from Create a Critter.  I printed the sentiment on the computer.  I added another bow to the inside heart.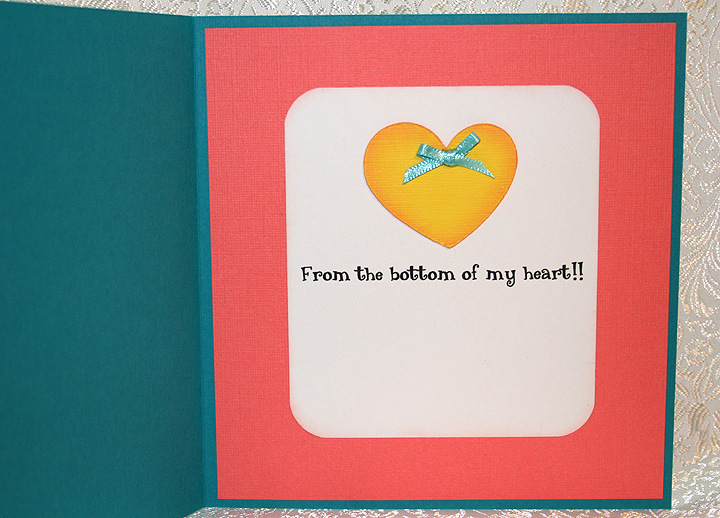 Stampin' Up cardstock
Cricut cartridges:  Create a Critter and Don Juan
Cuttlebug folders:  Spots & Dots, Textile Texture and Forest Branches
Martha Stewart Scallop 3-Dot Punch Around the Page set
Ribbon from my stash