I wanted to make a nice spring card to send to my book box swap partner (Maria), so I went looking at some of the cards I have pinned on Pinterest to get some inspiration.  Right away I found one I liked.  It is pinned from KittieKraft's blog — she makes the most beautiful cards.
I have always wanted to make a wreath card and figured this was the perfect time.  While I didn't have the dies she used to make the wreath, I did have the die to make the cute bunnies.  So I used two Martha Stewart punches to make the wreath — the branch punch and the medium frond punch and I followed Kittie's tutorial on making the wreath.  For the flowers, I used another Martha Stewart punch — the 3-in-1 Hydrangea punch.  I used the two smaller blossoms for the flowers.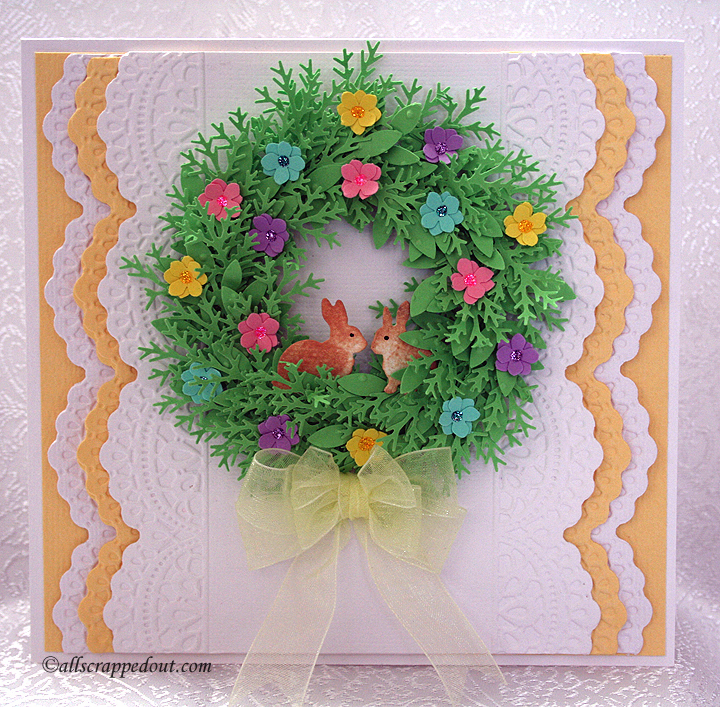 I have been wanting to try my new Anna Griffin Cuttlebug Lace Trimmings embossing folders and dies and thought they would make a nice background for the wreath.  I had no problem cutting the borders, but I did have a bit of a problem trying to emboss them.  The white cardstock embossed fine, but the yellow kept slipping in the folders and the embossing was all over the place.  The yellow cardstock is heavier than the white, so I thought that might be the issue.
I ended up lining the border up inside the folder and taping it (using blue painter's tape) to the Cuttlebug plate.  I was still having a problem right at the end of the folder, where it opens.  So I turned the folder around and ran it through the Cuttlebug with the open end first and then it embossed nicely.
I cut the bunnies in white cardstock and inked them brown using Walnut Stain Distress Ink.  The flowers have Stickles in the centers and the bow was made using my Zutter Bind-it-All.  I sure love how easy it is to make bows using the Bow-it-All.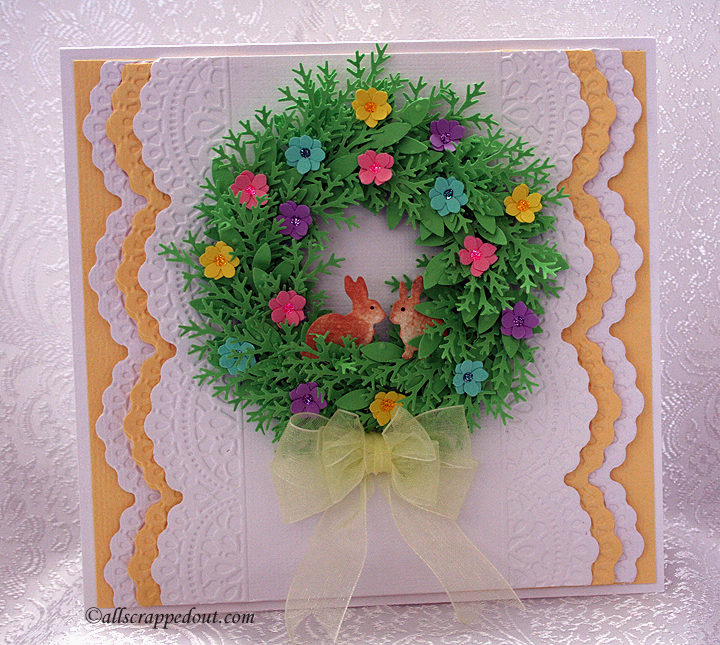 Martha Stewart punches:  Branch, Medium Frond & 3-in-1 Hydrangea
Anna Griffin Cuttlebug Lace Trimmings Embossing Folders & Dies
Zutter Bow-it-All
Stickles