I was inspired to make this layout after my dear daughter, Erin, posted a picture of herself standing in a tulip field in the Netherlands.  Erin and her hubby, Brett, were in the Netherlands the first week of May looking for a place to live as they will be moving there at the end of June.  They are currently living in Taiwan — have been there about 2 1/2 years.
Erin has been to the Netherlands several times before, but she has never been in the country when the tulips are blooming.  She thought they would be too late to see any this trip, but on their way to the airport in Amsterdam to leave, they found this field still in bloom.  Brett snapped the picture and Erin posted it on Facebook.  Once I saw the picture I knew I wanted to do something special with it.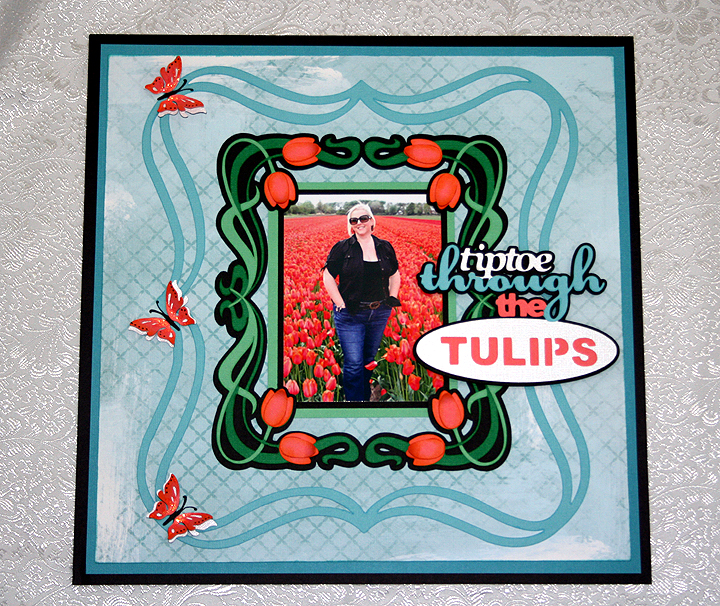 Bitten by the Bug 2 has a frame challenge that began on May 7, right around the time I first saw the picture, so I designed my layout around that challenge.  We were to use a Cricut frame on any project.  The challenge ends today, so once again I am getting my project in just under the wire.
I have to first say that on this layout I finally used my Cricut Imagine.  It has been sitting in the box for some time.  I read some of the problems people were having with their Imagines and it took me quite a while to get up the courage to fire it up.  I discovered that the cartridge that came with my Imagine (Imagine More) was defective.  Luckily I had another cartridge I could use to get the machine running.  I called Provo Craft customer service and they are sending me a new cartridge.
I did manage to get it printing and cutting.  I am having some issues with the machine not cutting each time though.  Sometimes it just spits the mat out after printing.  I will play around with it some more and hopefully it behaves.
For this layout I printed the background paper on the Imagine.  I used a pattern from the Yummy cartridge and filled an 11″ square with the design.  I love that I can now print my own paper!
The solid color cardstock is mostly from Core'dinations, with a little Stampin Up thrown in the mixture.  For my swirly frame, I used the Cricut cartridge Fancy Frames.  I made the tulip frame in Design Studio by welding four corner shapes together from the Art Nouveau cartridge.  I welded just the shadow layer (black layer) only.  I cut the other layers separately so the tendrils would overlap on the center sides.  I also cut some extra tulip petals so I could layer them on the flowers and inked all the flower petals with some Tim Holtz Distress ink.  Here is a close-up of the frame.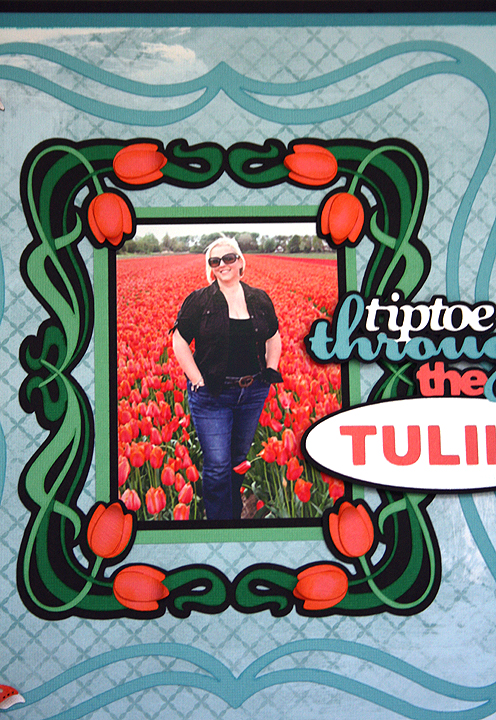 The title is cut from the Bloom Cricut Lite cartridge.  Erin posted on Facebook shortly after she arrived in the Netherlands that she was hoping to tiptoe through some tulips, so this was a perfect choice for the title.  I used pop-dots under the title.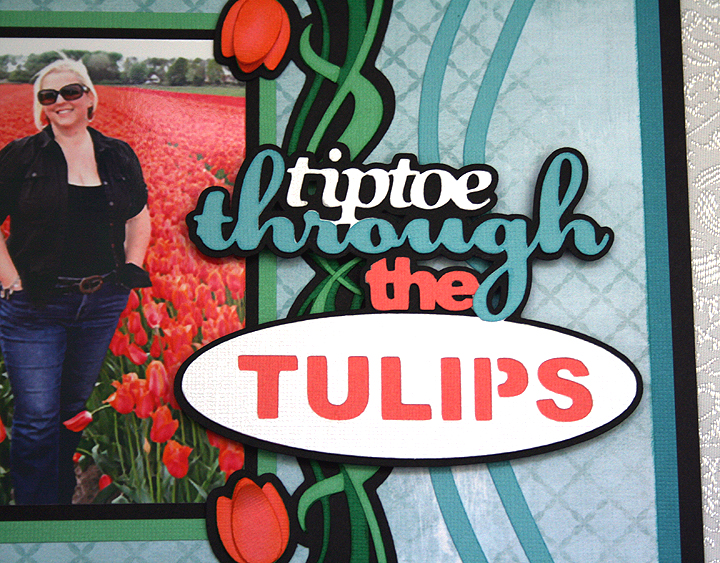 And, finally, to balance out the left side of the layout I added three butterflies from the Indie Art cartridge.  I cut three different layers, and on the last layer I only glued down the inside portion of the wings so I could bend them up.  I added some Stickles to the wings.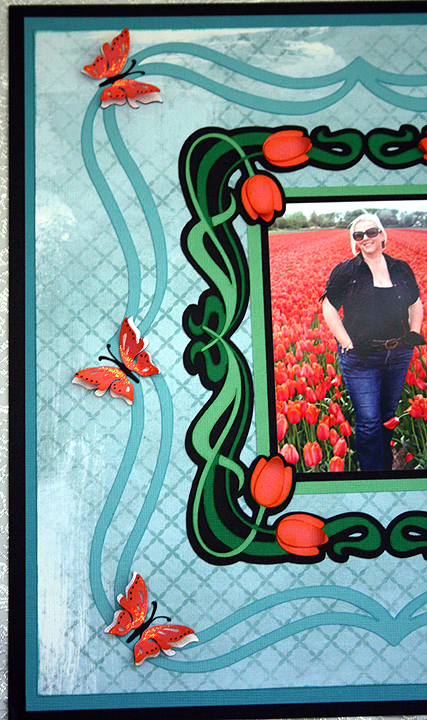 I have been playing around some in Cricut Craft Room and have to say that I am impressed by what it can do.  As with the Imagine, I have read some problems people have encountered with CCR, so I haven't tried cutting with it yet.  I just didn't have time to try it with this project, but I want to share what my project looked like laid out in CCR.  It is a great design aid because you can color your layers and see exactly what your project will look like.  For my background paper, I tried several different patterns before I decided on this one.  With the click of a button I could see what a different pattern would look like with my layout.  I think the final project looks pretty much like what I laid out in CCR.  I made a few changes as I started working on the layout, but this was my blueprint for my project.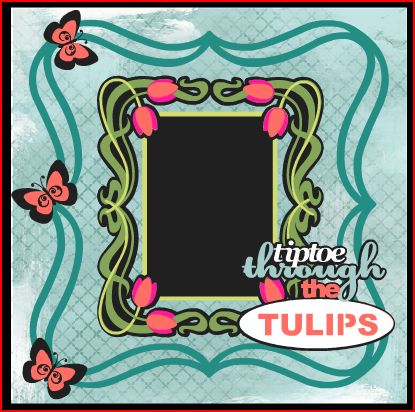 Cricut cartridges:  Art Nouveau, Bloom, Fancy Frames, Indie Art
Cardstock:  Core'dinations, Stampin Up
Tim Holtz Distress Ink
Stickles