This is a card I made to enter in Bitten by the Bug 2's Water Theme Challenge.  The Design Team made some fantastic projects that provided lots of inspiration.  Donna, a member of the Design Team, makes wonderful shaped front cards and I have always wanted to try making one myself.  When I saw her card for this challenge, I decided it was time to give it a try.
The patterned paper is from a me & my Big ideas paper pad that I picked up at their warehouse sale a few years ago.  What a fun day that was — Erin & I brought home a car load of goodies! The solid cardstock is from Bazzill.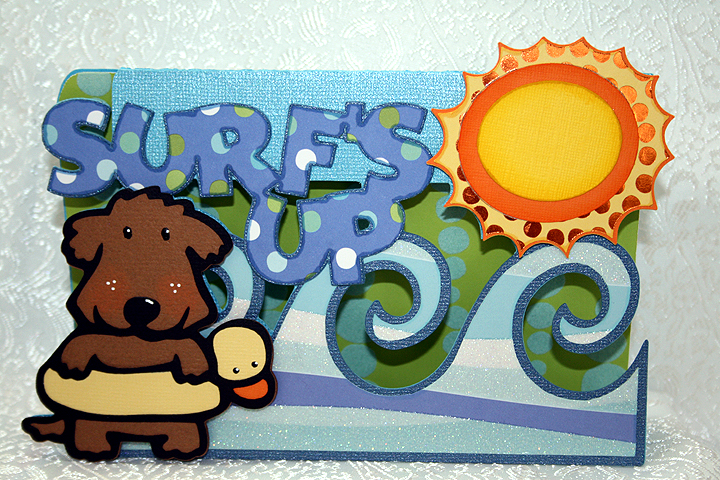 Besides not knowing what I was doing, all the welding proved challenging.  I laid out lots of shapes in Design Studio and welded them together.  For the card front, I welded a rectangle from George and Basic Shapes cartridge with waves from Life is a Beach, a sun from Mickey & Friends, letters to spell "Surf's Up" from Mickey Font, and finally the little dog with the duck floaty from Paper Pups.  All these shapes I then welded to a larger rectangle to form the back of the card.
I cut out lots of layers, did some inking, and then applied them using lots of pop dots.  My card doesn't have the depth that Donna's cards have, but I am happy with my first try.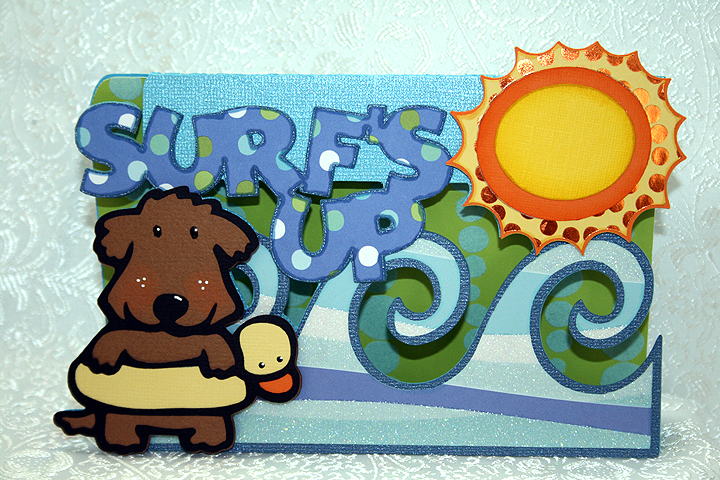 I added a piece of pattern paper to the inside, but I have to figure out where I will write a message.  The paper I used is flocked, so it is bumpy and will not be good for writing.  I liked the paper, though, because it reminds me of air bubbles.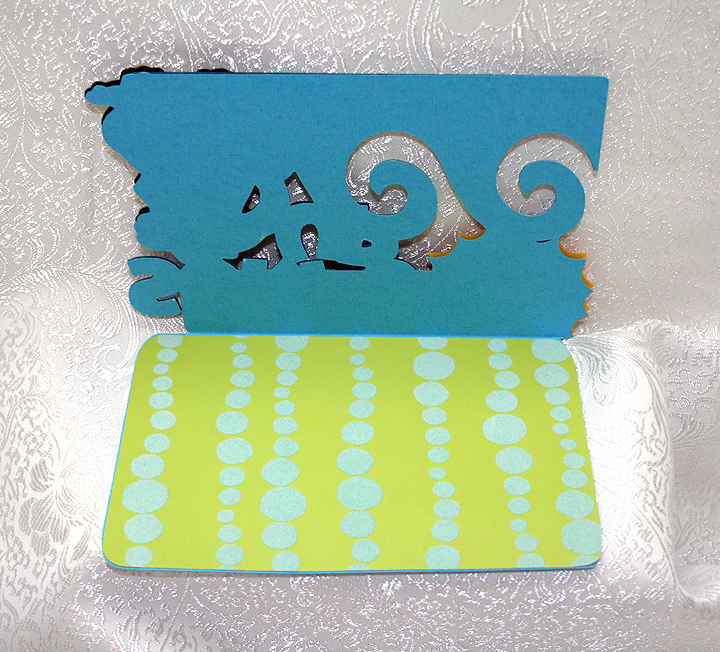 Cricut Cartridges:  George & Basic Shapes, Life is a Beach, Mickey & Friends, Mickey Font, Paper Pups
Cardstock:  Bazzill, me and my Big ideas