The show was a little more crowded today than it was on Saturday, but it was still easy to navigate through the aisles.   Our first stop was at a booth where a line of people had formed.  I figured there was either a really cool demo going on or a celebrity was in the booth.
The booth was Electic Products and they are the makers of E6000 Craft Adhesive.  They are introducing a new spray version of E6000 that has no odor.  In their booth was author, designer and TV host Mark Montano signing and giving away copies of his newest book, The Big-Ass Book of Bling.  Of course hubby and I had to stand in line, and we both got an autographed copy.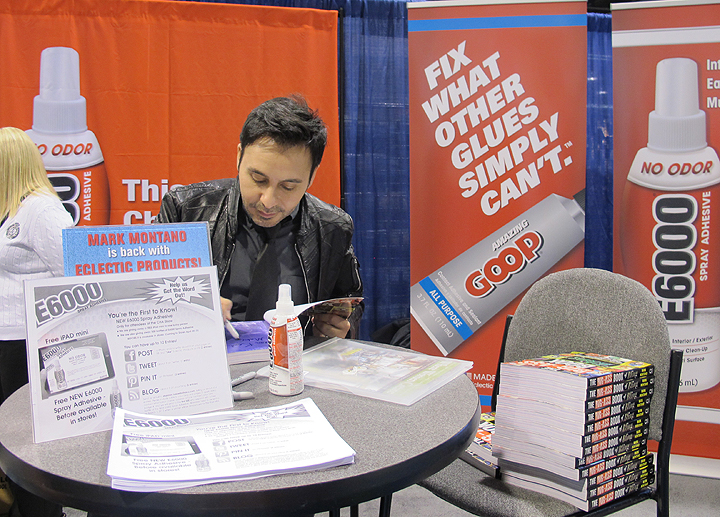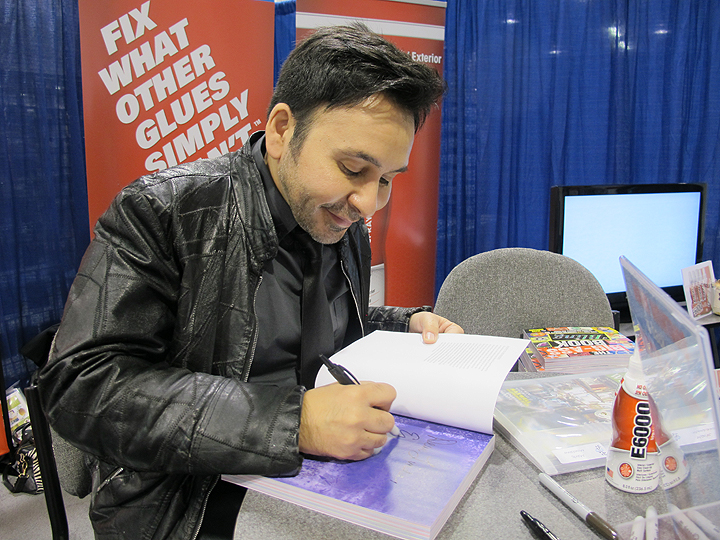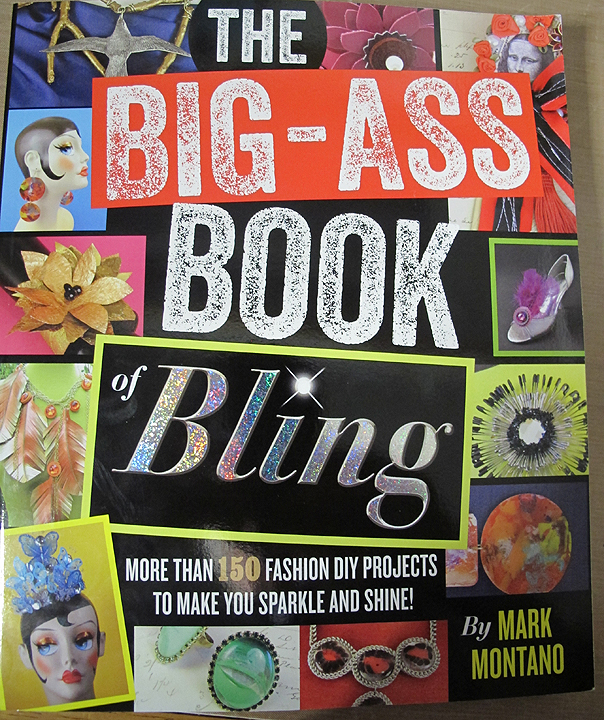 It was funny because when Steve (hubby) first found out what we were standing in line for, he grumbled a tad.  But while we were in line, they handed out some sample tubes of E6000.  Steve started talking to the representatives about their various products and asked if they make any industrial adhesives.  He found they may have an adhesive that will work for his latest project at work.  Then he was a happy camper.
I went  back to Jinger Adams' booth to get some more information on her Over-the-Door Armoire.  Her booth was pretty busy this morning.  I found out the retail price — it is going to be $250.
I also asked where it will be available for sale.  Kristy told me tthat the initial plans are to sell it first on HSN and then have it available in stores.  She said to keep an eye on Jinger's Facebook page and blog because they will make an announcement when they know for sure.
I found a couple of cool new tools today that I am excited about.  The first one I found at Craftwell's booth.  I wanted to try their new eBosser machine and they had several out to demo.  The nice thing about the eBosser is that it is automatic — no handles to crank.  I got to run some cardstock through it with one of their embossing folders.  The machine makes a nice, deep impression.  Since the embossing folder I used makes a card, you can also see it makes the score line to fold it.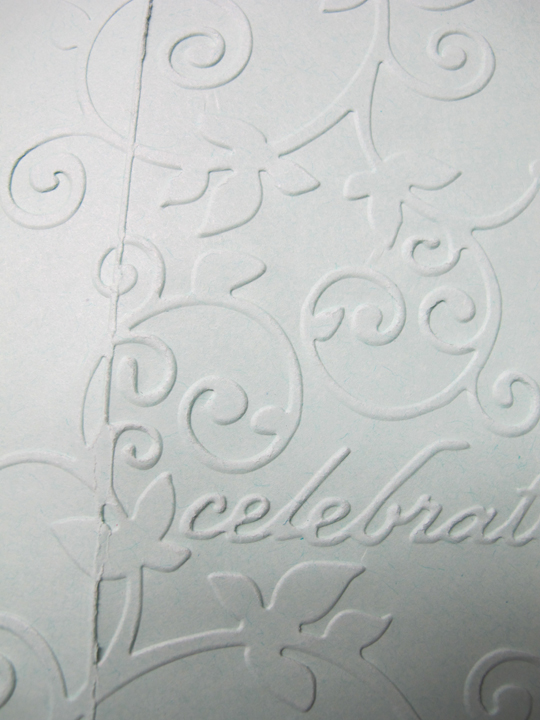 Here's a picture of the eBosser and some felt flowers that were cut with the machine using a die: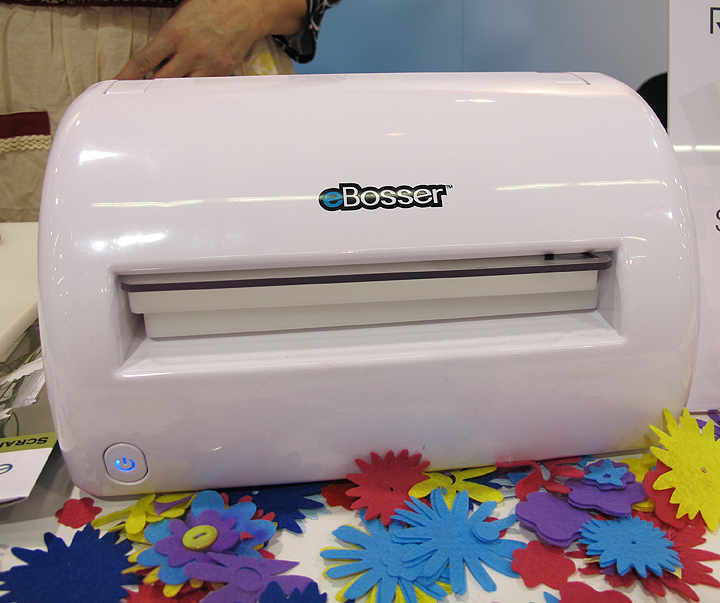 After I did the demo with the eBosser, the lady showed me a prototype of Craftwell's latest goodie — it's an airbrush system for crafters, the eBrush.  The nice thing about this is that the air compressor is the base of the unit — and it's very compact.  There is a spot in the top to hold the airbrush.  It will take up little space on your work area.  She mentioned a fun use for it — using food-safe colors to decorate cakes.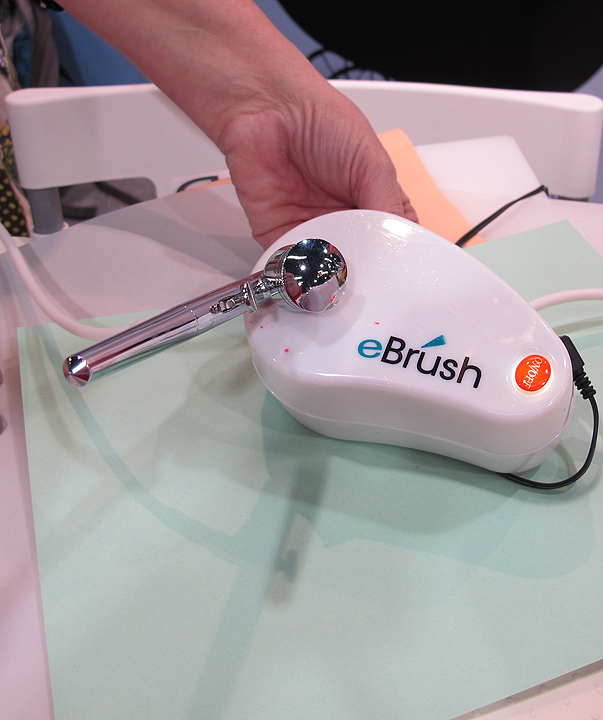 My second fun discovery was in the Zutter booth — they make the Bind-it-All, among many other products.  They are introducing the Bow-it-All, a nifty tool to make bows of many styles and sizes.   It is a board with metal pegs that you move around to make the sizes and shapes.  The extra pegs and tools store in the sides of the board and it comes in a pink bag.
Here are 3 photos of the large display showing the Bow-it-All and many of the bows it makes.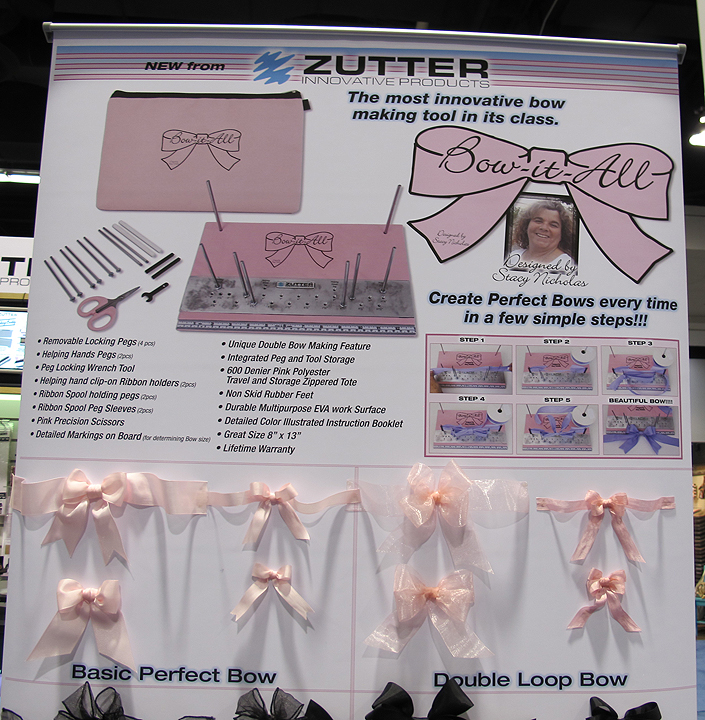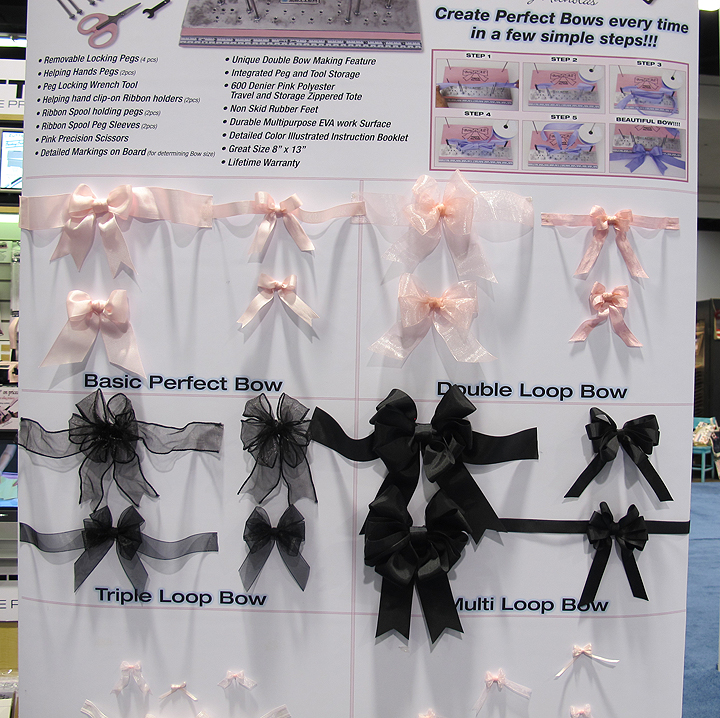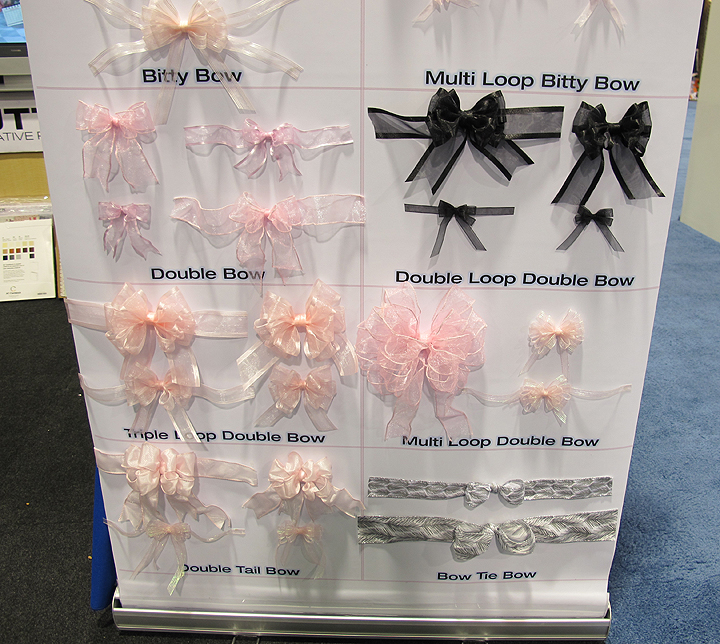 Stacy, the lady who did the demo, is also the designer of this neat tool and I'm sorry to say I didn't get her face in the photo.  She is working with a black one —  the pink version is what is going to be for sale and it will come with a pink case.  The board measures 8″x 13″ and it comes with what she calls "helping hand" pegs.  They are for holding the piece of ribbon in the back, if you are going to wrap it around a card or scrapbook page.  There are little clips that go around the two "helping hand" pegs to secure the ribbon while you make your bow.
Oh, and the way you tie the bow off — Stacy said it forms a "C" shape in the back — ensures that the bow will not come untied.  You can tug on the tails and the bow stays tied.  That is a great feature.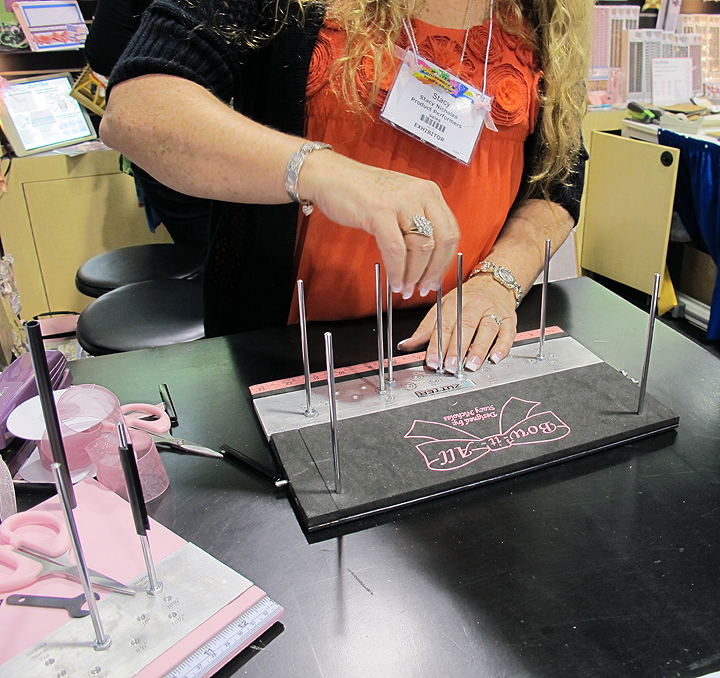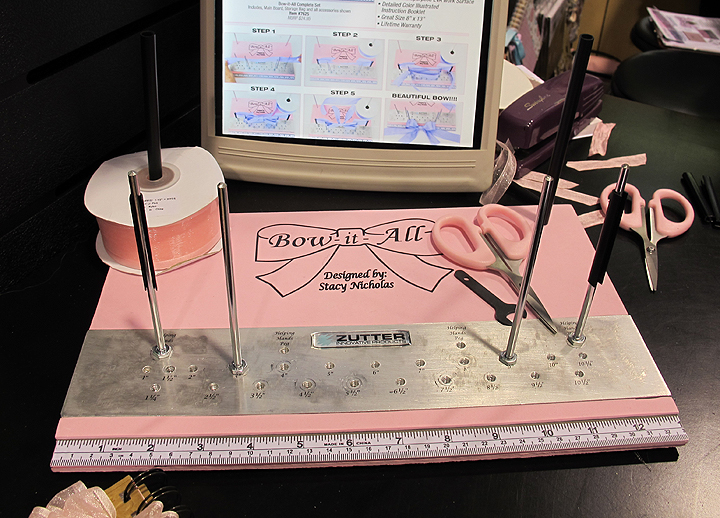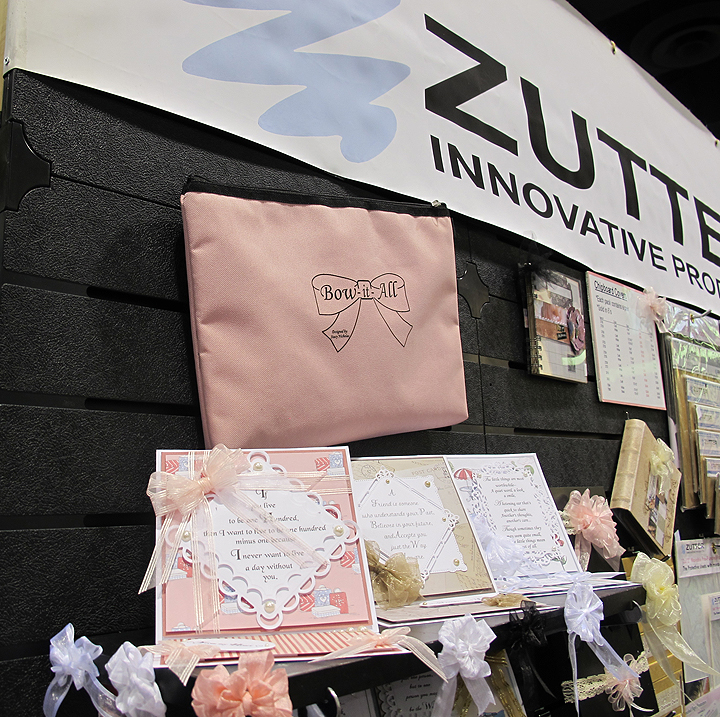 Stacy made two bows while I was there, a small one and a larger double loop one.  She made the small one with seam binding and it measures about 3/4″ — look at how pretty that tiny bow turned out.  She did not put the extra piece of ribbon in the back of this bow — you will notice on the larger bow that it has the extra piece to wrap around. The ribbon on the large bow is 1 1/2″ wide and the bow is about 3 1/4″ wide.  I got to bring both bows home with me so I photographed them on a piece of floral cardstock.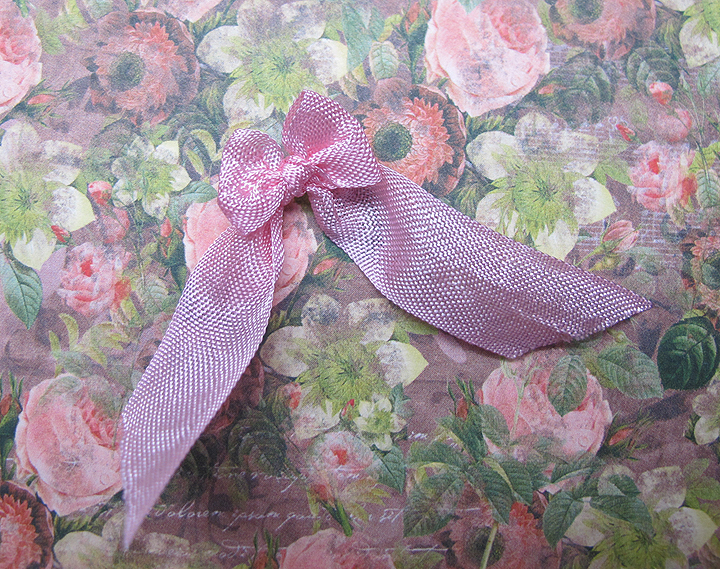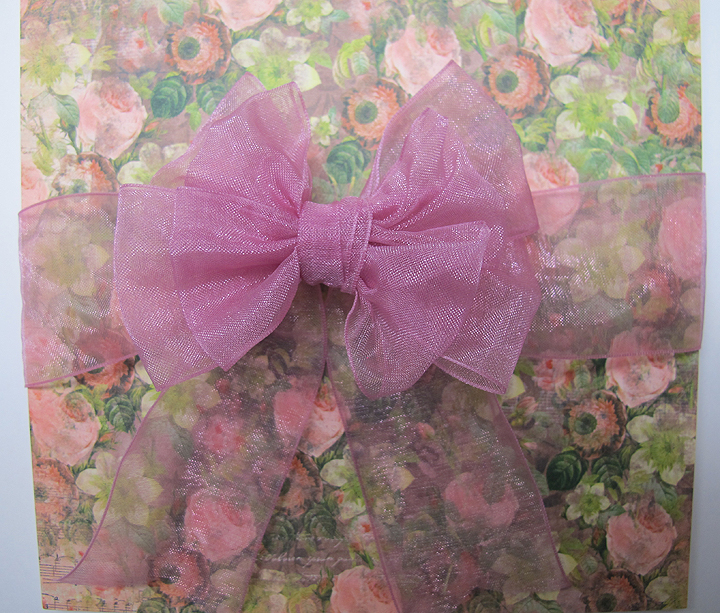 The suggested price on the Bow-it-All is $24.95 and they will be available in the spring.  This is going to be another must-have tool for me.  I love pretty bows and while I think I do a decent job of tying a single bow, the ability to make such a variety really appeals to me.  And to be able to make such nice, tiny bows — that is exciting.  My arthritic hands won't be struggling with tiny loops.
We ended our day back at Craftwell's booth.  They were having drawing and were giving away an eBosser.  They started by giving away four embossing folders first.  These are large folders, 8 1/2″ x 11″.  The lady standing in front of me asked me what would a person do with the folder if they don't have the machine and we both chuckled.  Then her name was called as a winner of a folder and my name was called next!  It must be a sign that I need to purchase an eBosser at some point.