My hubby (Steve) has an uncle who will be celebrating his 95th birthday on Sunday.  His family is having a card shower for him and my SIL sent me an email asking if I would make Uncle Donald a birthday card.  I remembered stories Steve told me about visiting Uncle Donald on his farm.  He had dairy farm, so I thought I'd make a card with a cow on it.
When I asked Steve what he thought about my plan, he said a cow would be fine, but make it a Holstein as that is what Uncle Donald had.  OK, a Holstein?  I looked up Holstein and luckily it is the cow I had in mind — a black and white one.  Since I like whimsical critters, I wanted to use the cute cow on the Cricut Paper Doll Dress Up cartridge.
The pictures of the Holsteins that I saw showed the cows without horns.  I read that the horns are removed when they are young calves.  Since the cow on Paper Doll Dress Up has horns, I just did some trimming before assembling her.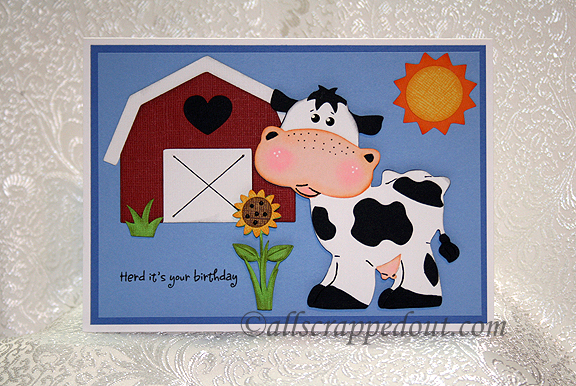 All of the cardstock is Michael's Recollection brand.   I cut the cow at 4″ and did some inking and chalking on her. The spots are from the cow on the Animal Kingdom cartridge, along with the little top knot of hair.   The barn is from Create A Critter, cut at 2″.  The sun is also from Create a Critter cut at 1 1/2″.   The sunflower is from Walk In My Garden and the little patches of grass are from Create A Critter.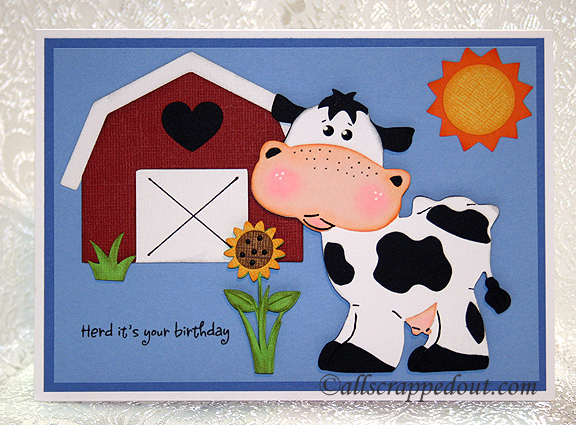 Oh, I almost forgot the sentiment.  It is a stamp from Elzybells Art Stamps.  It came with some cute sheep stamps in a set called Jump for Joy.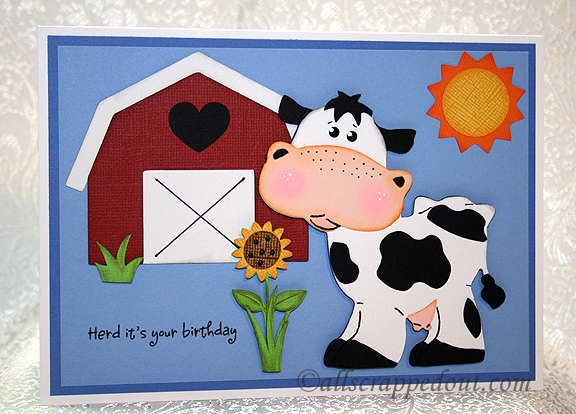 Recollection cardstock

Cricut cartridges:  Animal Kingdom, Create A Critter, Paper Doll Dress Up, Walk In My Garden