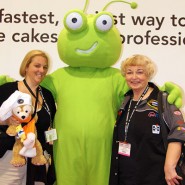 Welcome to All Scrapped Out — a mother and daughter team! We look forward to sharing our papercrafting creations with others and networking with more Cricut and scrapbook lovers.
About Erin
Erin is a freelance travel, food/wine, and Disney Theme Parks writer and blogger currently based in Taipei, Taiwan.  She left California nearly two years ago to move abroad with her husband and is enjoying life as an expat and traveling the world.  To date, she has visited over 40 countries on four different continents.  Some of her favorite places include Belize, Japan, French Polynesia, and Hong Kong.  As a Disney fanatic, she maintains annual passes to Tokyo Disney, Hong Kong Disneyland, and both CA and Walt Disney World. Spending her childhood frequenting craft boutiques and shows with her Mom and Grandmother, Erin grew up a crafter.  While she failed to inherit the sewing gene, she developed a passion for tole painting, which she is hoping to incorporate into some paper crafts.  Although a relative newcomer to papercrafting, Erin is looking forward to eventually starting her own line of of travel based designs and products.
Erin's Craft Machines: Cricut Expression, Cake Machine, Cuttlebug, Gypsy, and holding out hope for an Imagine soon!
Email: erin_desantiago@yahoo.com
About Linda
A lifelong crafter, Linda grew up on a sewing machine.  She grew up in Southern California where she still calls home.  Linda has always been involved in some type of crafts, whether it was tole painting, sewing, cake decorating, embroidery, or papercrafting.  She currently maintains a home-based custom embroidery and personalization business with her husband.  She enjoys paper crafting as a hobby and is looking forward to helping Erin design and market a line of travel based designs.
Linda's Craft Machines: Cricut Expression, Cuttlebug, Gypsy and she's hoping for an Imagine soon too!
Email Linda: threadbearemb@aol.com