The latest challenge at Jitterbuggin' is a fun one involving favorite things.  We are to use our two favorite colors and use our favorite thing as the subject.  It can be a favorite animal, food, whatever we want.  We have to be sure and include a Cricut cut on the card.
Sherri also included a link to a tutorial for a folded paper frame as a bonus.  You can find the tutorial here.  I definitely wanted to give the frame a shot and it proved fairly easy to do.  I will be using this frame again.
Picking two colors is not as easy as it sounds.  I had lots of paper that had my favorites on it, but not a lot with just two colors.  Blue is my favorite color and I remembered a paper pack I got at Joann's a couple of weeks ago.  I dug out the paper and immediately knew I was going to use it.  The colors are blue and brown and the paper is by Cloud 9 Design.
Choosing my subject was much easier than picking colors.  I collect owls, so I knew my card was going to have an owl.  Provo Craft has a lot of cartridges with owls on them, but one of my favorite is from an older cartridge — Disney's Happily Ever After.   I love the big eyes on this little guy.
My card is 5″ square and I made the folder paper frame the same size as in the tutorial.  The scroll frame behind the folded frame is from a Cricut Lite cartridge, Lacy Labels.  There are several layers to the owl.  I added some extra layers in order to get light and dark colors for his eyes.  The flowers are a Martha Stewart punch called Pop-Up Water Lily.  I punched the flowers out of Starlight Pearl paper by Core'dinations and inked them blue.  I added some brown pearls to the centers.  I  used a Martha Stewart Branch punch for the filler behind the flowers.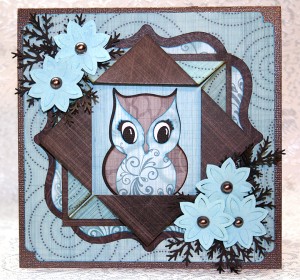 I used the same scroll frame on the inside of the card that I used behind the folded frame on the front.  I added a couple of the punched flowers in the corner.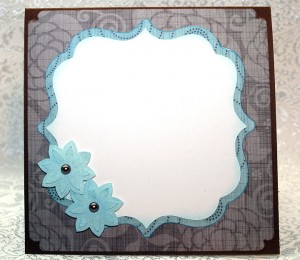 Specialty cardstock by Cloud 9 Design
Starlight Pearl Paper by Core'dinations
Cricut cartridges:  Disney Happily Ever After and Lacy Labels (Lite)
Marvy corner punch
Martha Stewart punches:  Pop-Up Water Lily and Branch
Pearls and ink from stash