I've had my Cricut and accompanying scrapbook supplies for quite some time, but in between moving to Taiwan last year, traveling extensively, and then moving apartments here in the city, everything has been in boxes, simply collecting dust.  My Mom has been encouraging me to participate in one of the challenges posted on the Cricut Community Message Boards for months, so when I saw the cartridge exploration challenge for Paisley, I figured this was as good of time as any to dig in!
Although I still have quite a bit to learn about papercrafting, the features of each Cricut cartridge, not to mention learning Design Studio- I think my first attempt was not as disastrous as I expected it to be.
The object of Cynthia's cartridge exploration challenges is to make a card with the particular cartridge, using it for all the cuts, except for any necessary font.  It is a way to get people to learn the elements of each cartridge, while challenging themselves to make something within its offerings.  I opted to go with the zebra in the car after purchasing an adorable stuffed Winnie the Pooh dressed as a Zebra earlier that weekend – he felt he should serve as the inspiration for my first card attempt!
Here are the supplies I used to make this card
Die Cuts With a View – All Dressed Up paper
Martha Stewart Punch Around the Page
Fuzzy zebra ribbon from Michaels Craft Stores
Black Martha Stewart Flock
Silver and Pink Martha Stewart Glitter
Miscellaneous beads, loose paper, flower embellishment from Michaels
Cuddlebug Paisley Embossing Folder
Prisma colored pencils
Stickles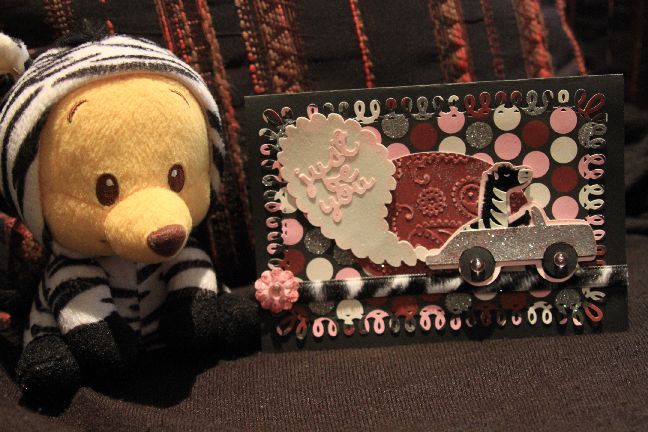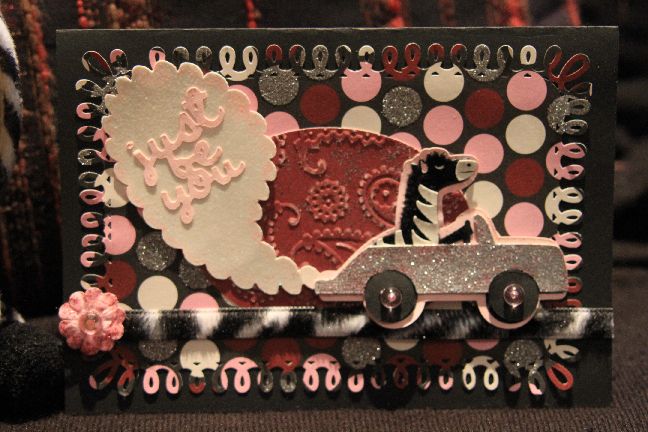 To make the puff of smoke behind the car, I used one of the paisley cuts and changed the shape slightly in Design Studio.  On the burgundy shape behind the car, I embossed card stock with the Cuddlebug and then took a nail file to rub off some of the color.  The black areas of the zebra are flocked with the MS flock and the car has both pink and silver MS glitter.  The word bubble is from Paisley as well.   The pink shading around the puff of smoke was done with colored pencils.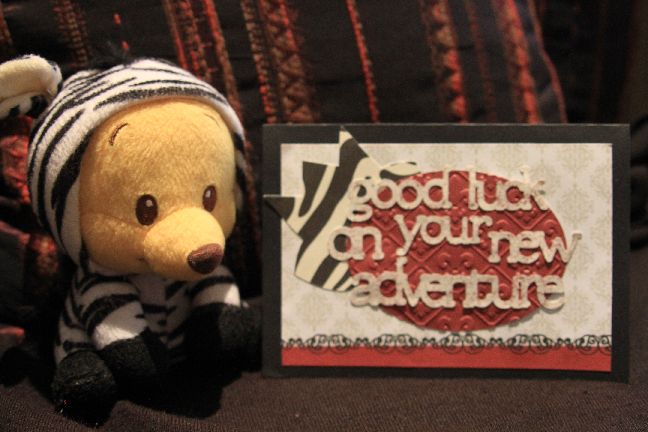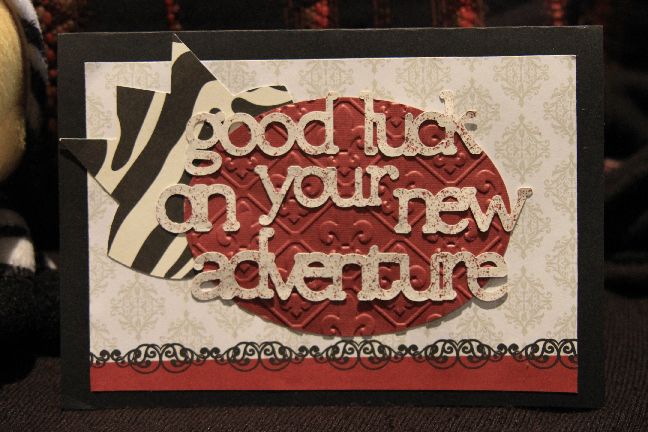 The background paper on the inside was loose paper from Michaels.  Both shapes are cut from Paisley and the one embossed with a CB folder.  The words are cut from Lyrical Letters and dabbed with Stickles.
I still have a long way to go in learning how to do some of the amazing techniques I have seen from design teams and talented artists, but this was a pretty decent first attempt!  Hope you enjoy!
– Posted by Erin