Today, CHA's winter exhibition opened in Anaheim, California.  I do not believe the show is as large as previous years, but there is still so much to see and do.  I took a lot of pictures so I can share some of the excitement.
First up, I will show you Die Cut With a View's booth.  They always have an outstanding booth — I can't believe their display this year.  To sum it up, you certainly can't ignore the elephant in this room: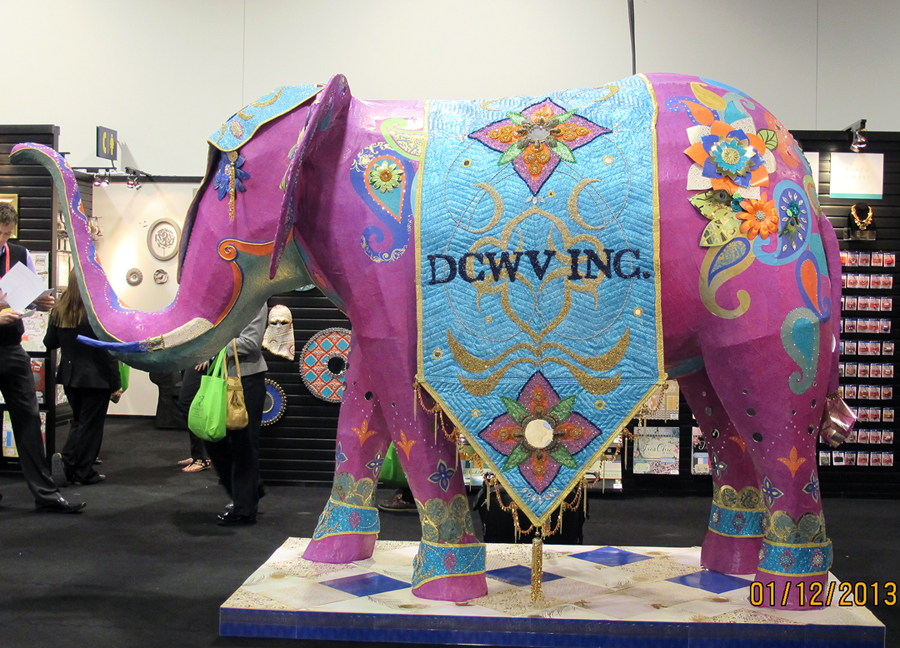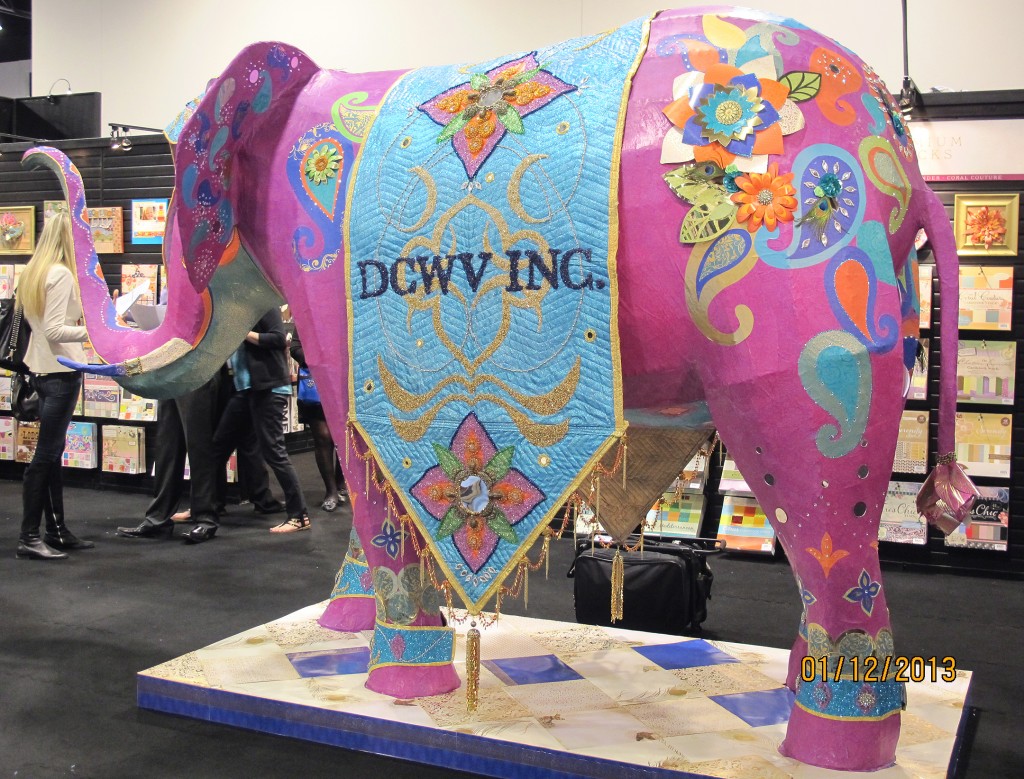 I found out they made the elephant by using a topiary frame.  They covered that with newspapers and then added their own paper on top.  The blanket is gorgeous — it's made of what looks like a turquoise quilted lame fabric and the embellishments are all done with beads.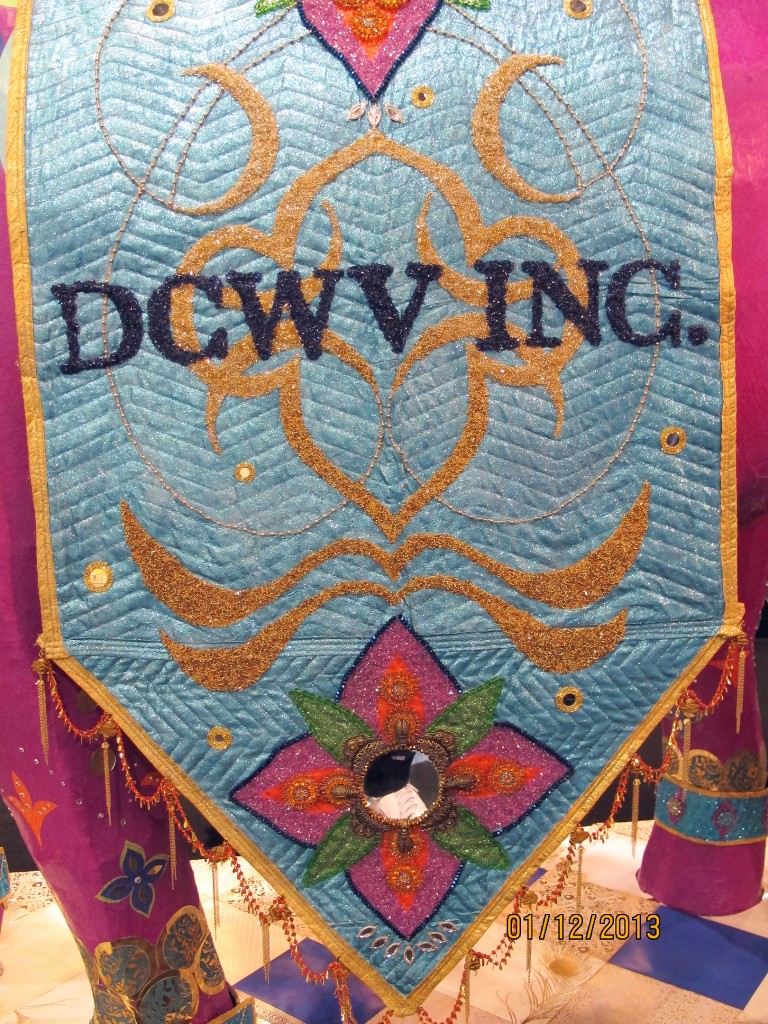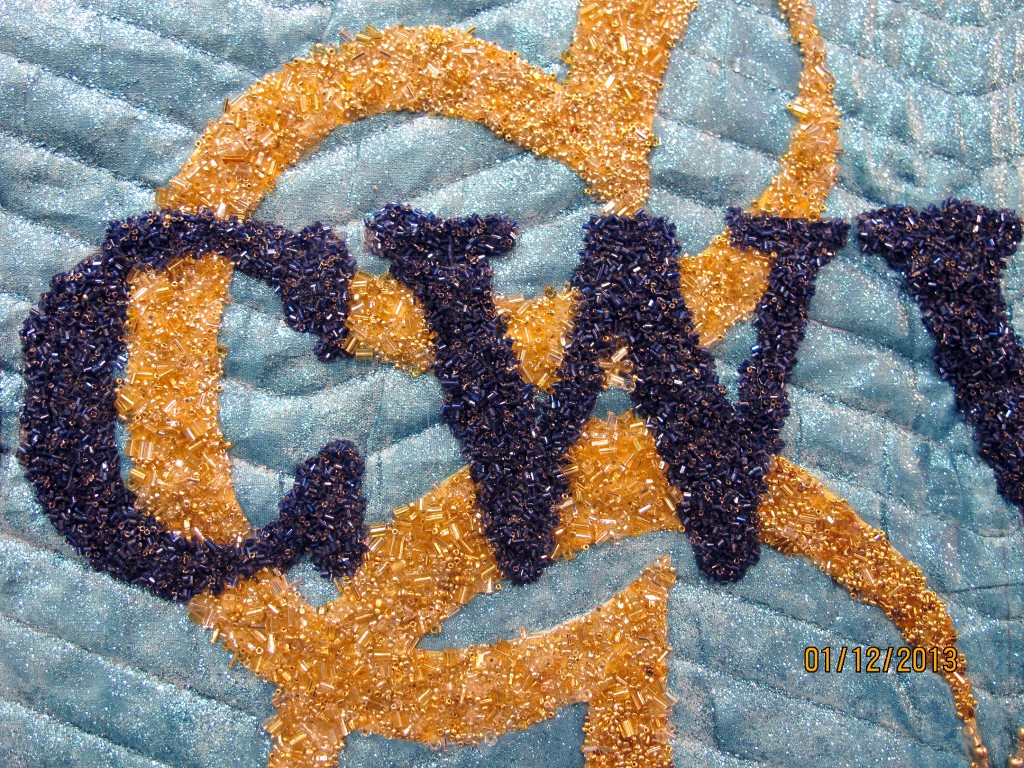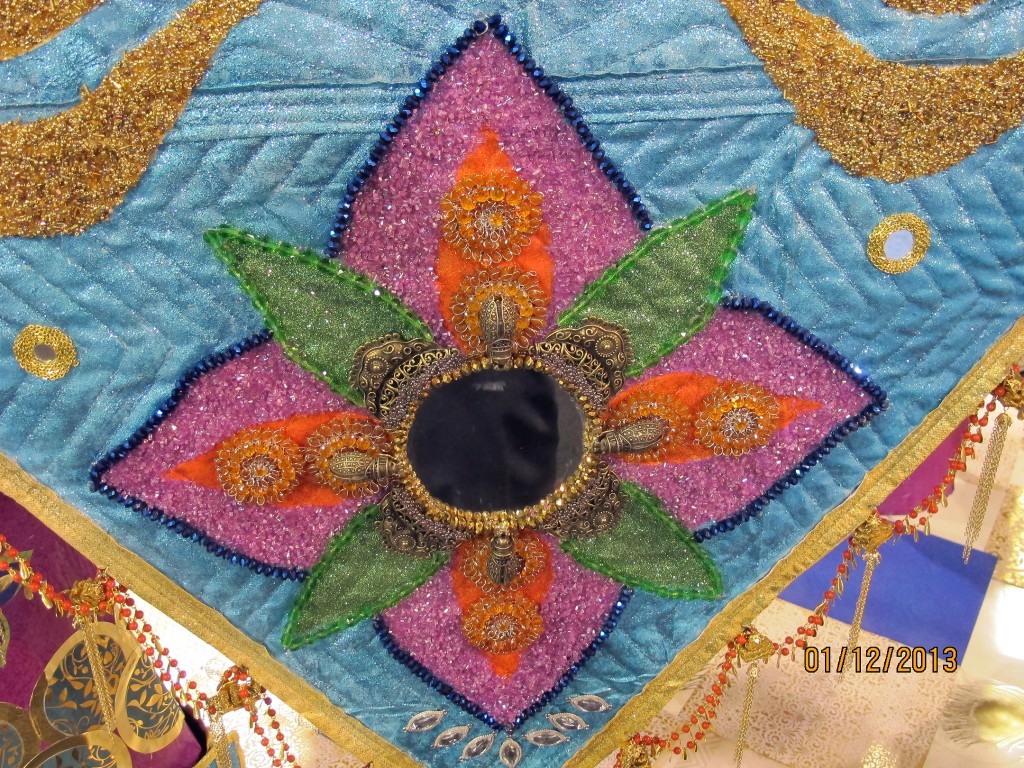 I had to take a pic of the tail too: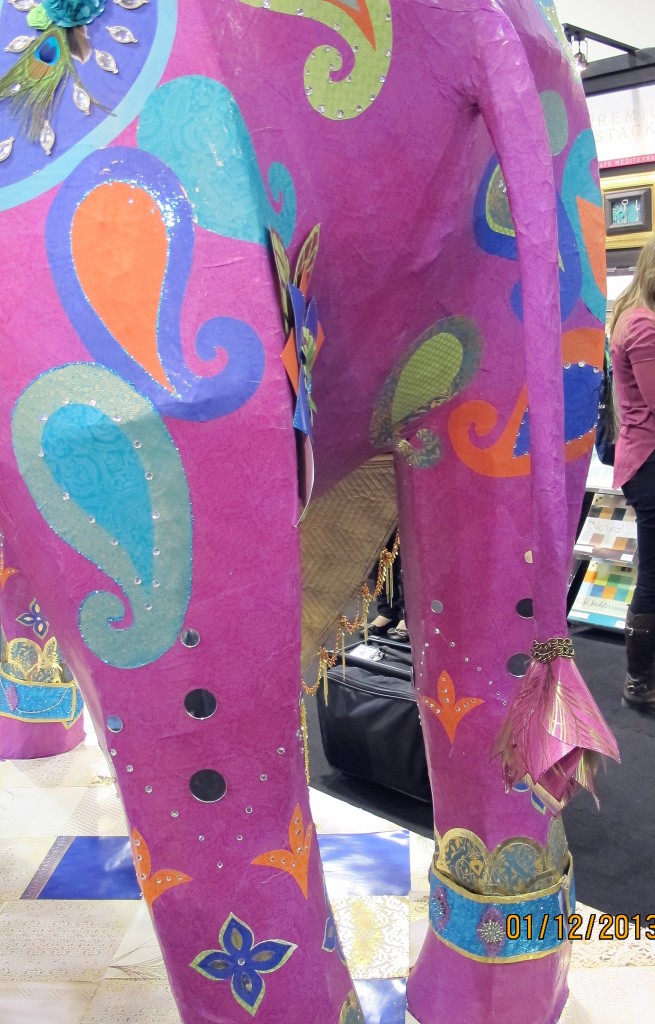 They also have a cobra in their booth — made of jewelry findings and chain.  He is just amazing.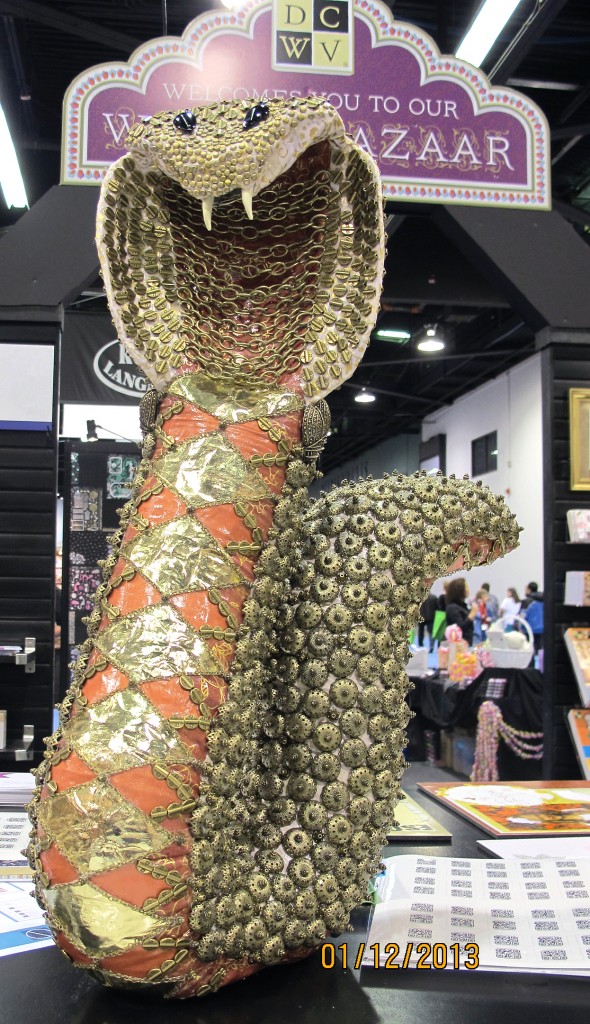 Here are some of the stacks that are featured:
And finally, some framed art on the outside of their booth: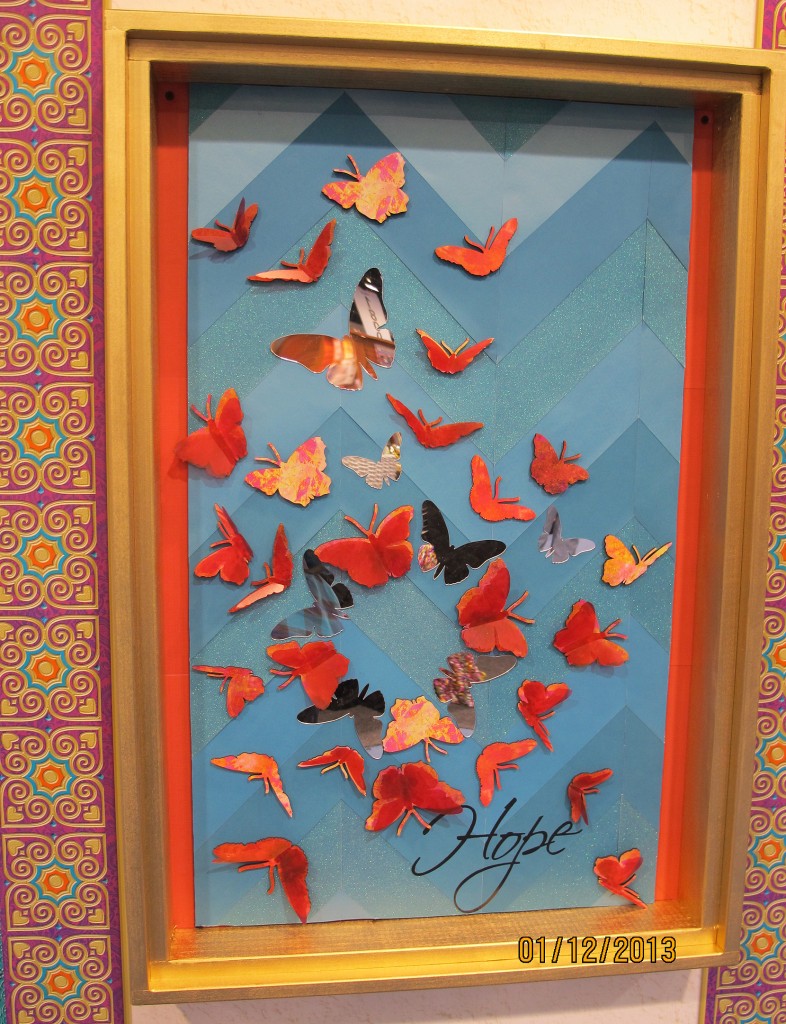 Our next stop will be Jinger Adams' booth.  She is in the new exhibitor's section and it was good to see both her and Kristy today.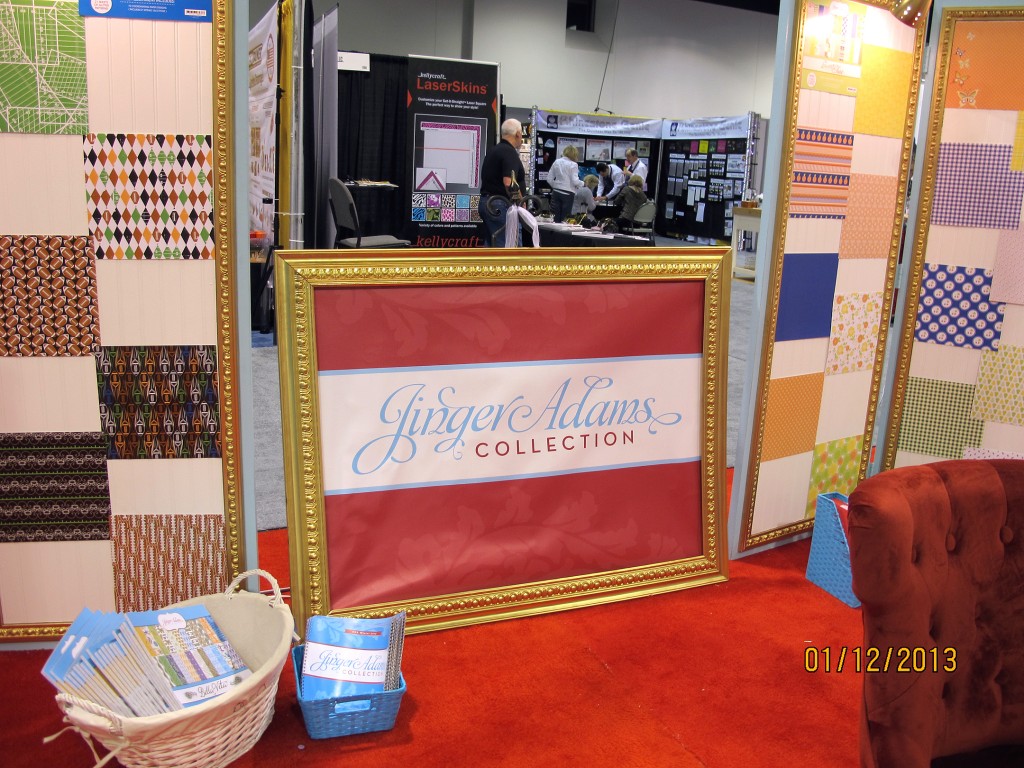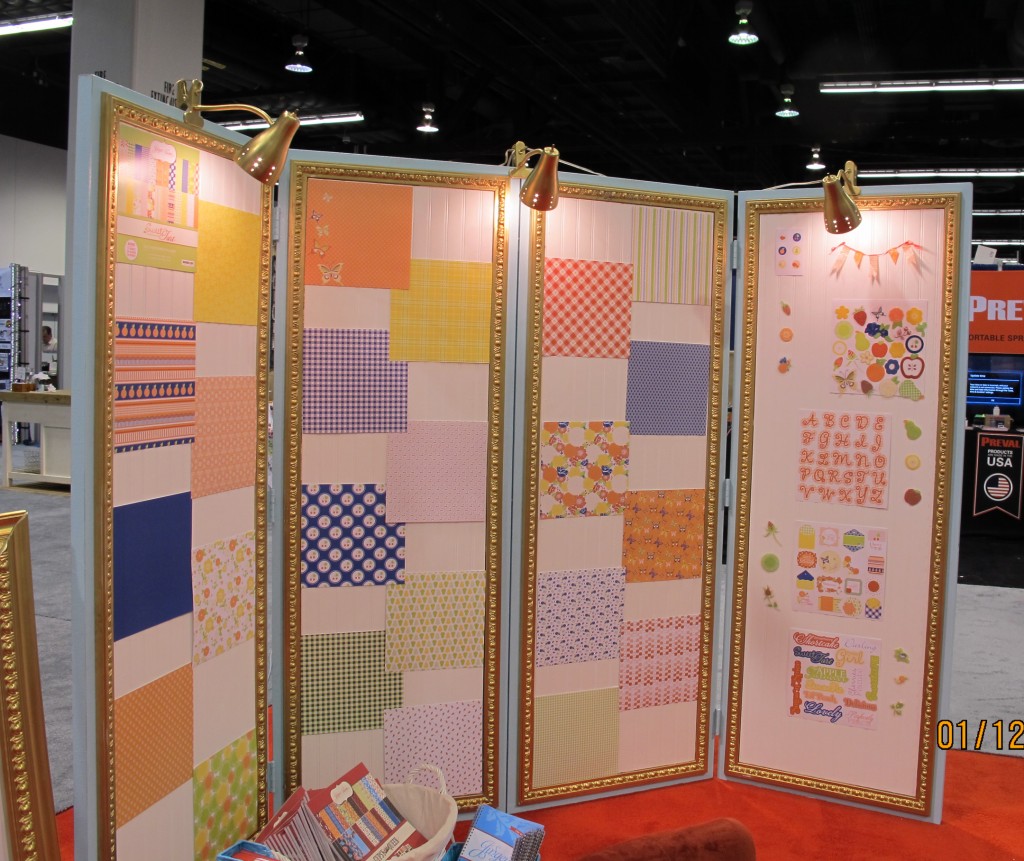 And here is Jinger's over-the-door Craft Armoire that is getting a lot of attention.  The first picture shows it closed and the second one shows it open.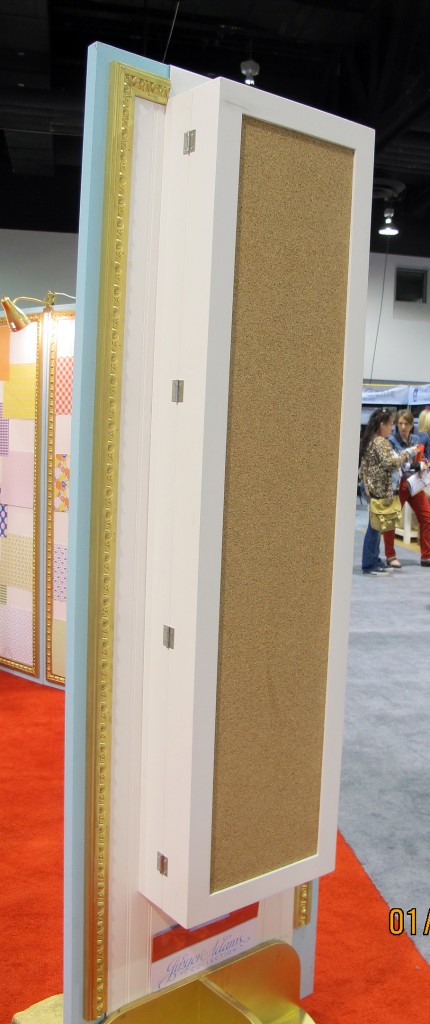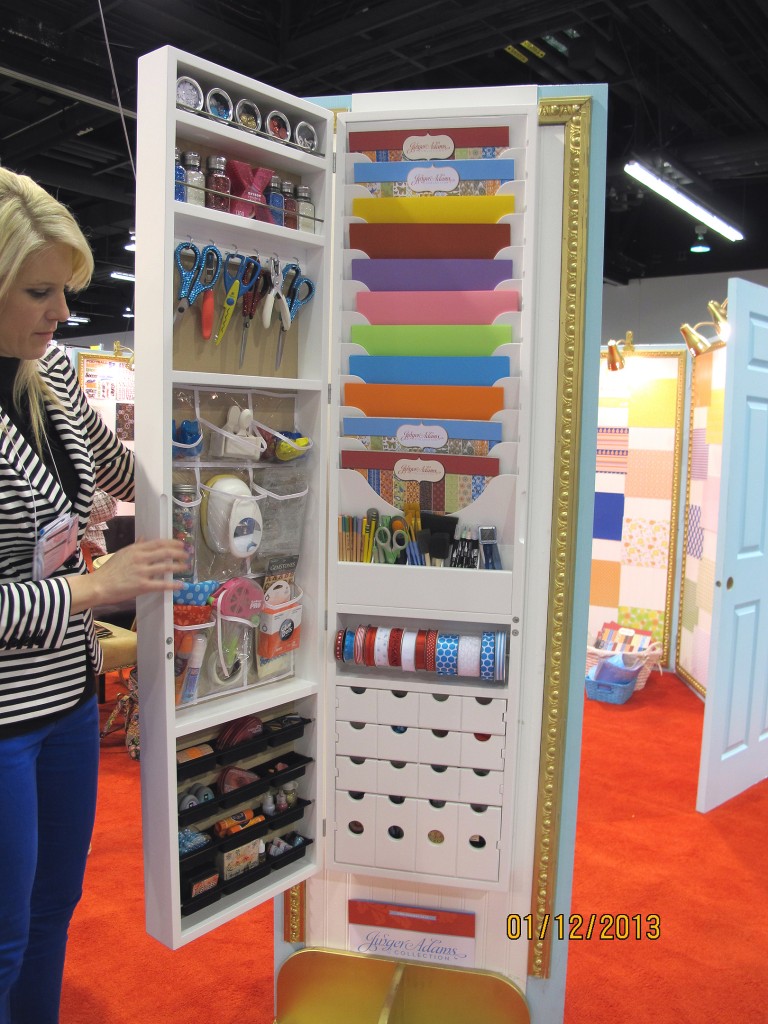 As usual, Graphic 45 has a stunning booth: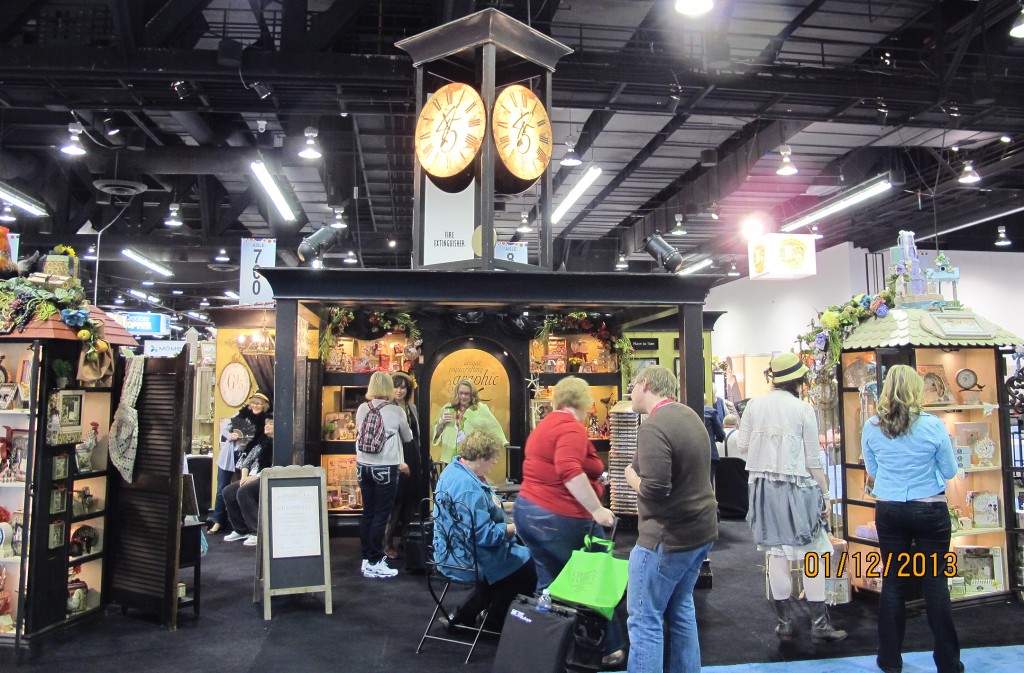 One of their new collections, French Country: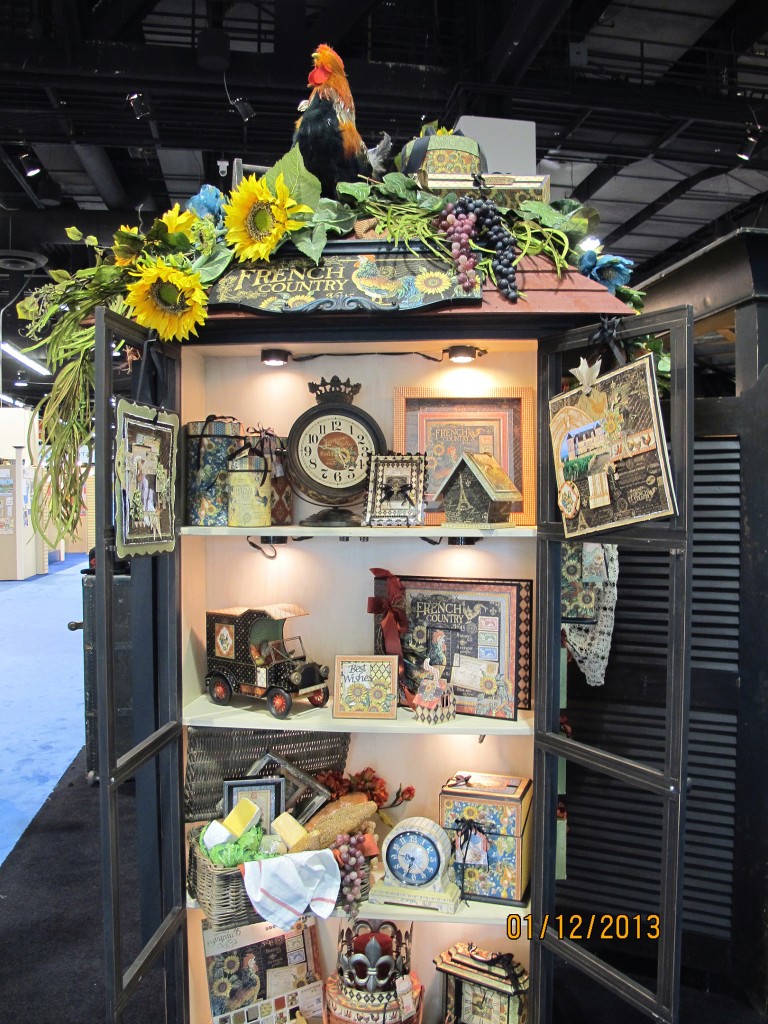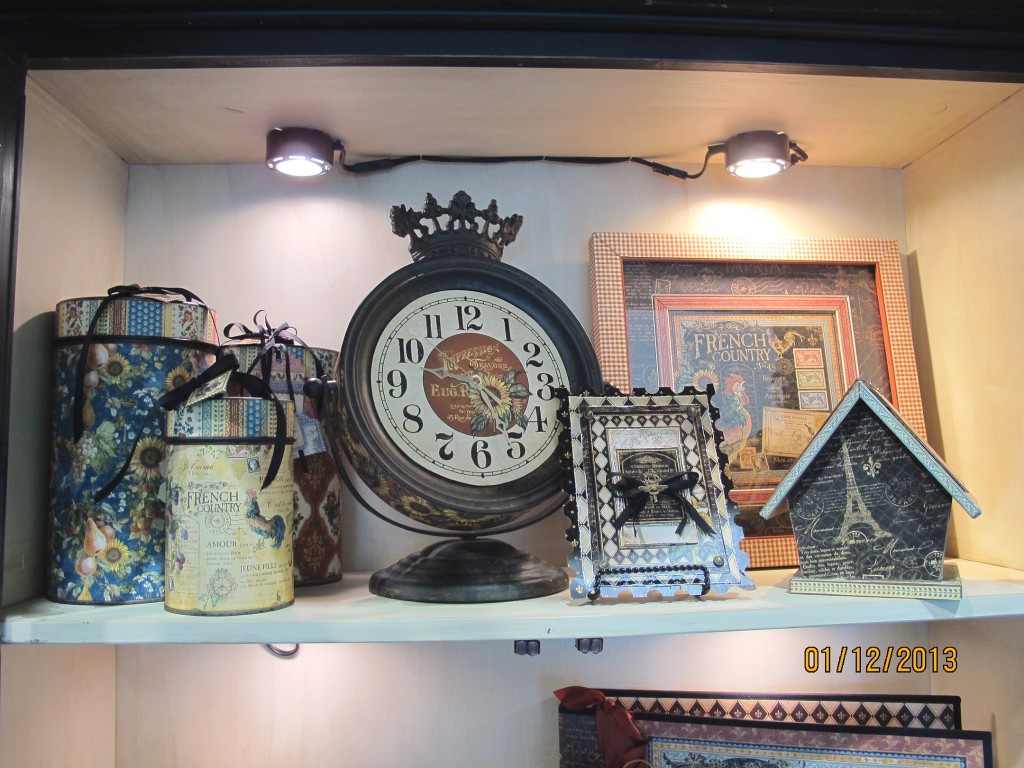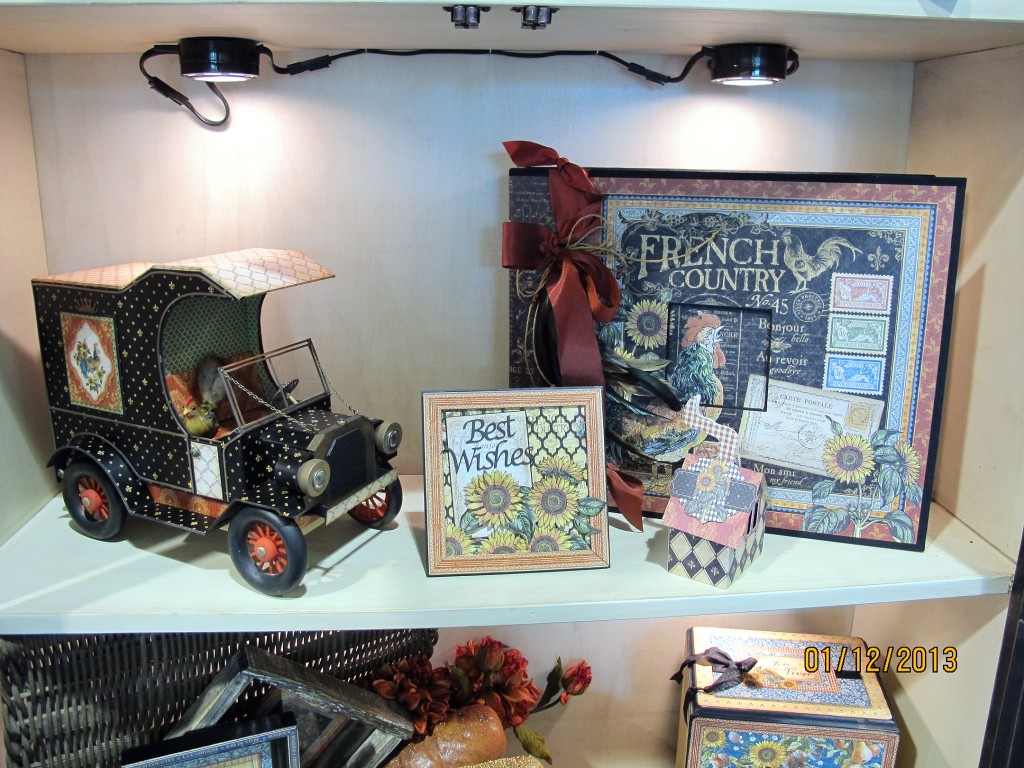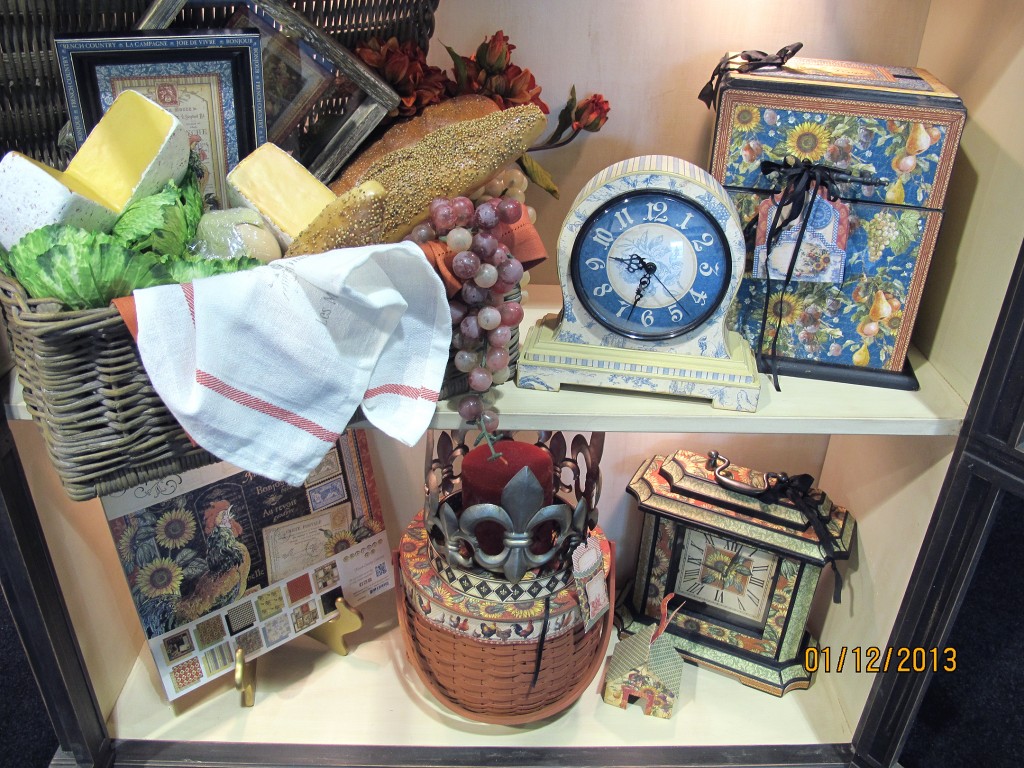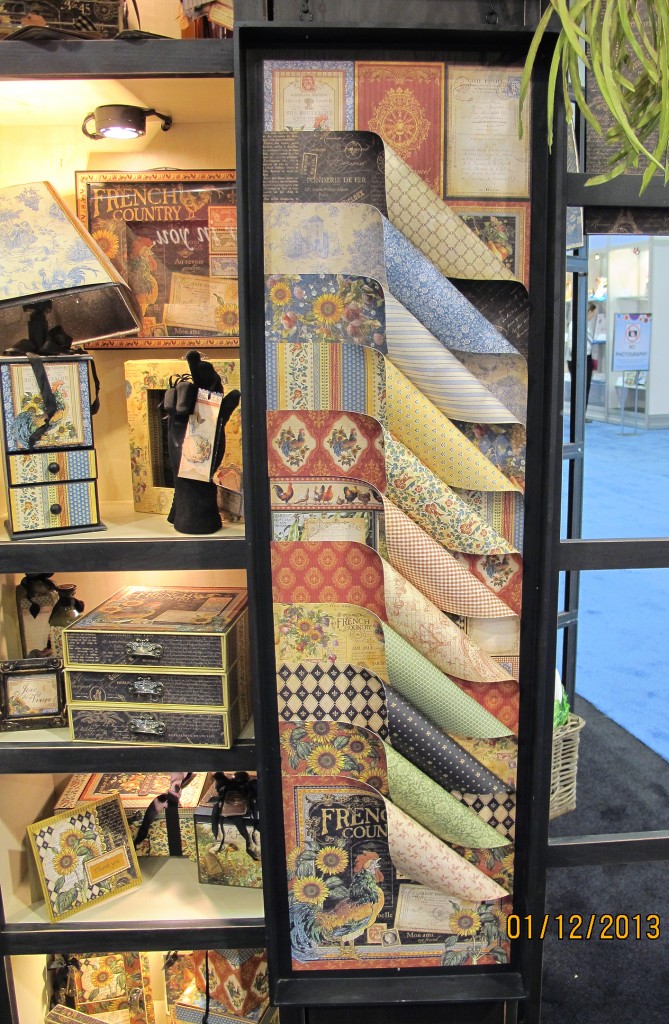 Another new collection, Secret Garden: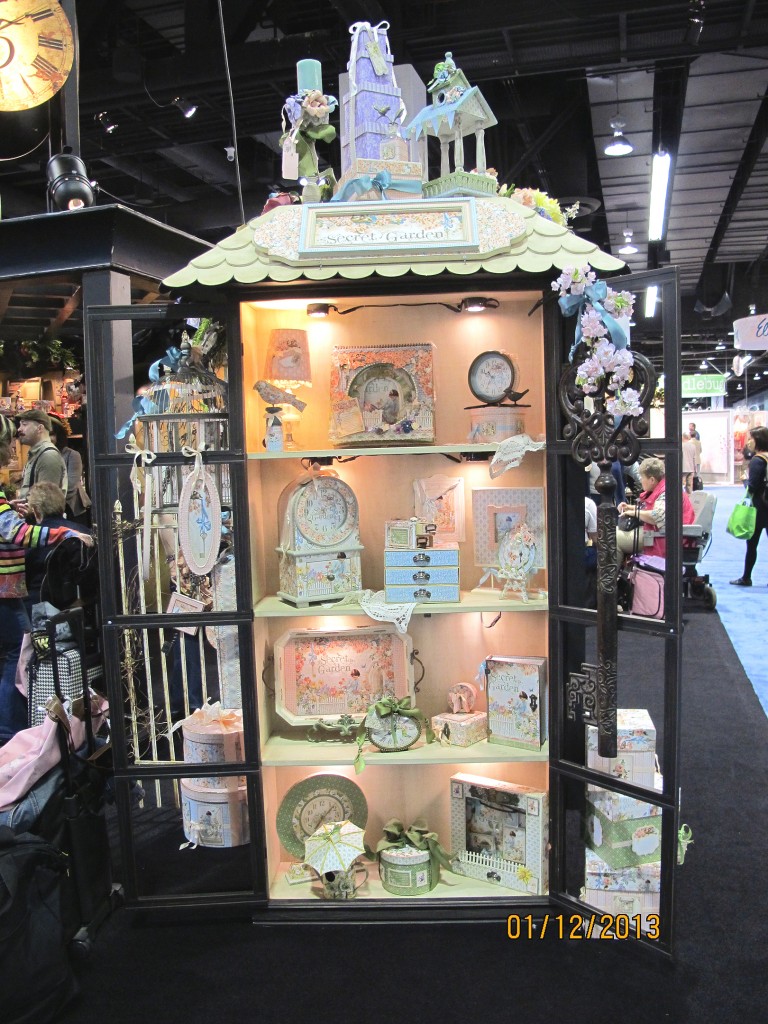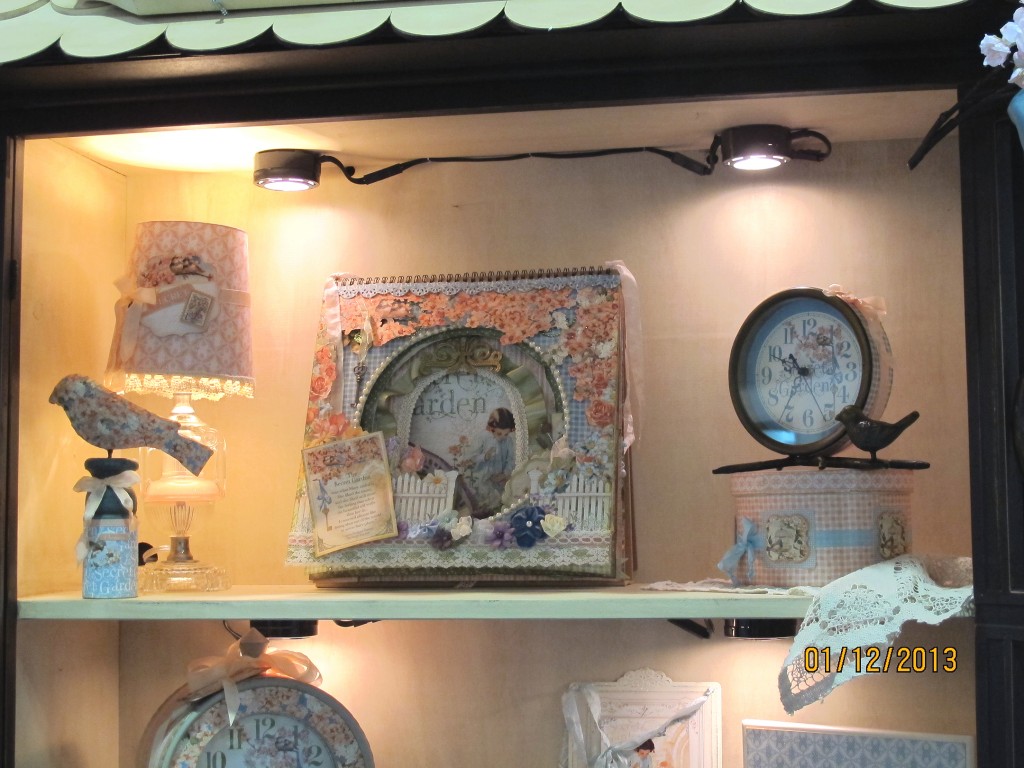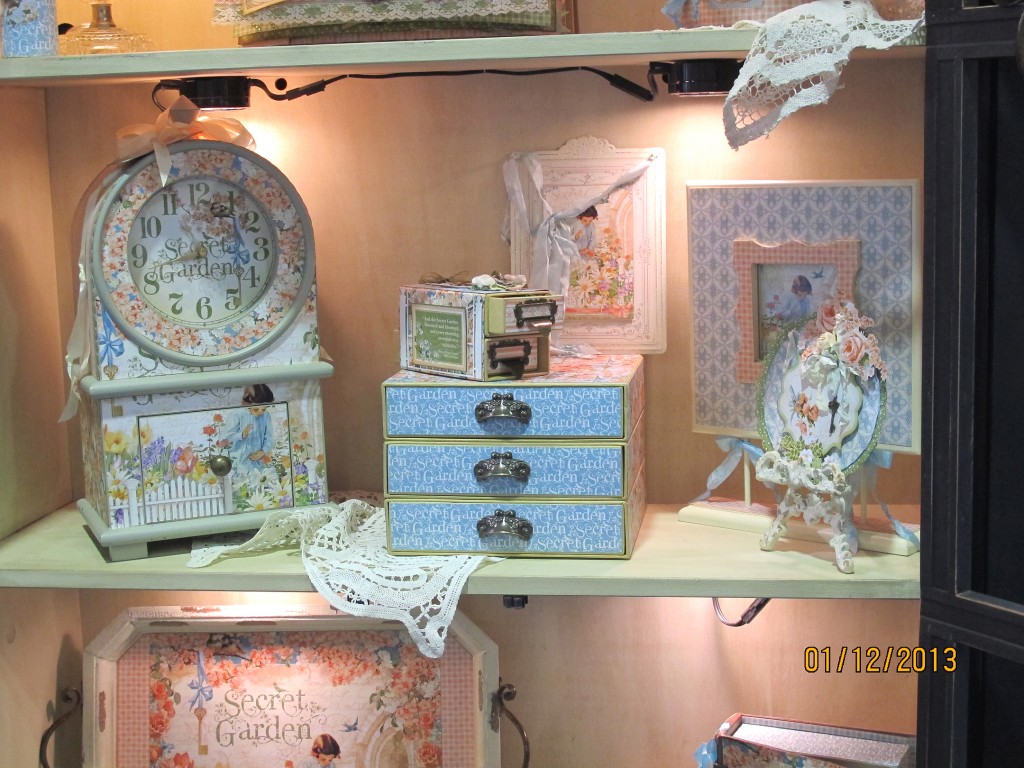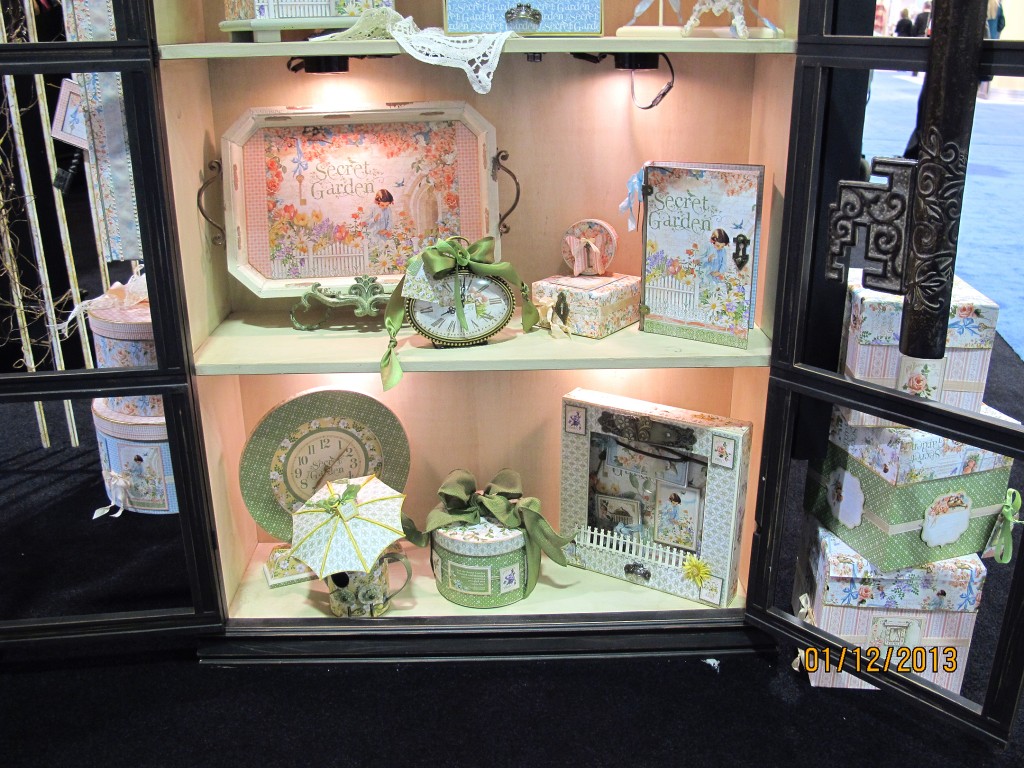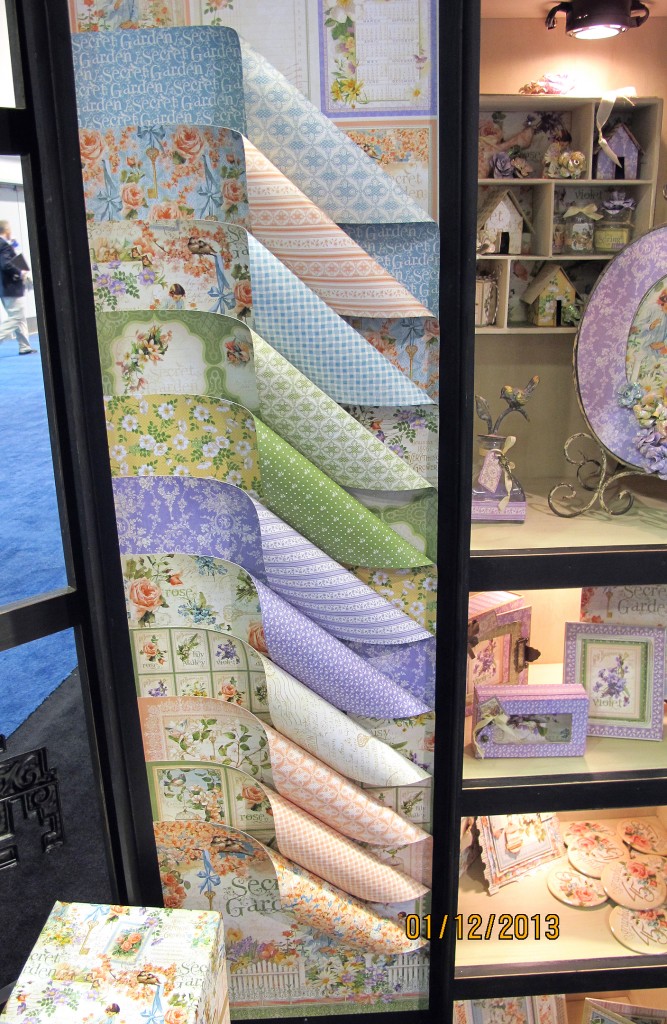 I made it a point to stop at We R Memory Keepers' booth to check out their new Envelope Punch Board.  I watched a demo of it and was even able to make one myself, along with a card.  This is a really neat tool and after using it, I will definitely be purchasing one.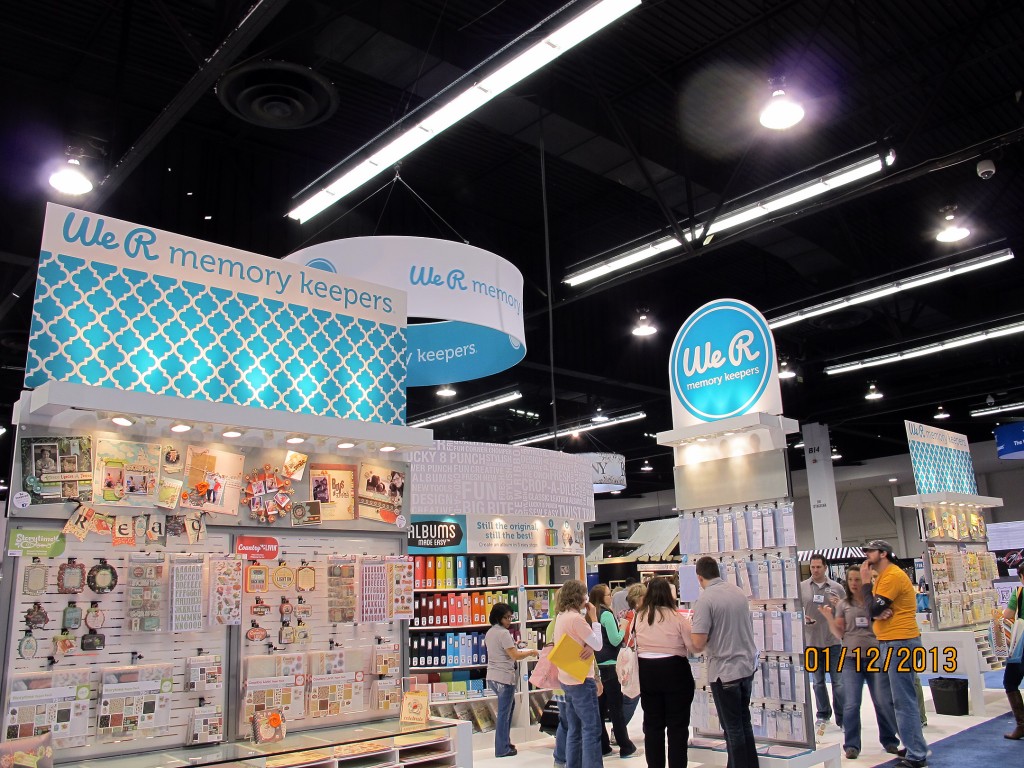 This is what the Envelope Punch Board looks like:
Measurements for envelopes are listed right on the board and it tells you what size paper to cut and where to place your paper on the board.  There is a punch at the top that cuts out the little areas where the score lines meet.  It is so much easier than trying to snip that little piece out with a pair of scissors.  Once you score and snip it all the way around, you then fold and assemble your envelope.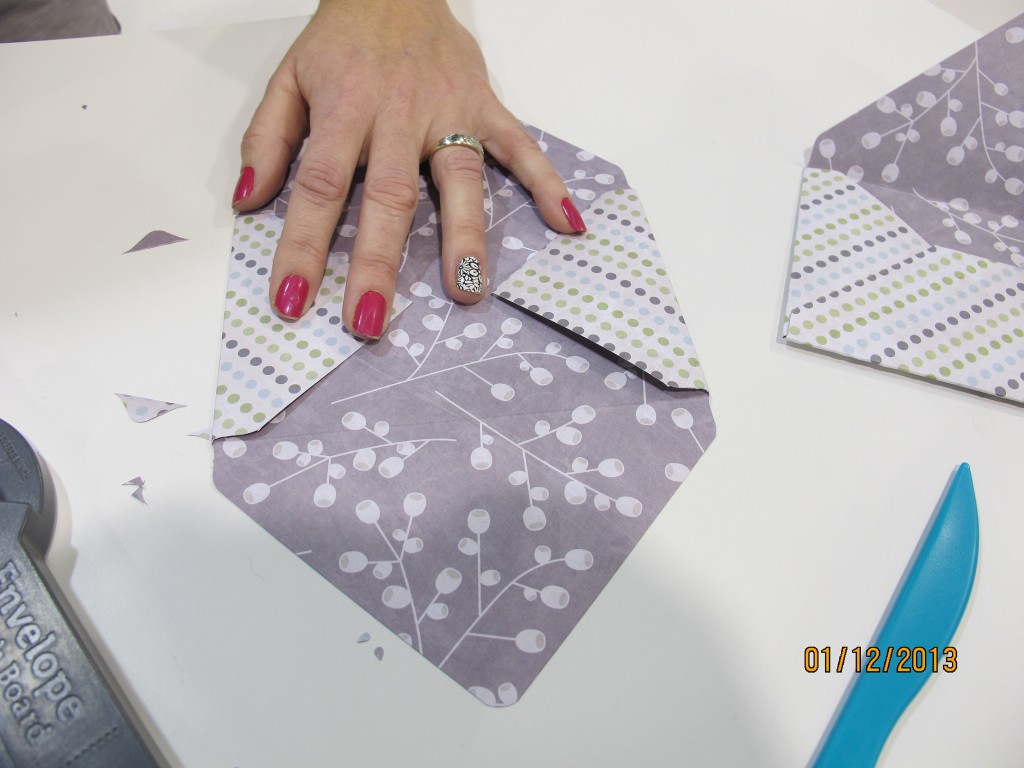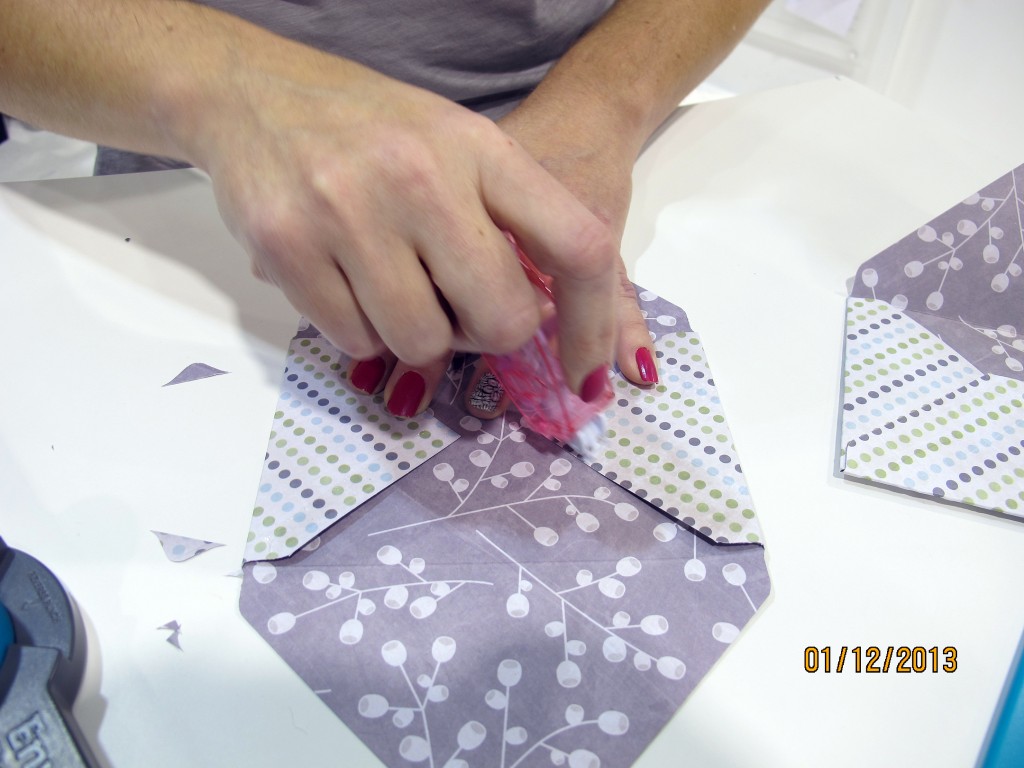 It also has a corner rounder punch on the back of the board so you can round the corner on your flap.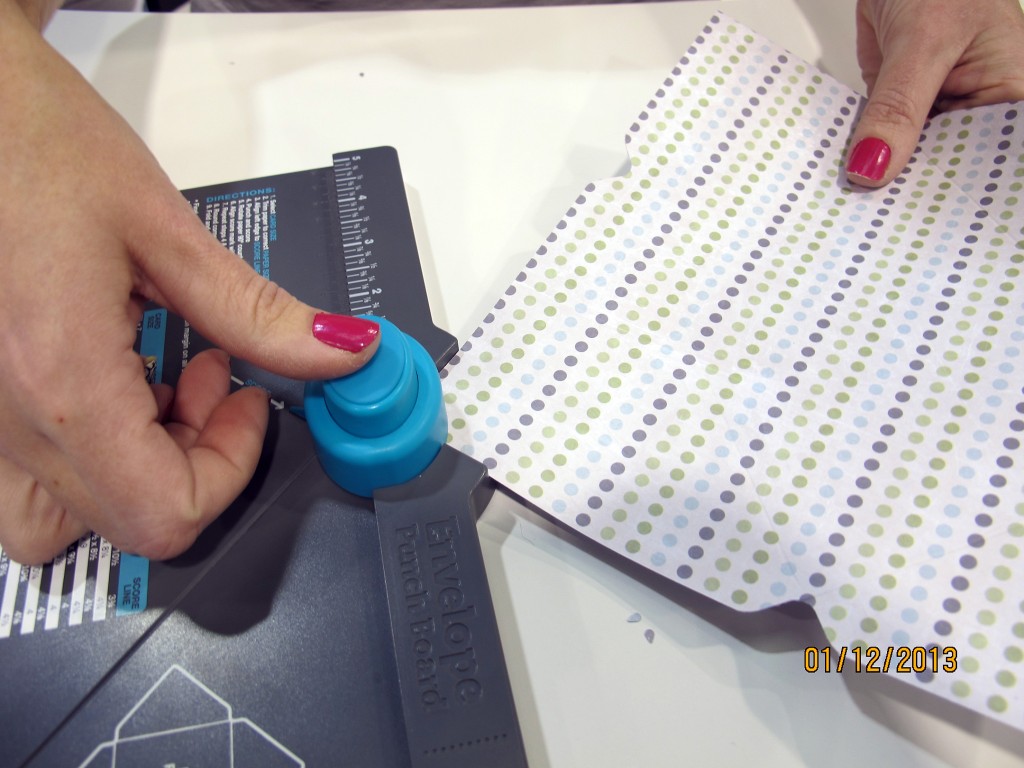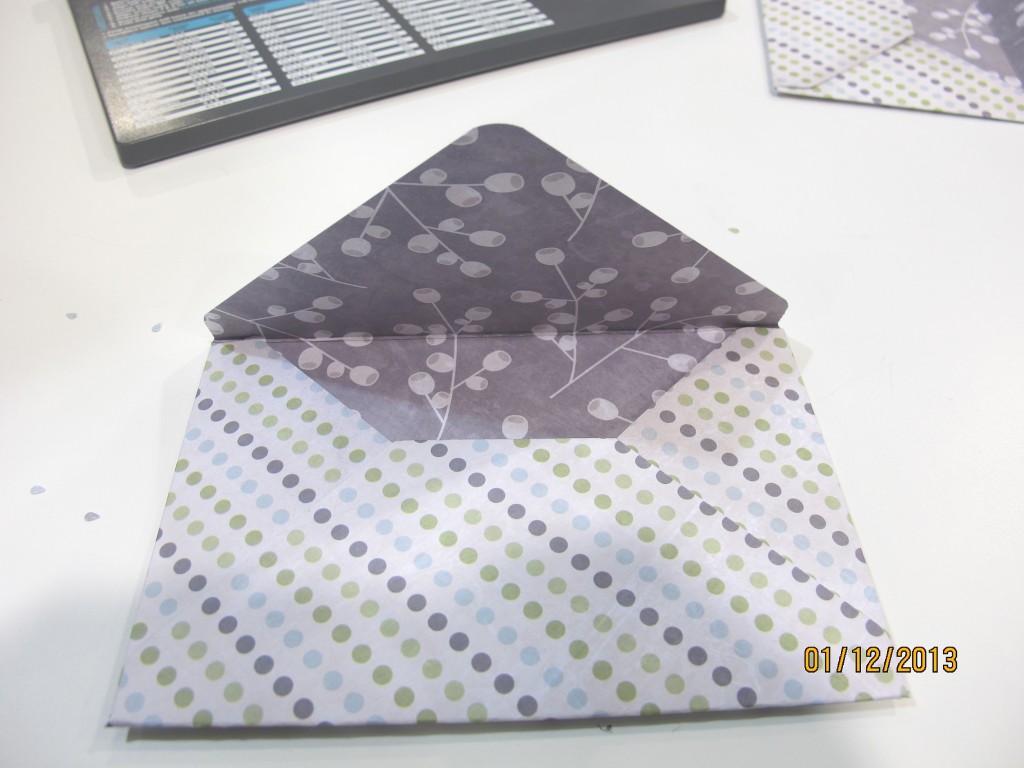 For the card, I got to use one of their Lucky 8 punches.   I used it in conjunction with a doily border punch and ended up with a fancy oval to attach to my card.  Sorry about the blurred hand in the background.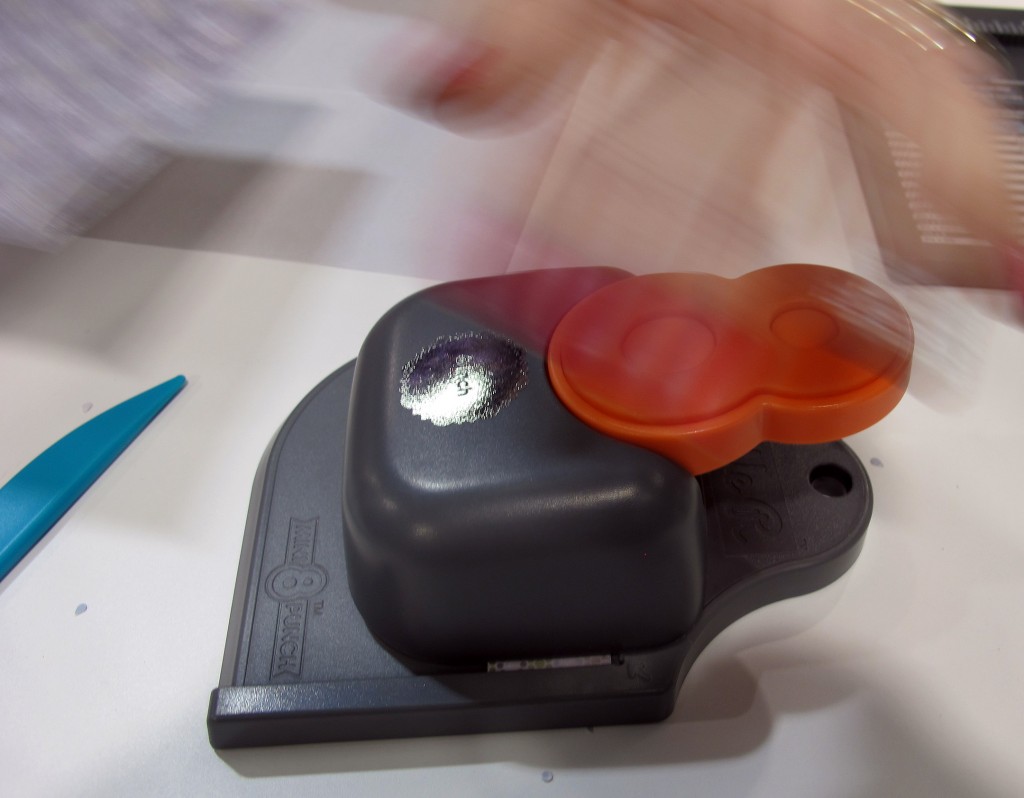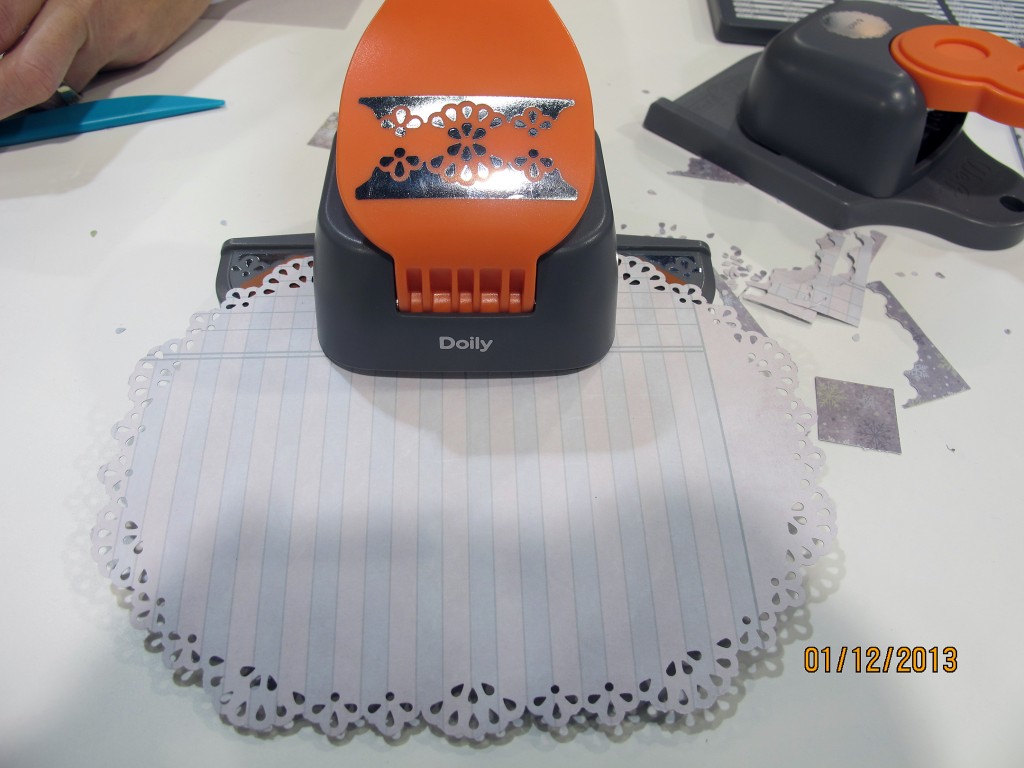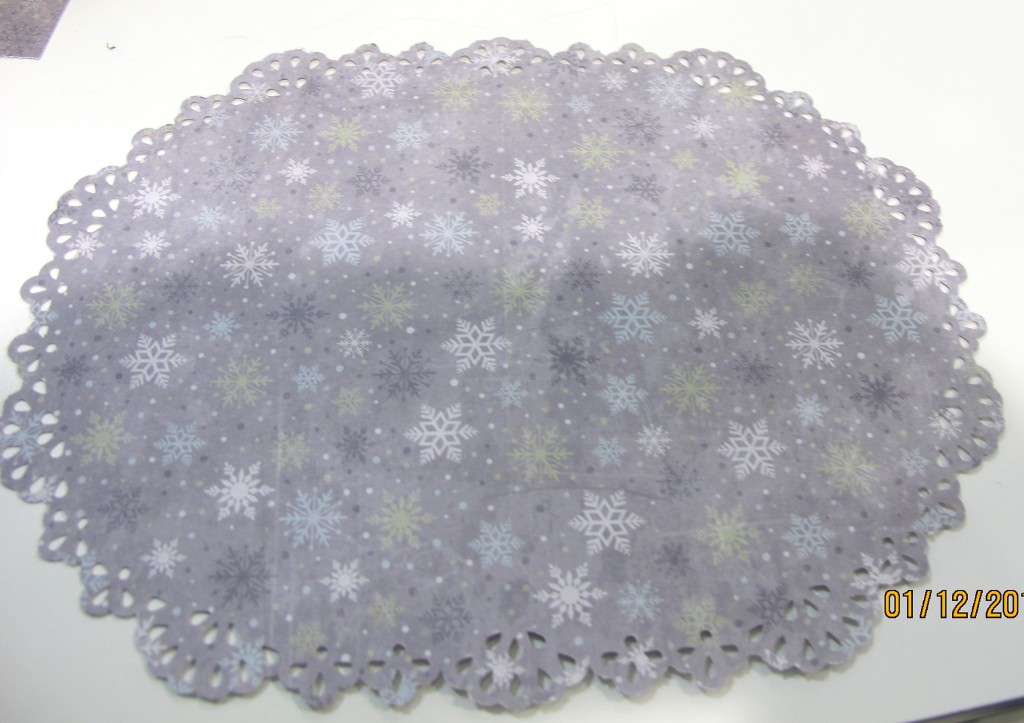 I folded the doily in half and added it, along with some embellishments, to my card.  I think it turned out cute.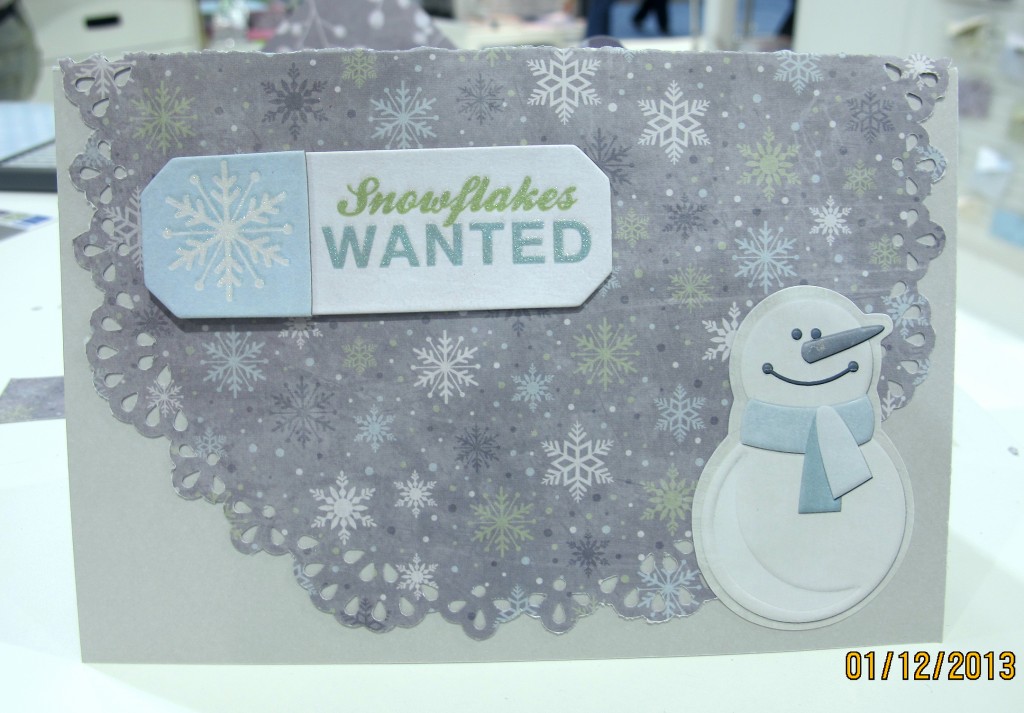 In the new exhibitor section I found another neat tool — it's called a Laser Square.  It has a mat that is magnetic and you place your paper on it.  The paper is held in place by magnets.  They are strong magnets and can hold several layers of paper, so if you do a lot of matting your page will stay in place.  The laser is powered by a 9 v. battery and it enables you to line up all your work on your page.  They said it helps line up your paper for stamping too.  I think it will also work great with cards.
The company is called Kellycraft and the man said his wife came up with the idea at 2 in the morning — I guess she woke him up to share her idea.  They also make Laser Skins so you can customize your Laser Square.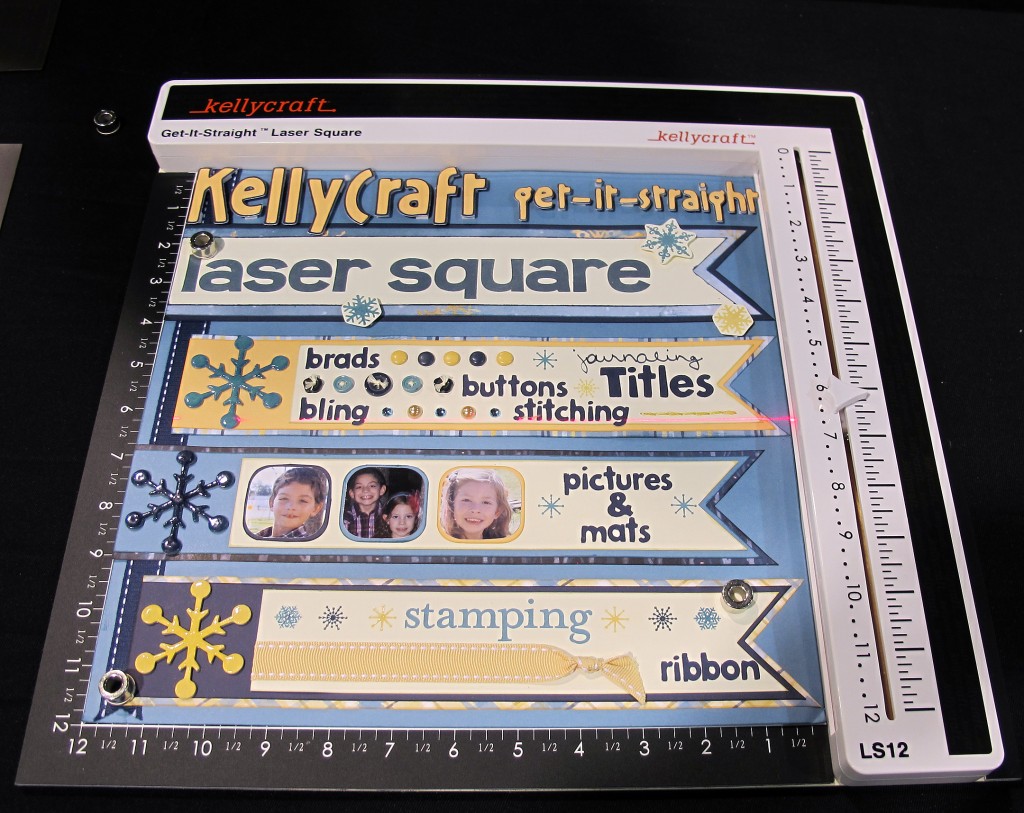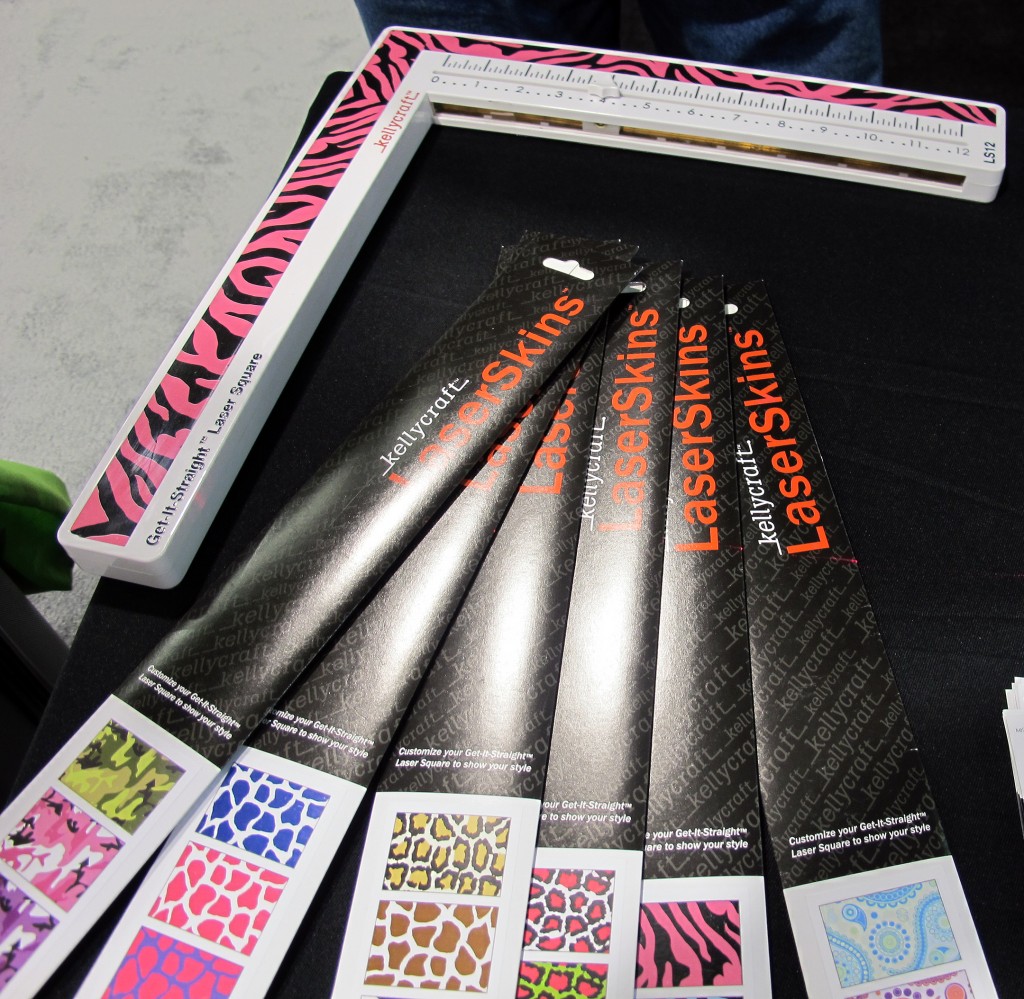 The Copic booth and some of the cards on display: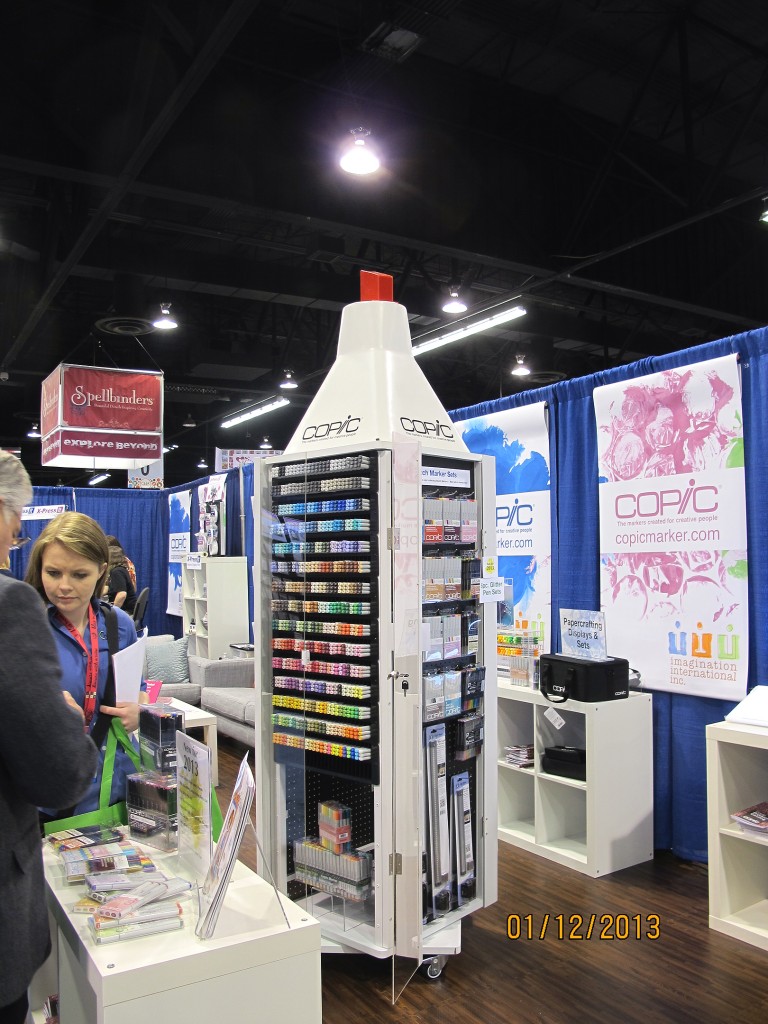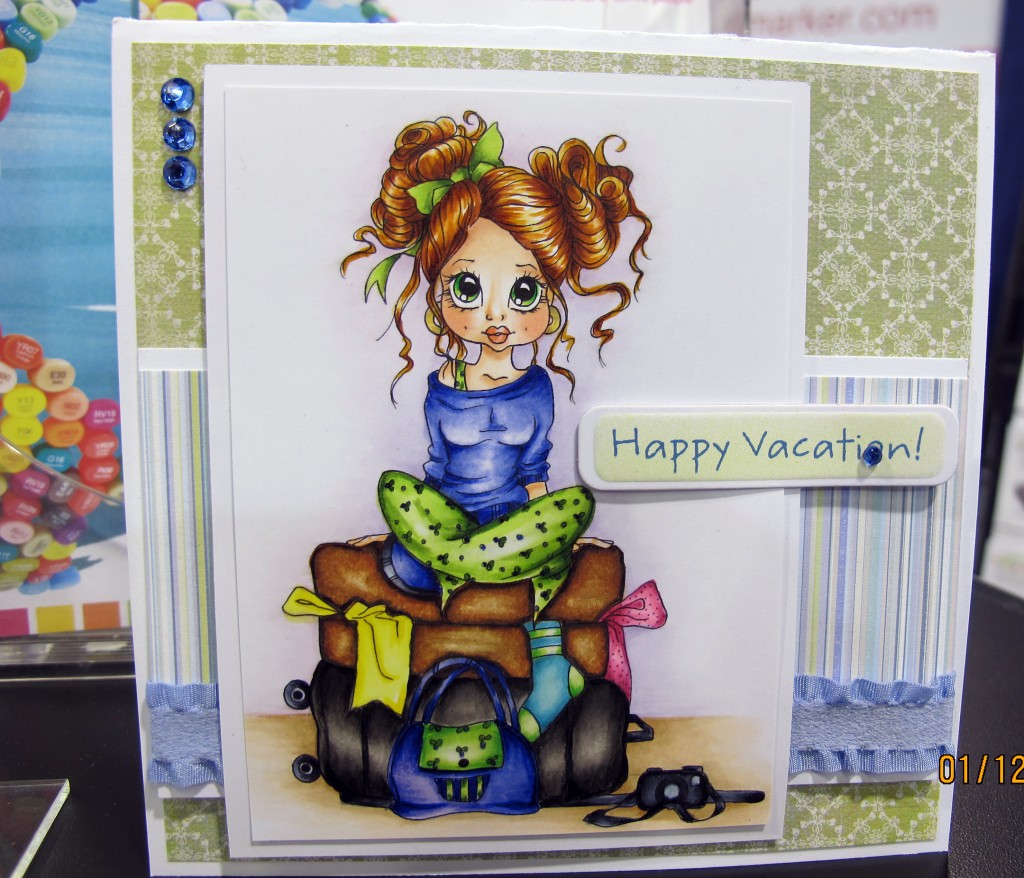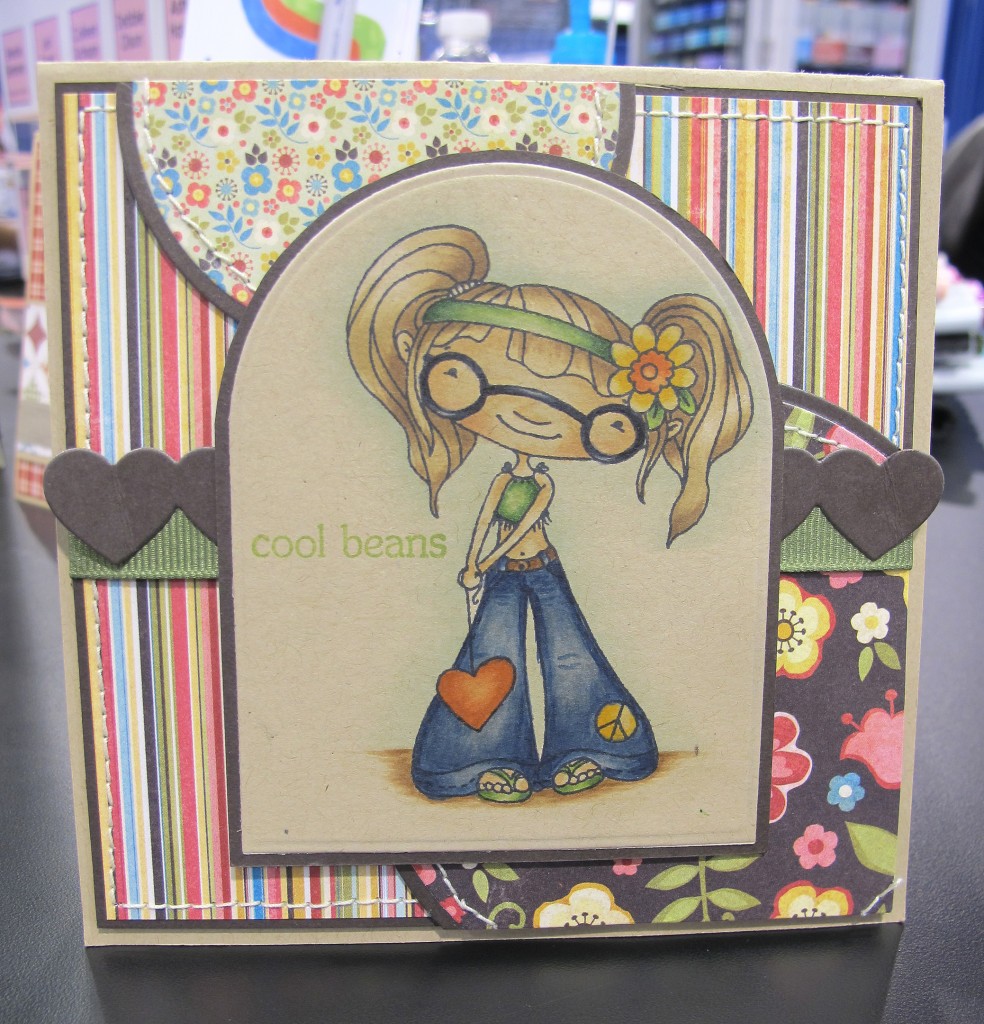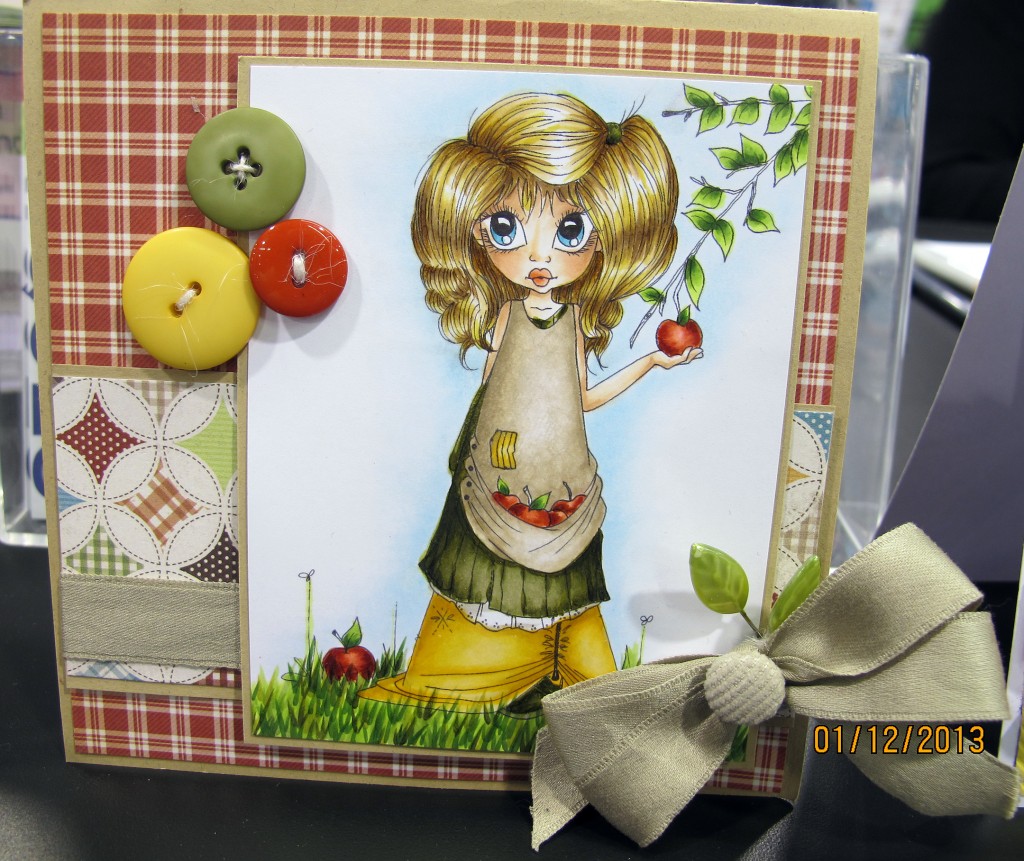 The Prima booth: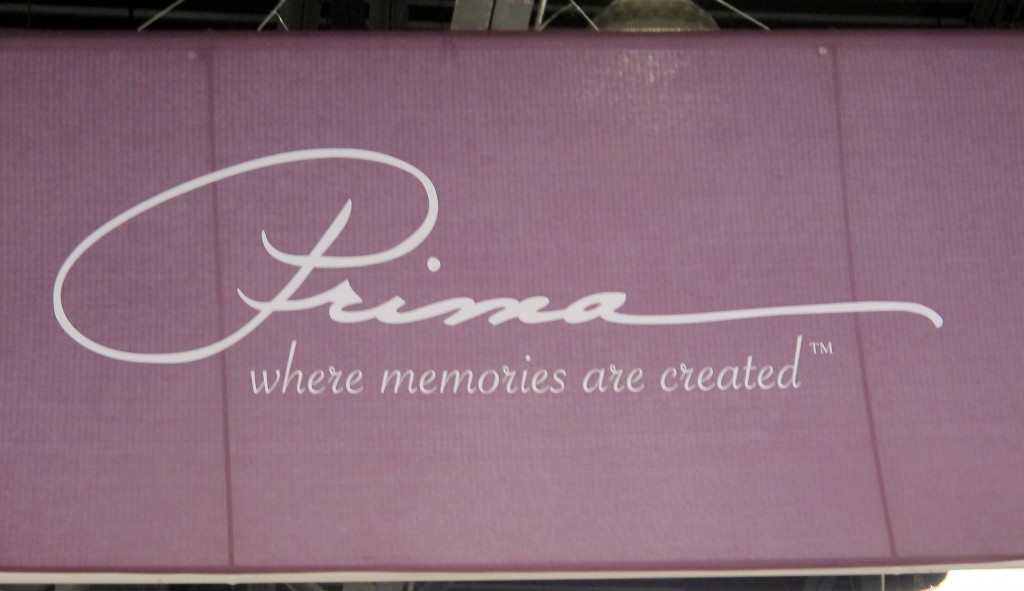 One of their new lines, Hello Pastel.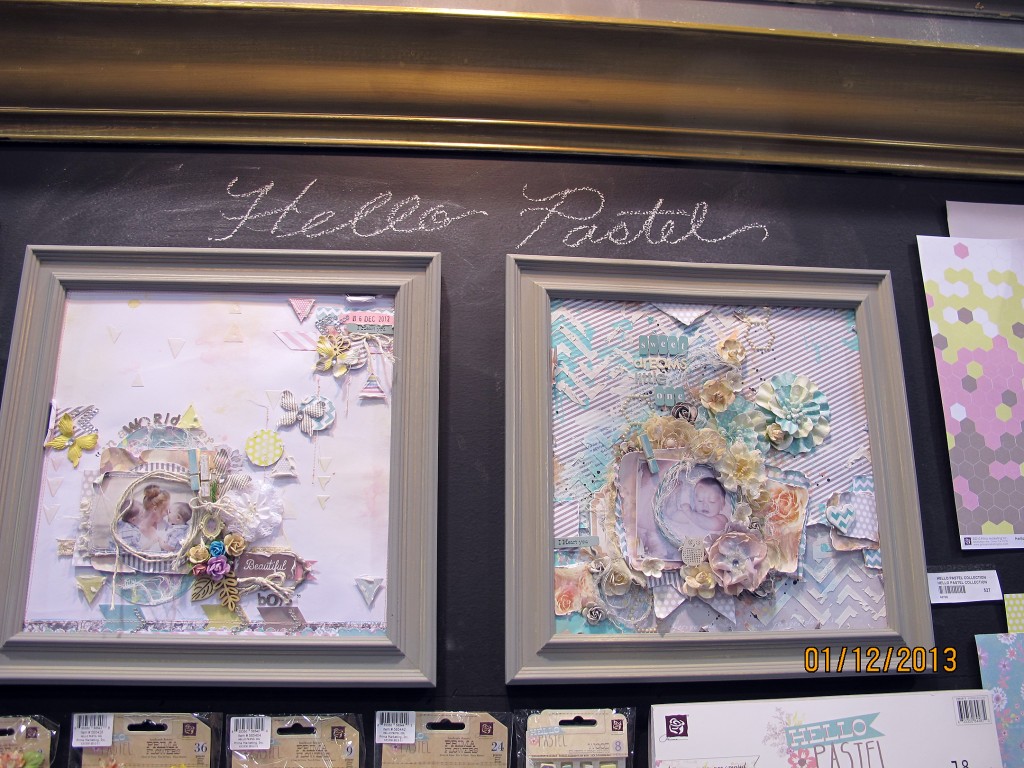 Another new collection, Sunrise Sunset: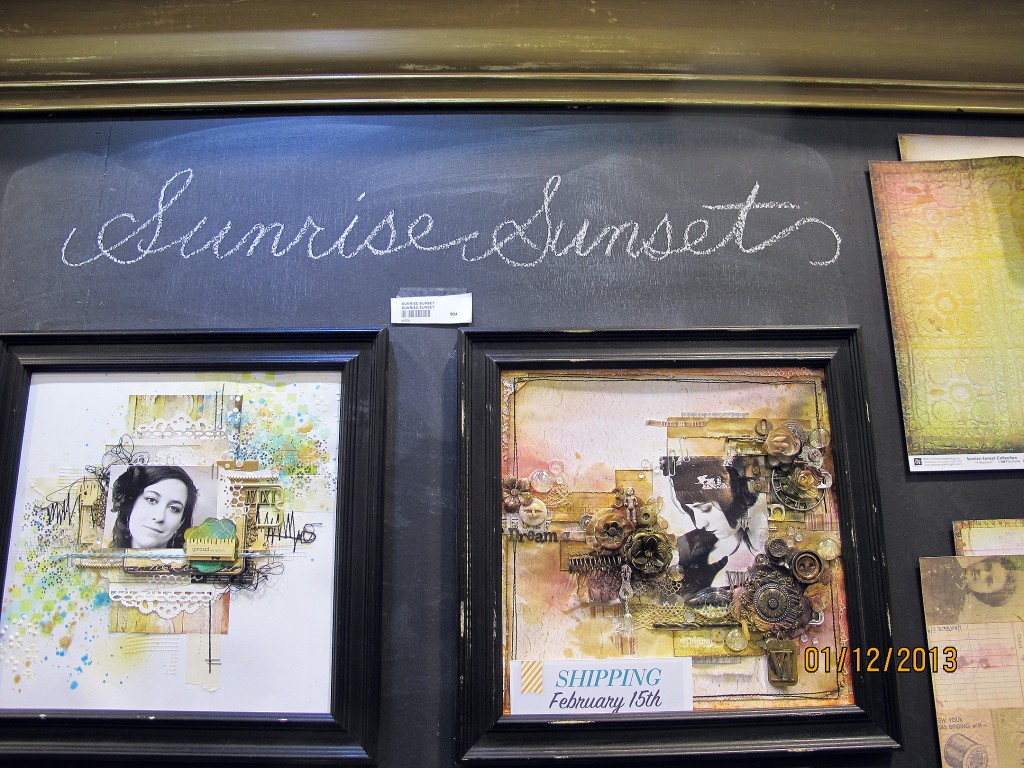 Some layouts on display: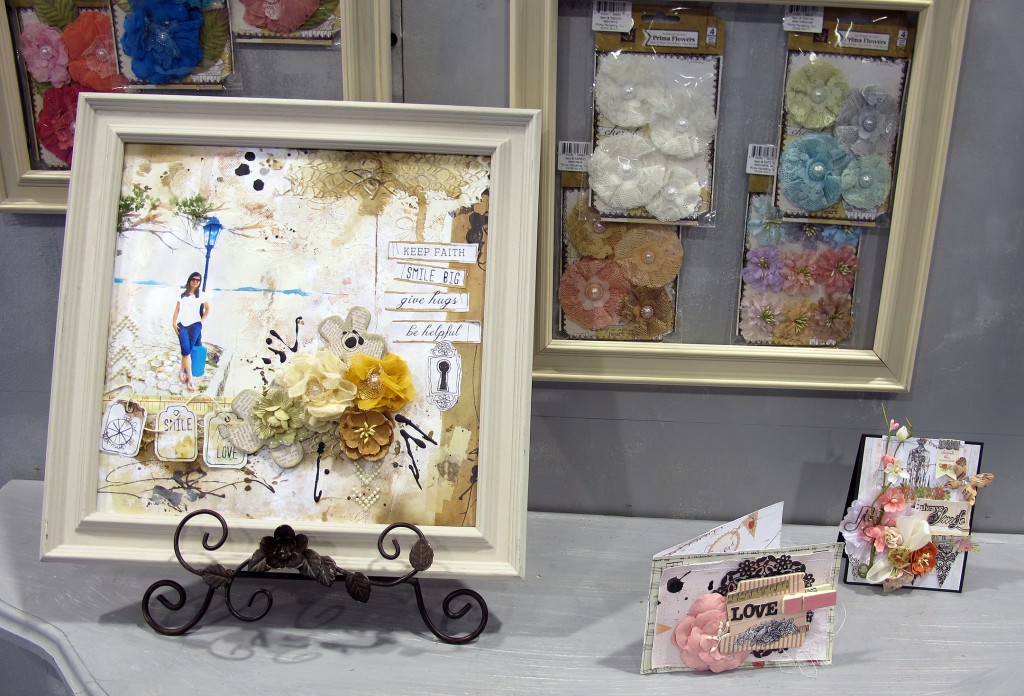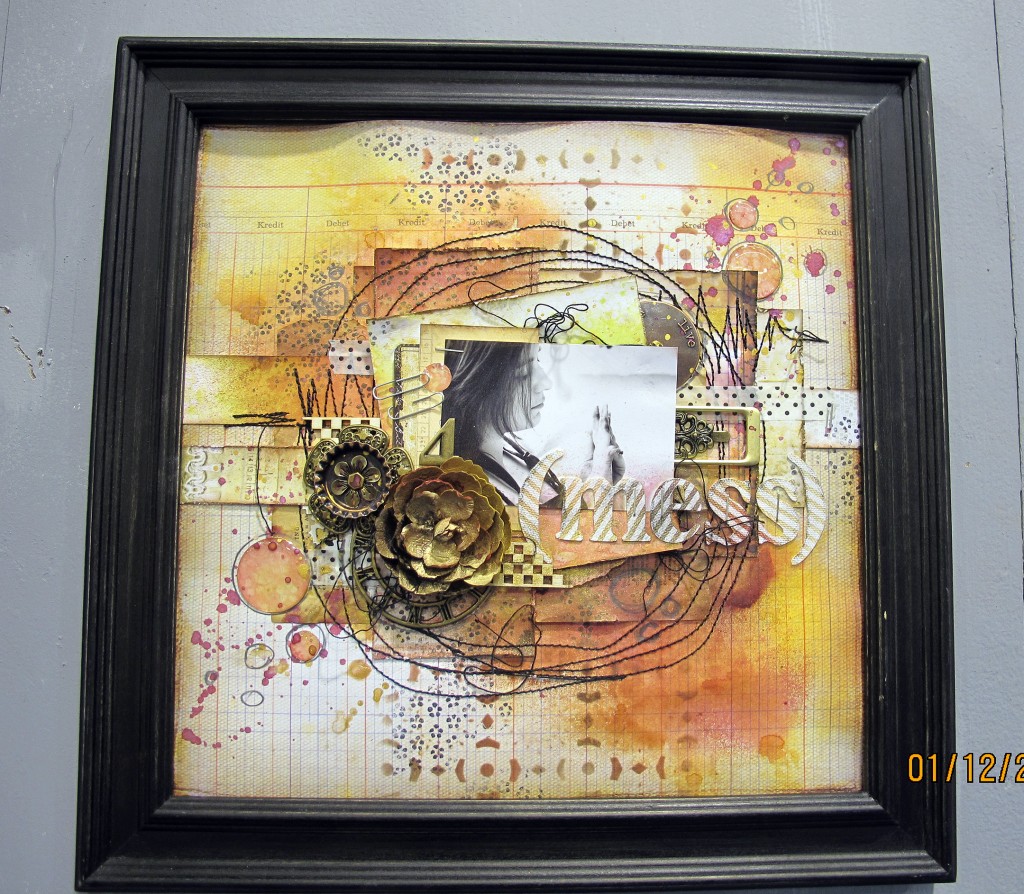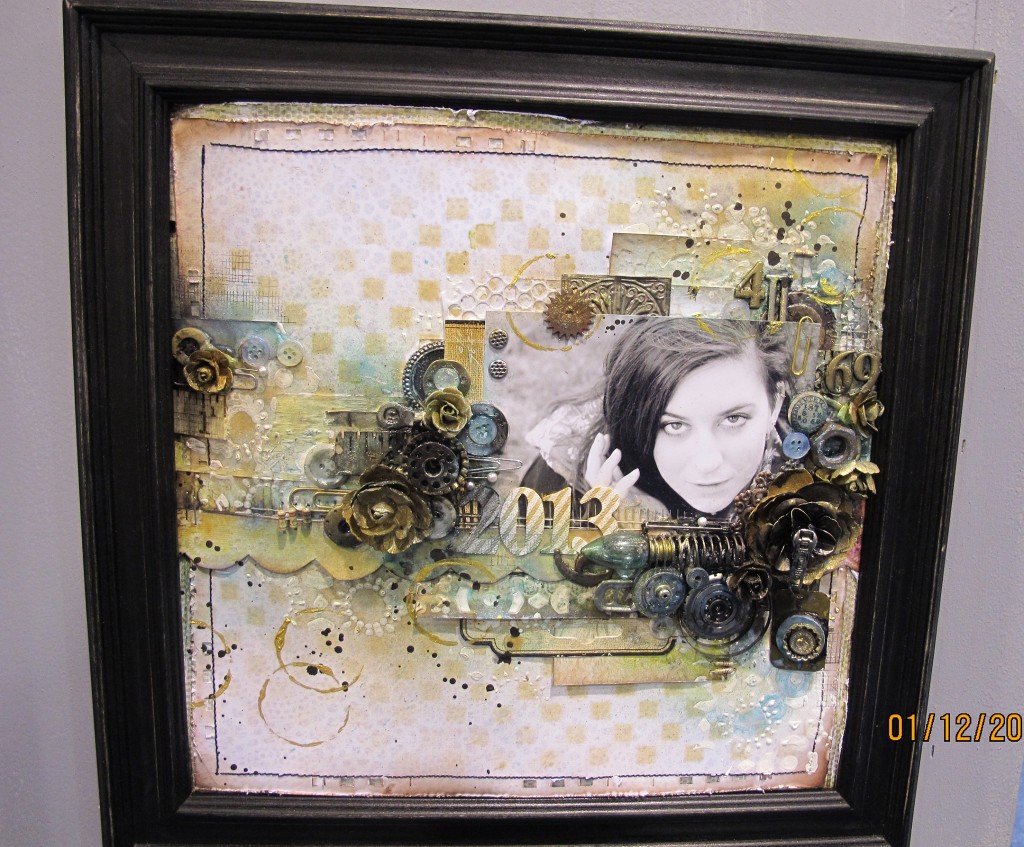 And look at this gorgeous work of art: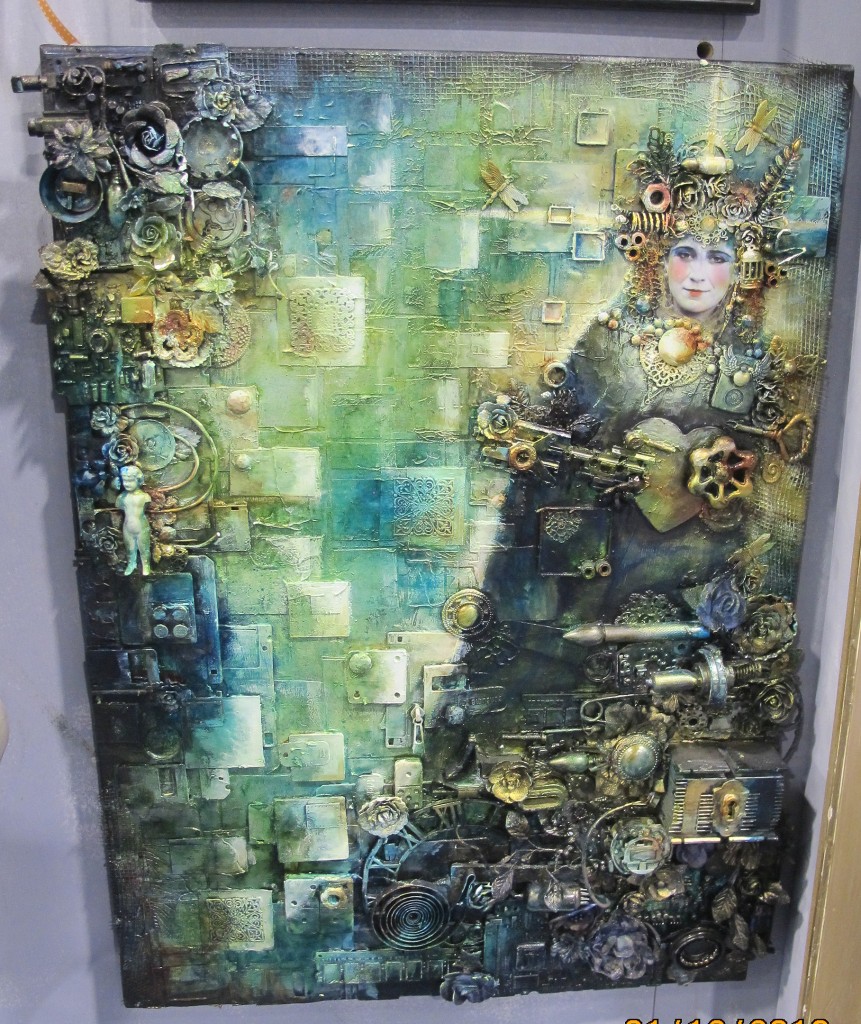 Prima and Leeza Gibbons have teamed up and she has a collection called Wishes & Dreams.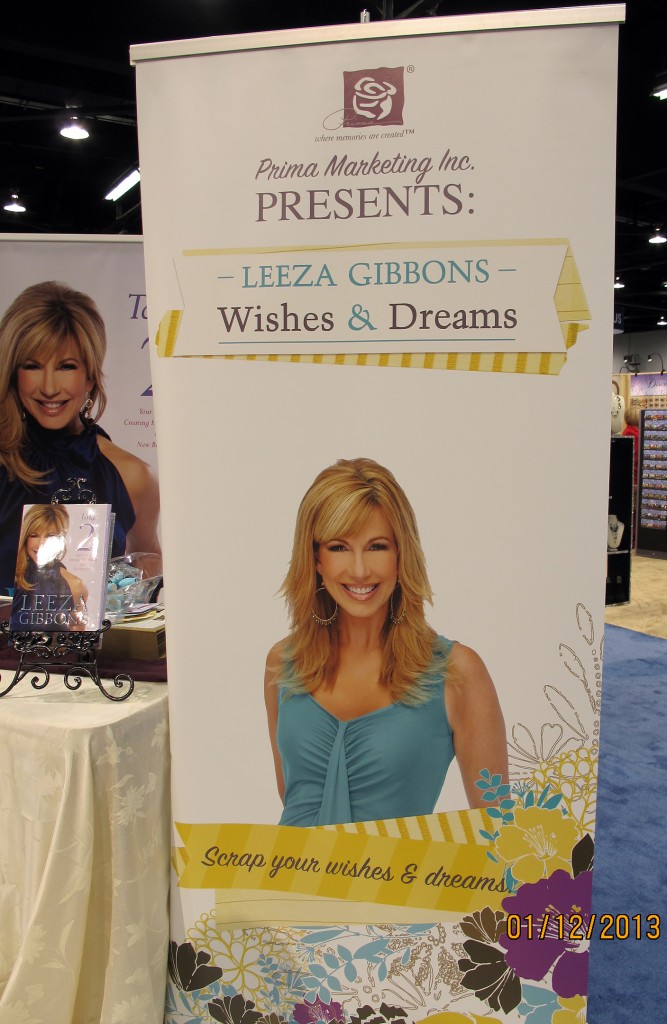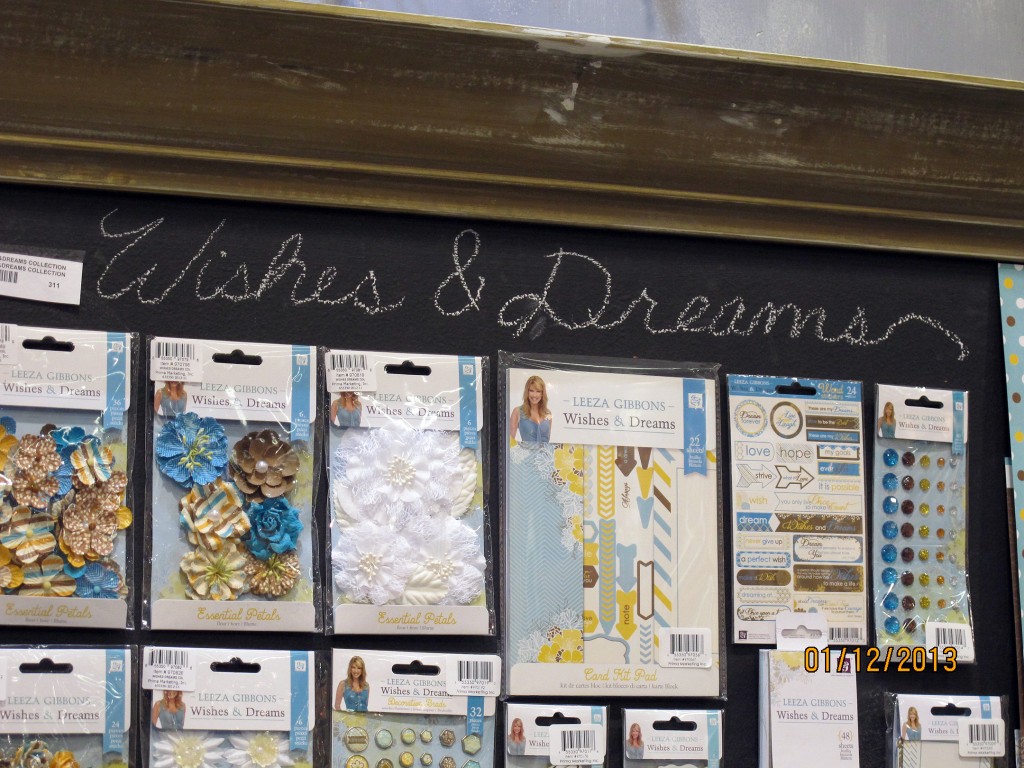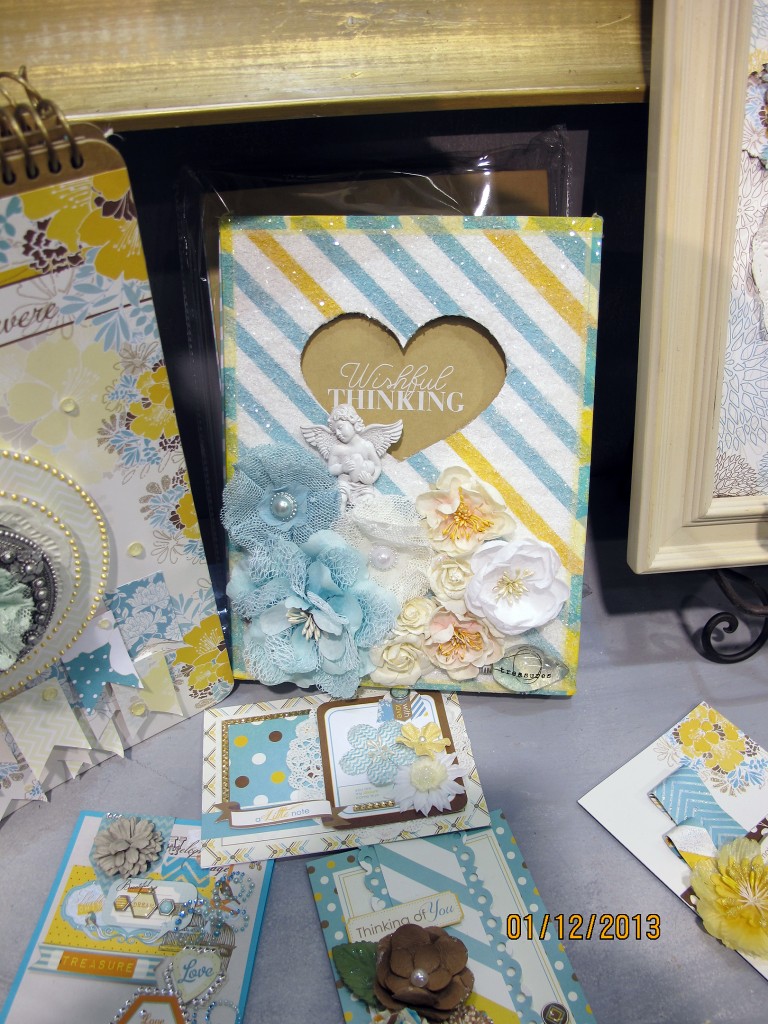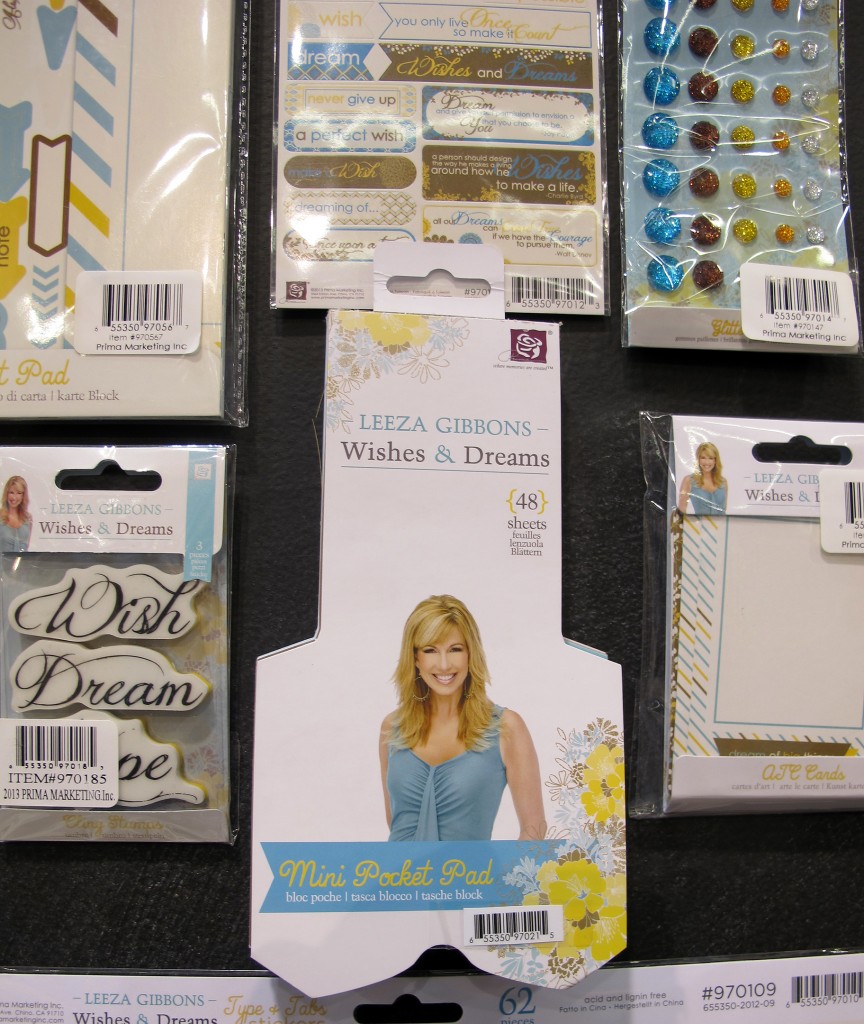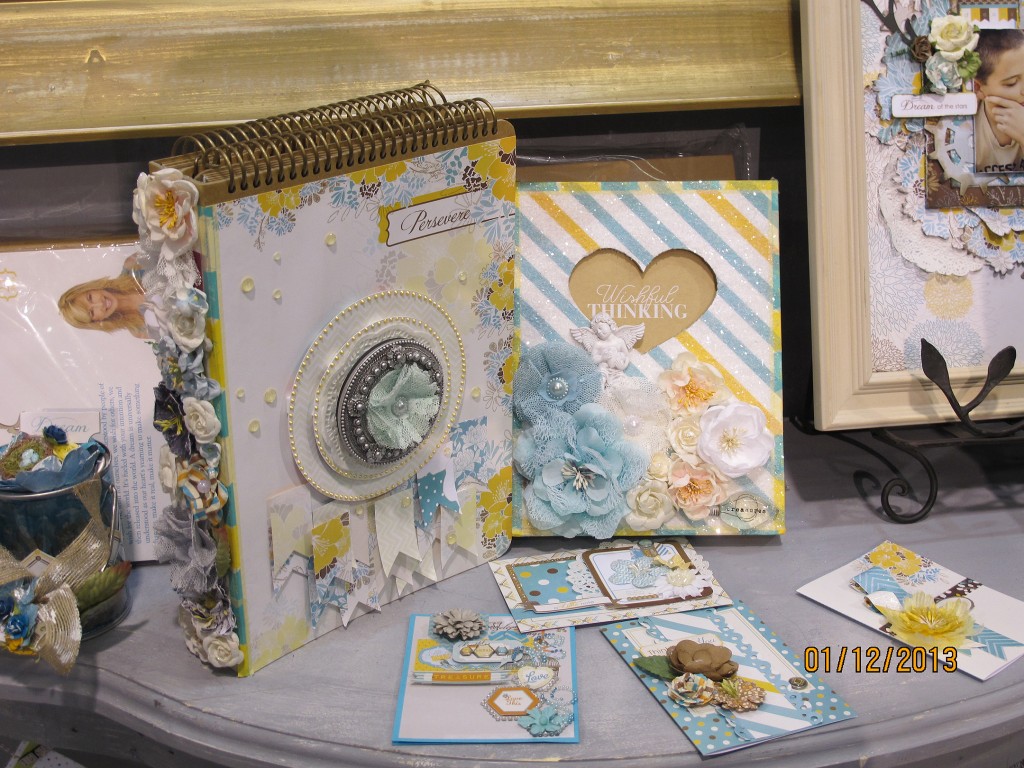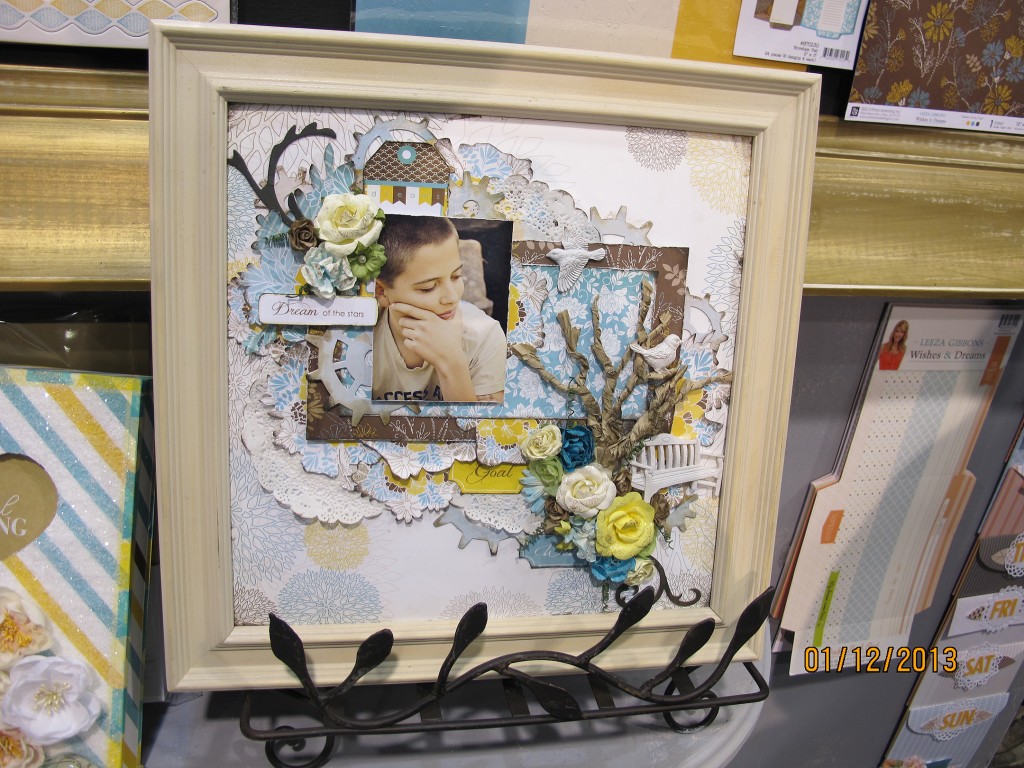 Leeza was in Prima's booth today.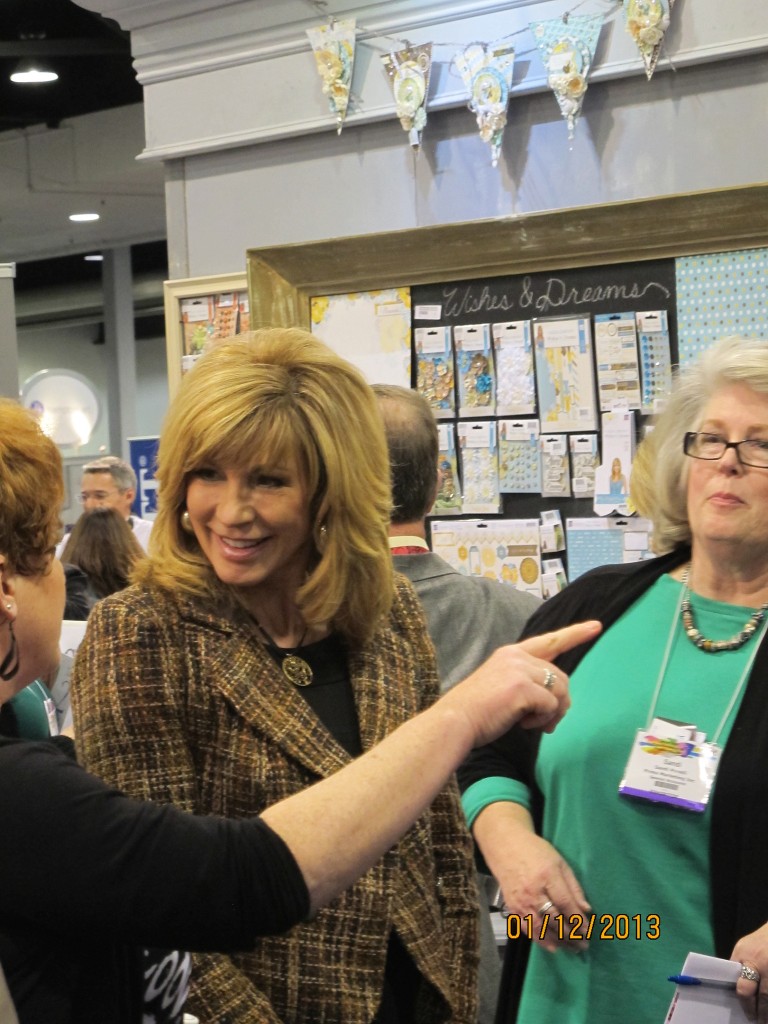 Another new exhibitor is Farm House Paper Co.  They have a great display and a nice product line.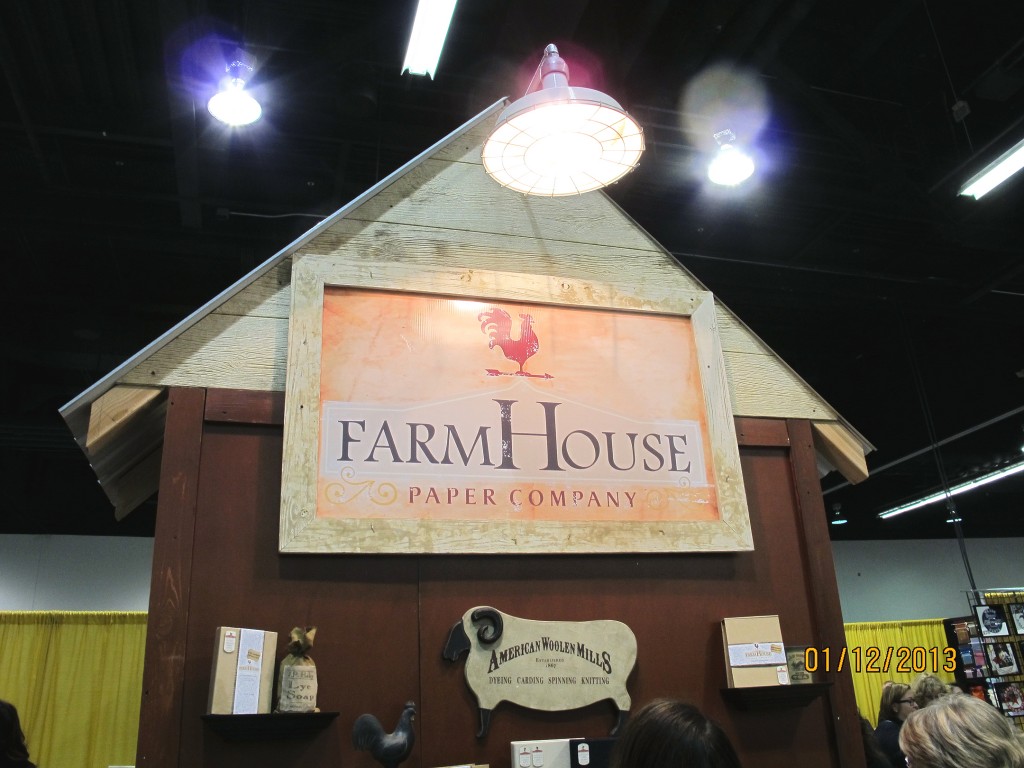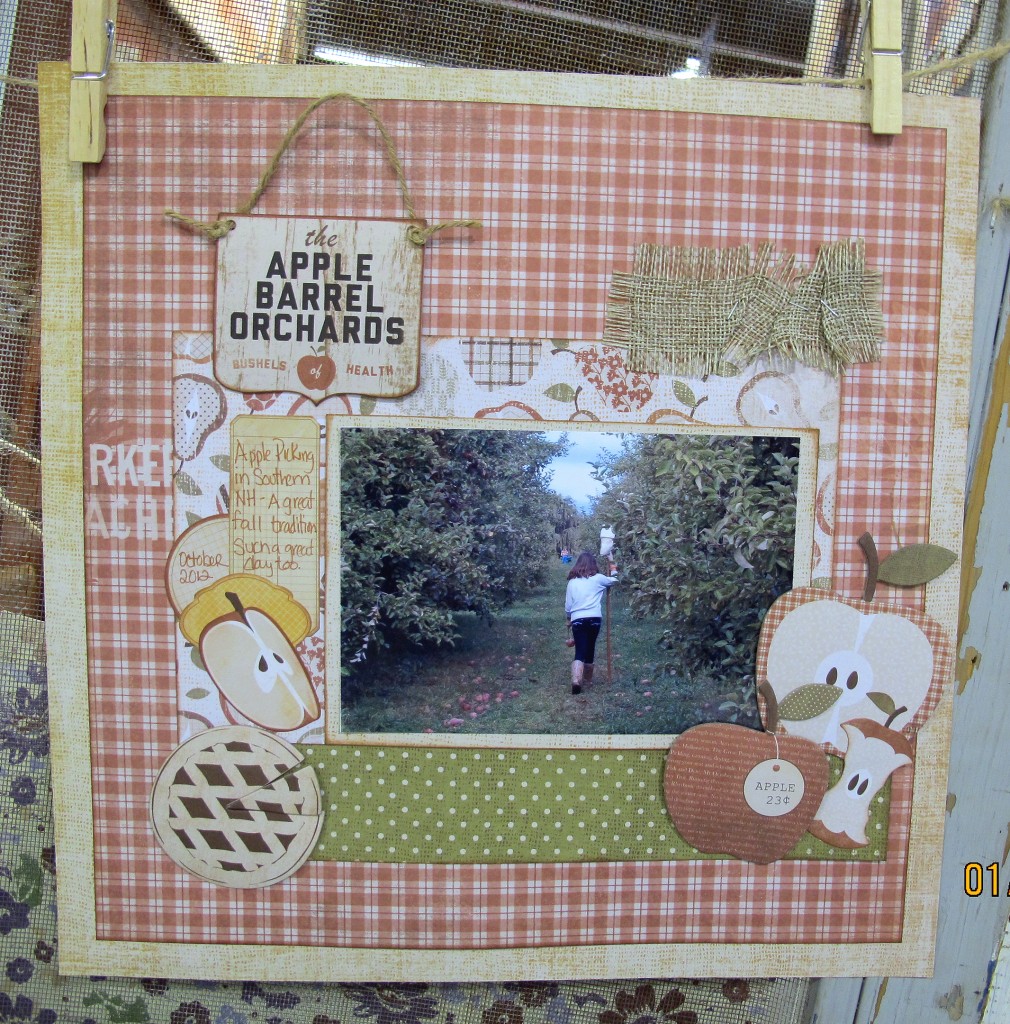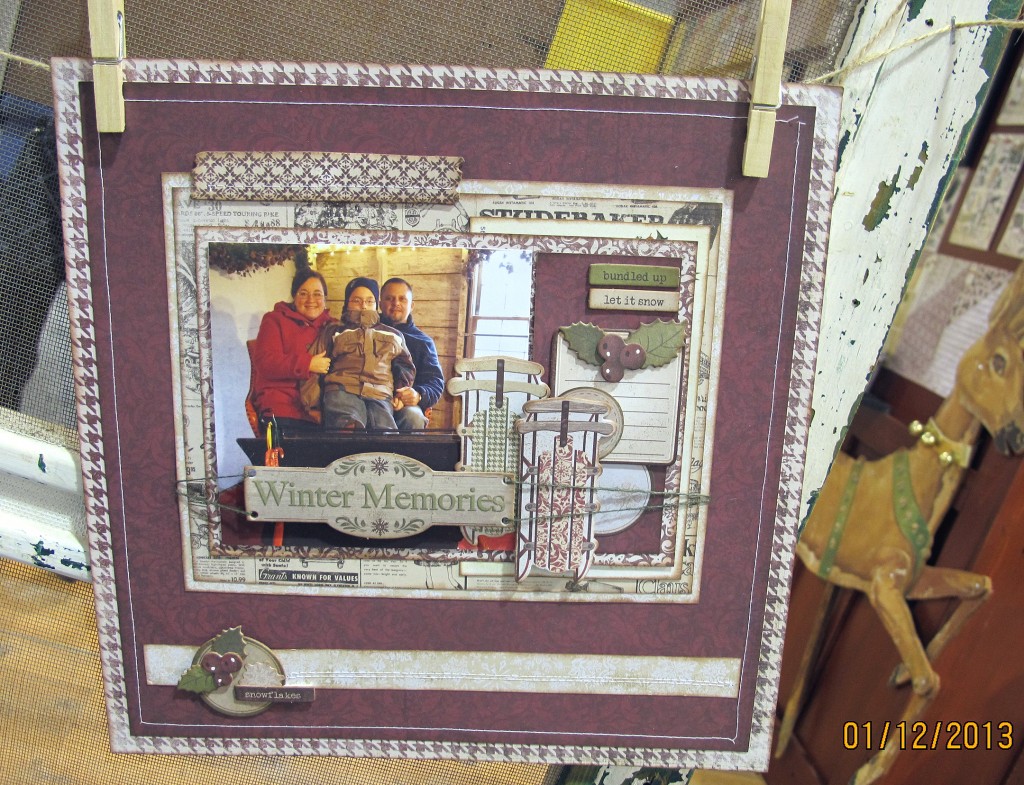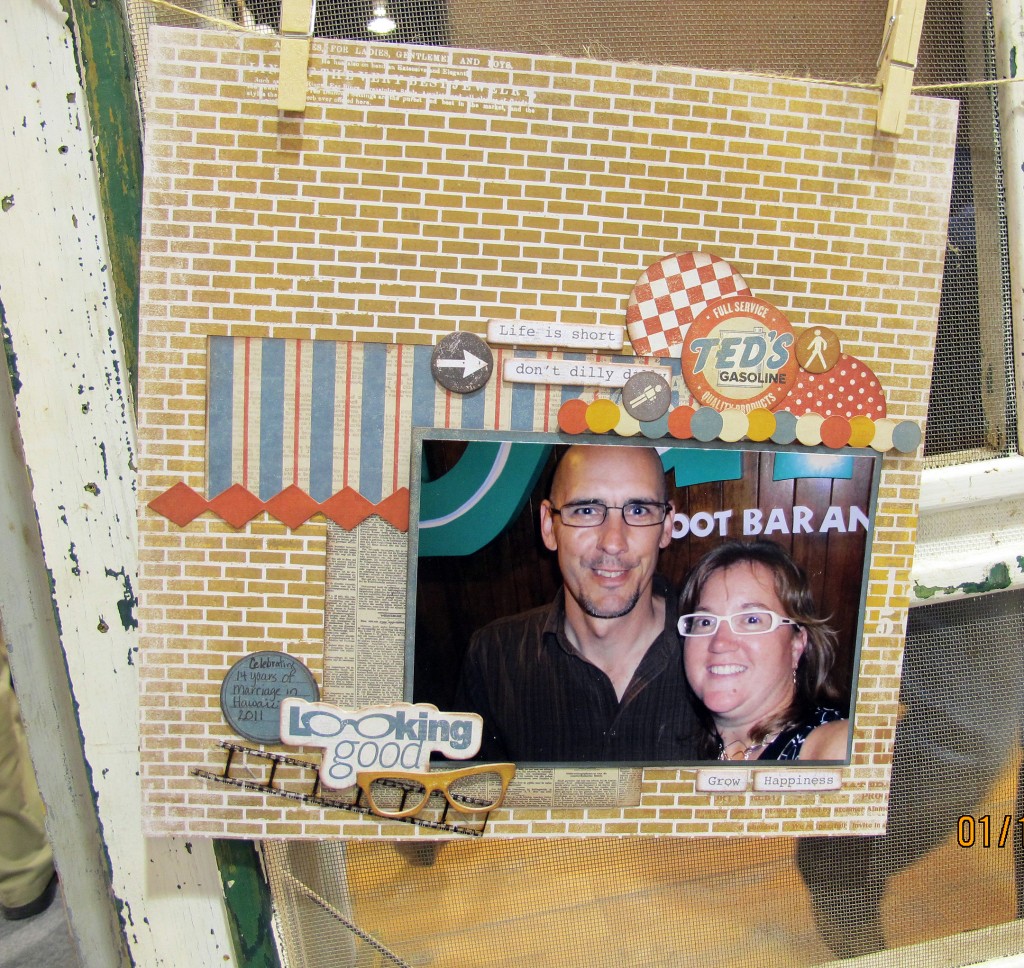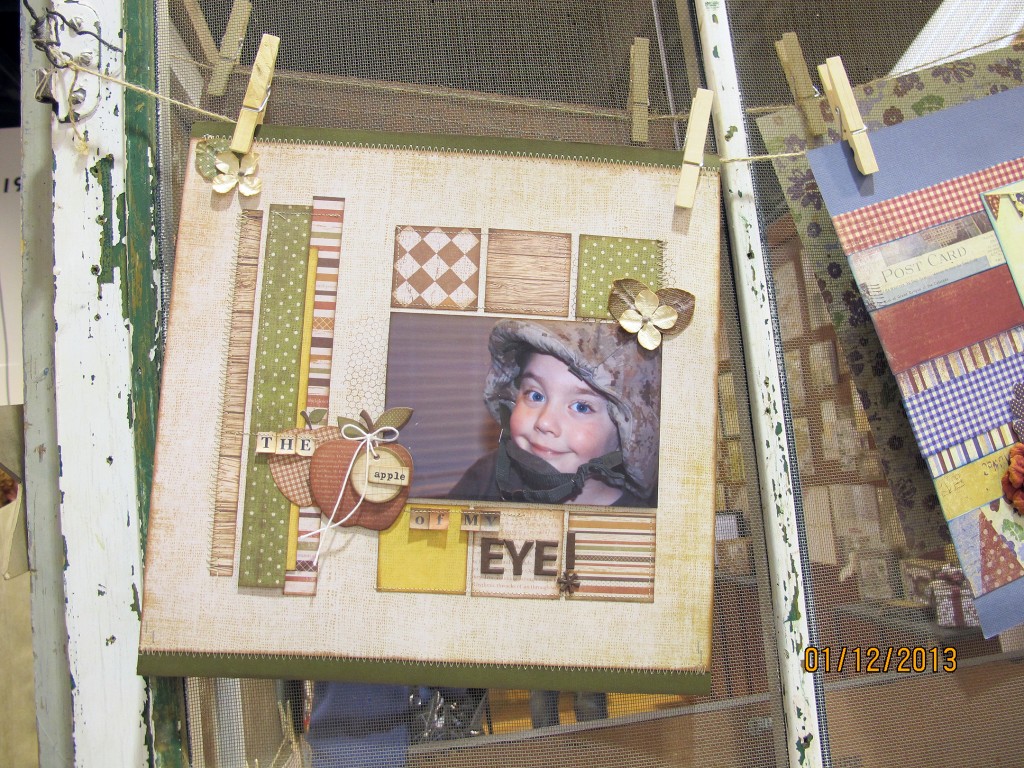 BoBunny's booth was very busy when we walked by.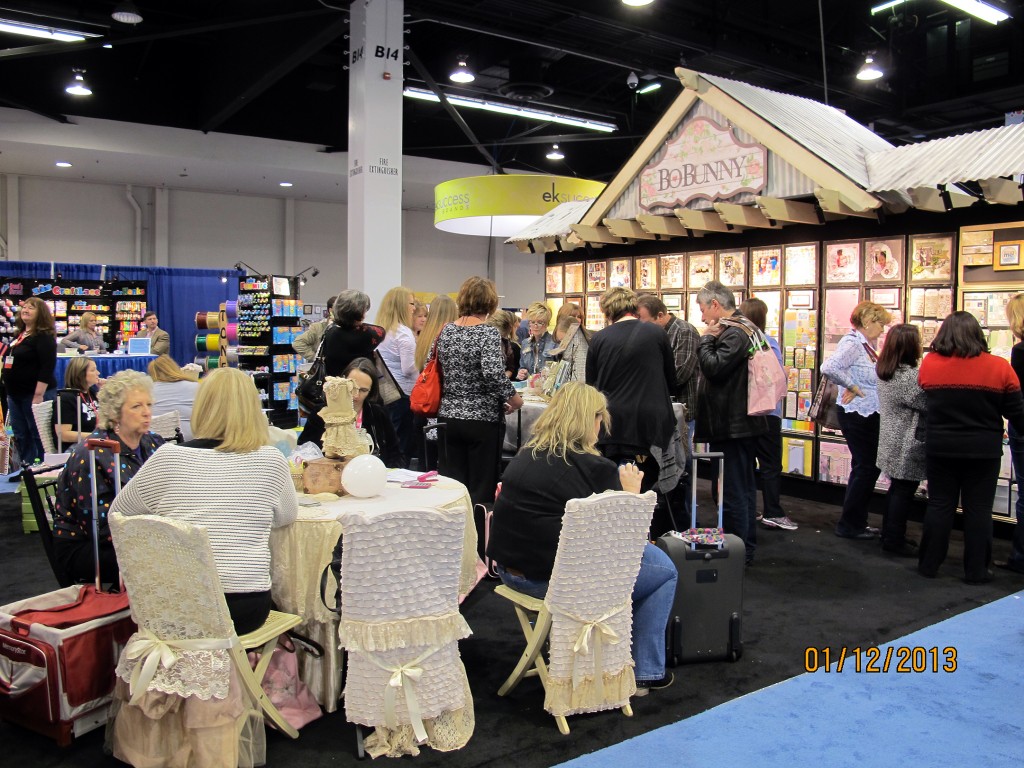 This is the back of their booth, with close-ups of their displays: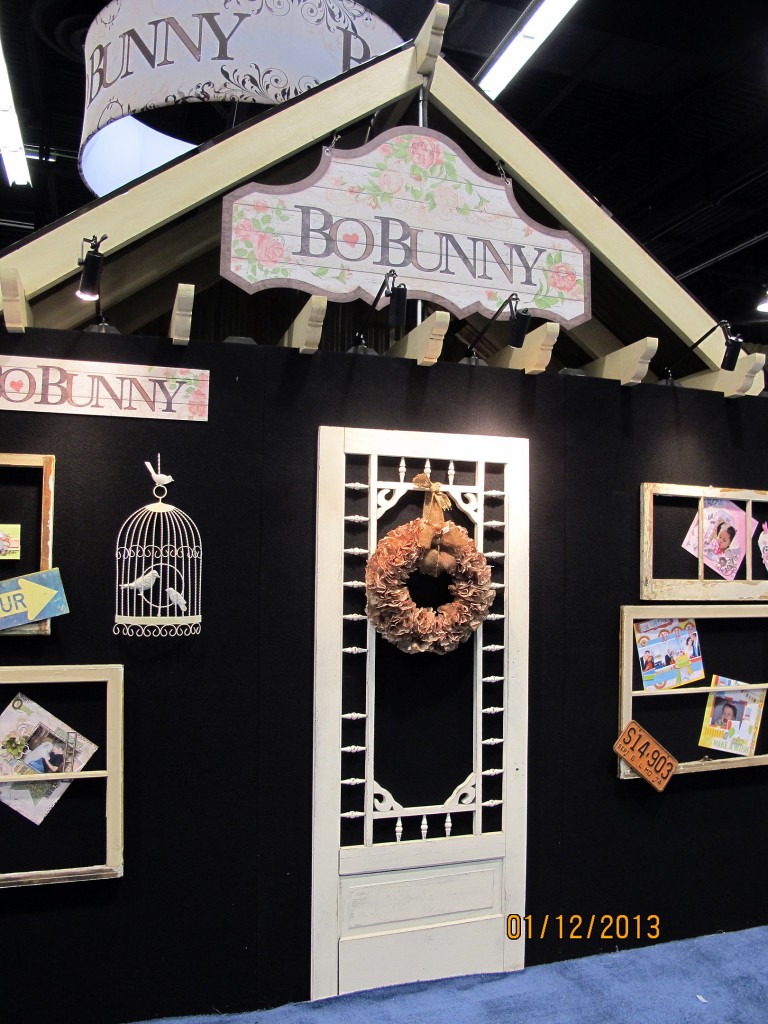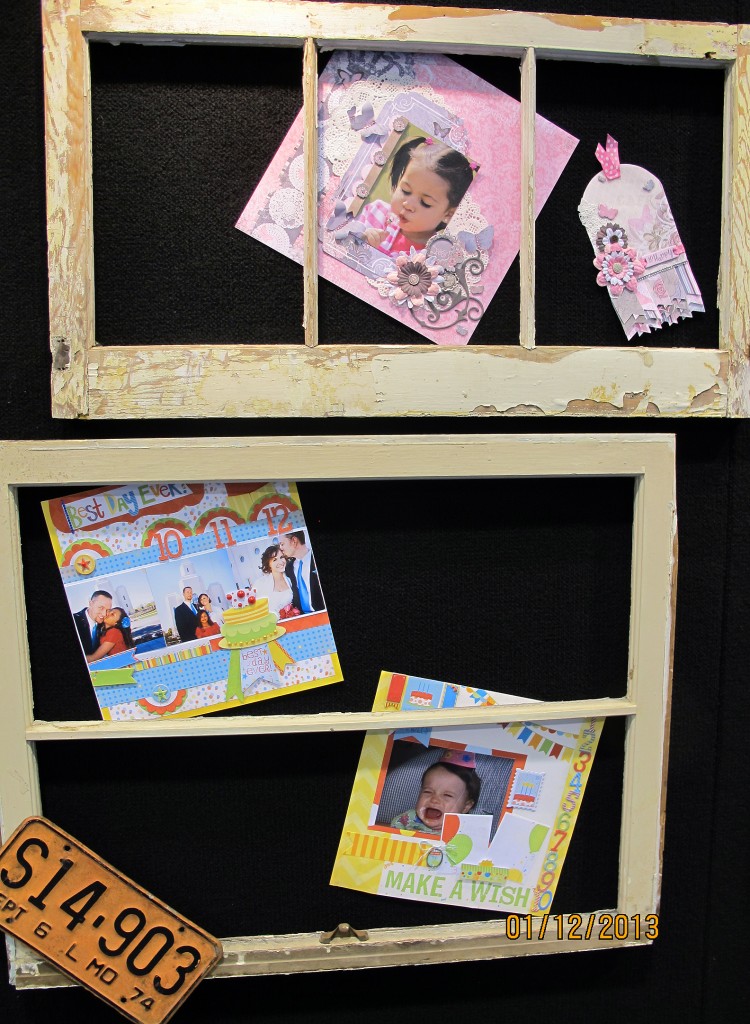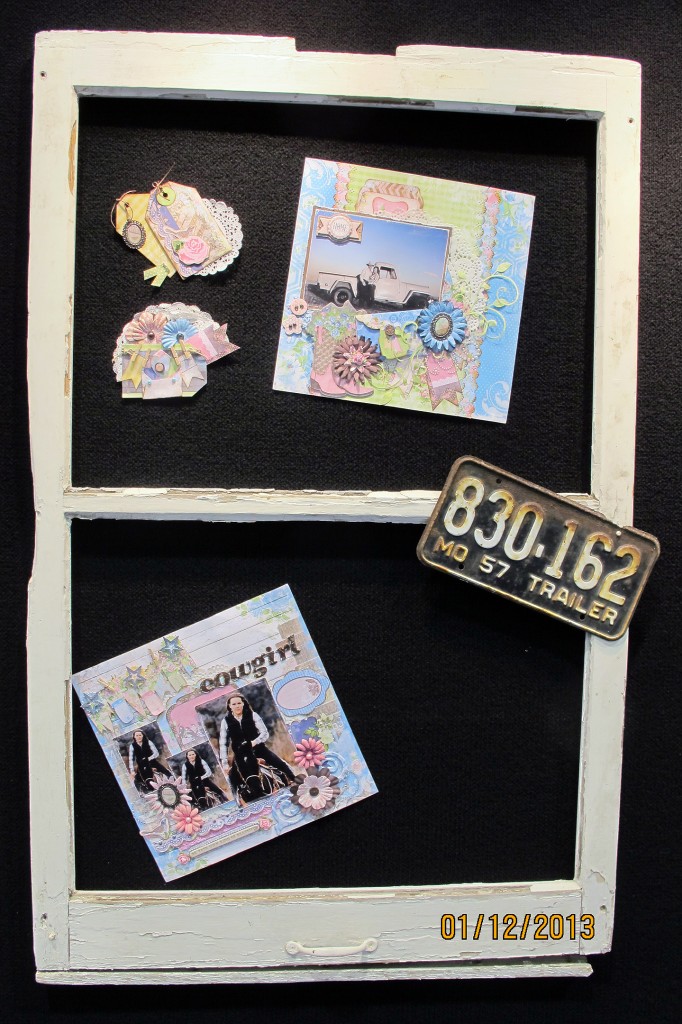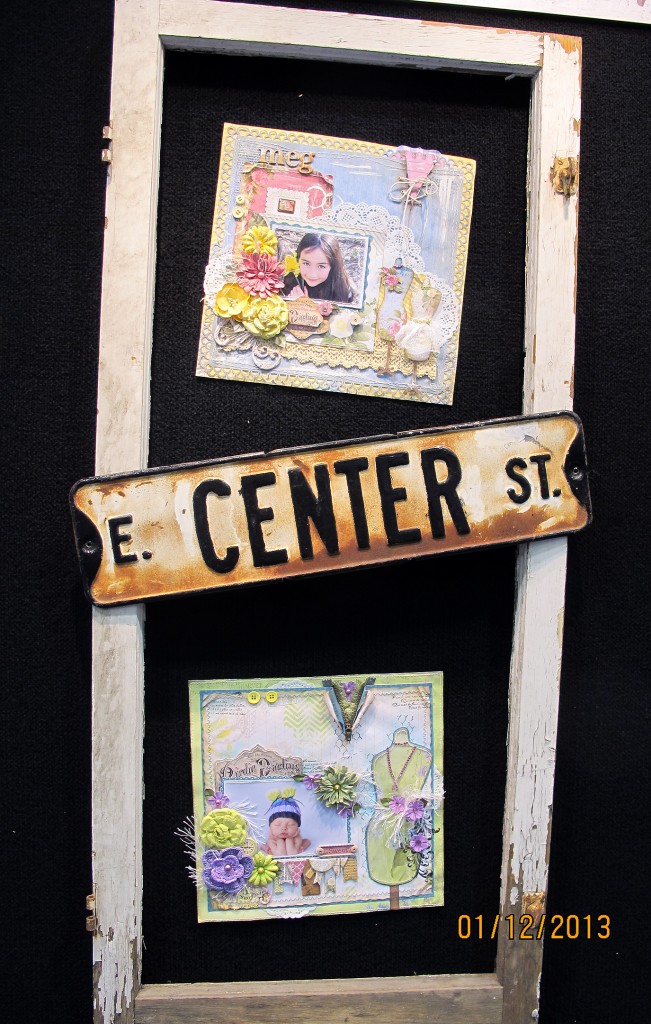 I spent a little time watching the demo in Purple Cow's booth.  The lady was showing how to use their craft iron and encaustic wax paints.  She cut a piece from an old silk necktie and was coating it in wax on a piece of paper.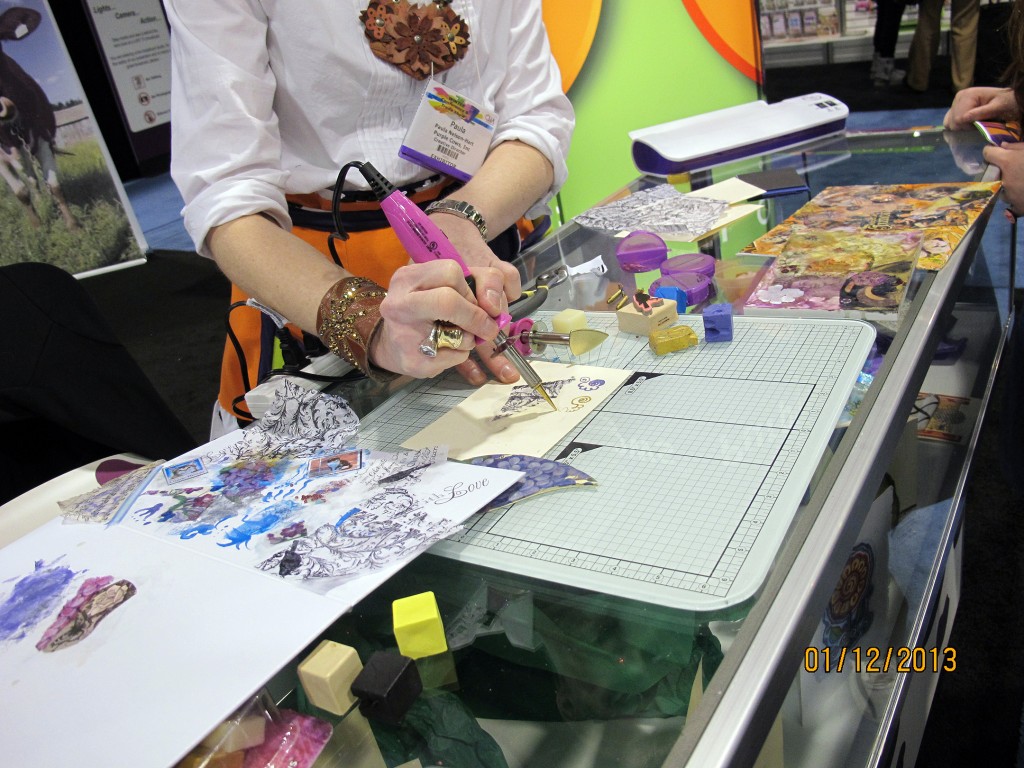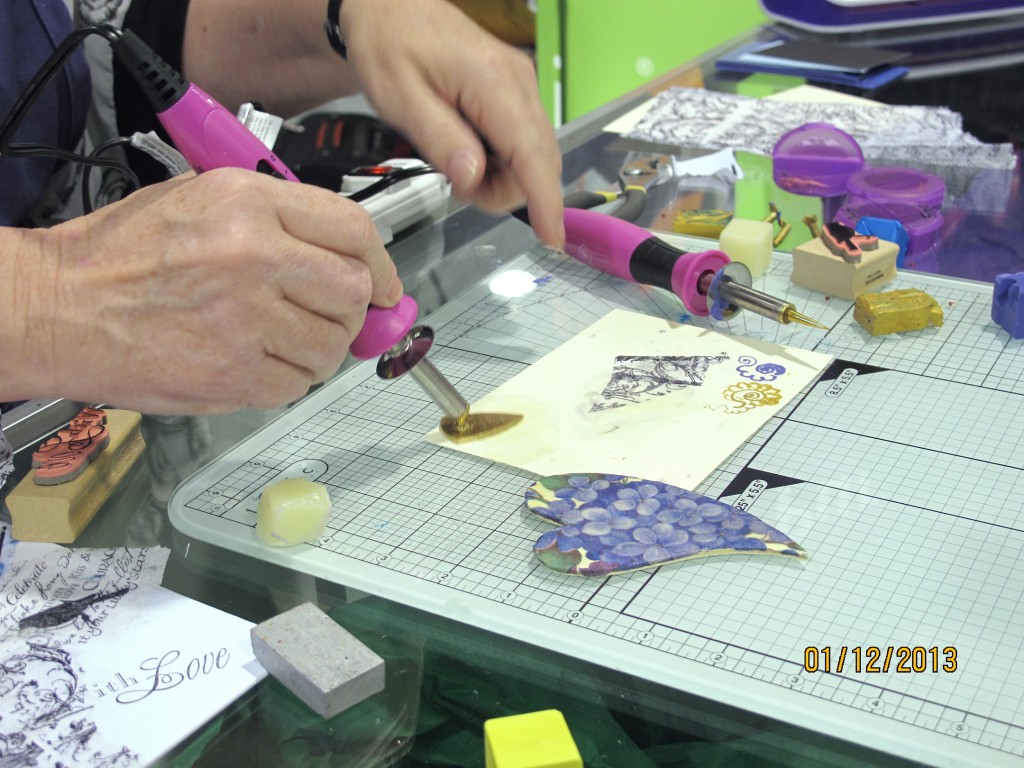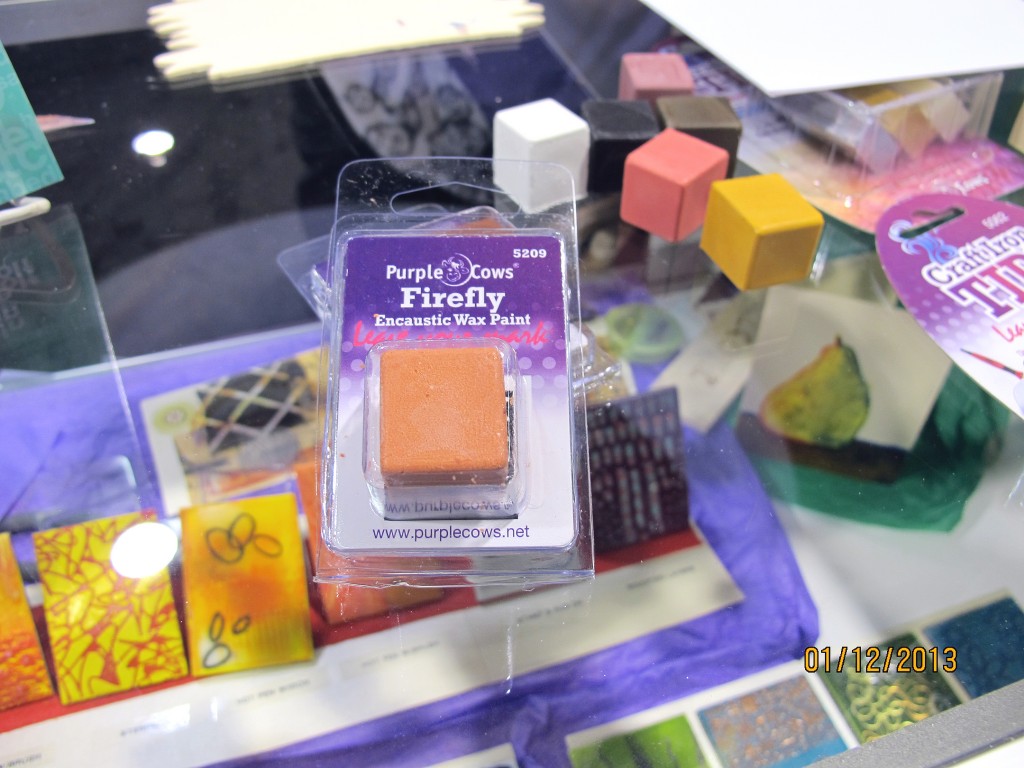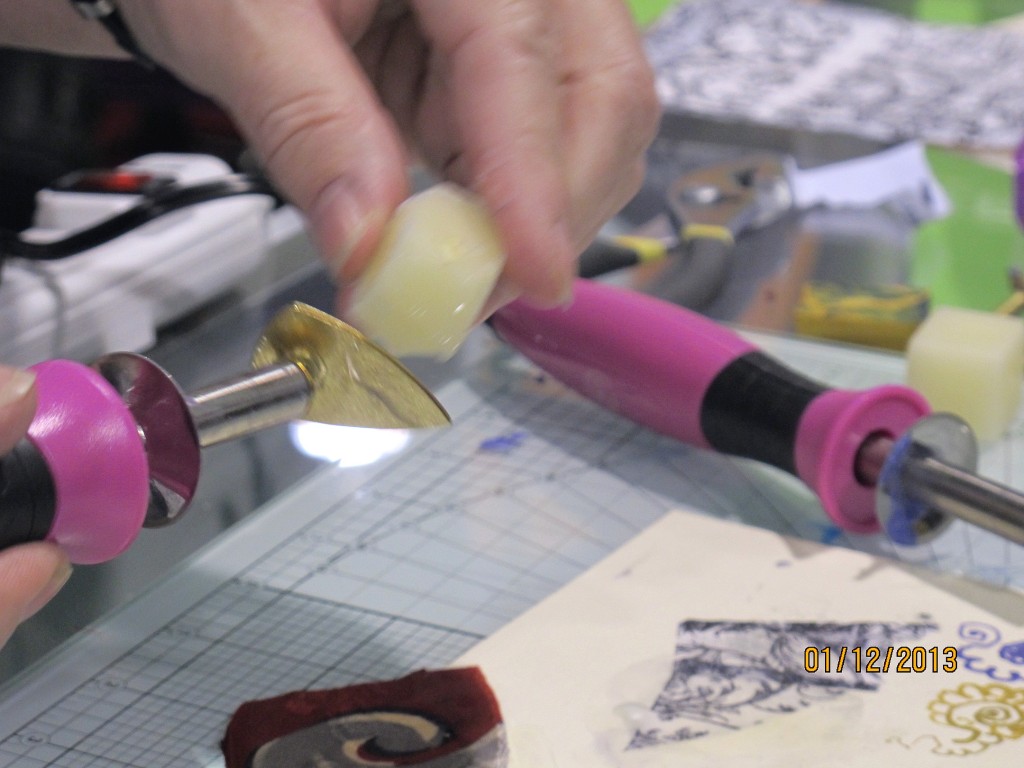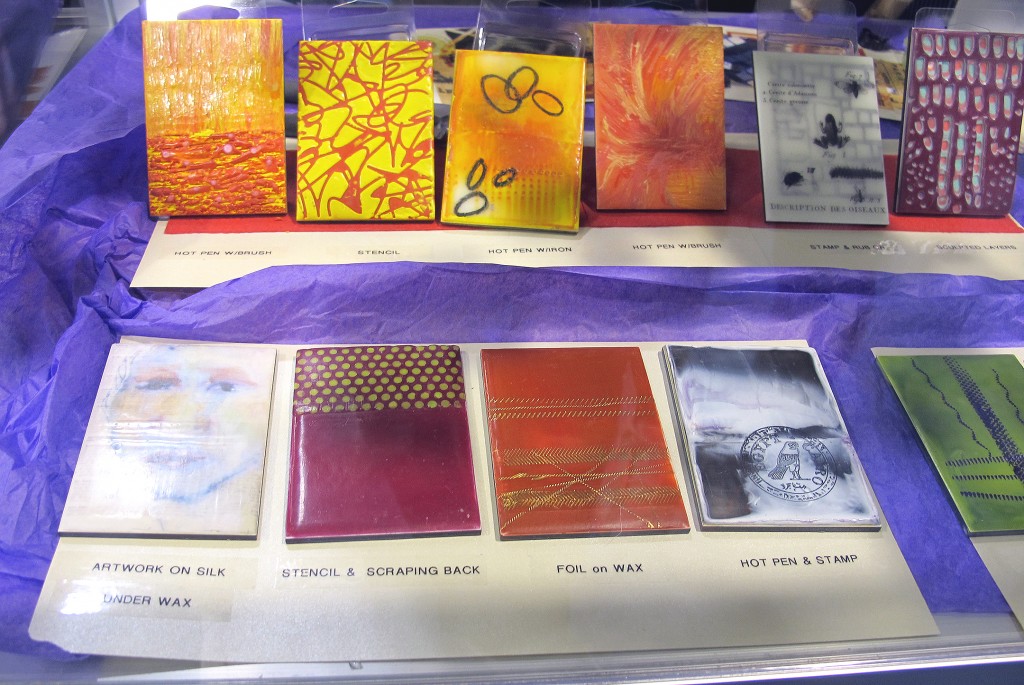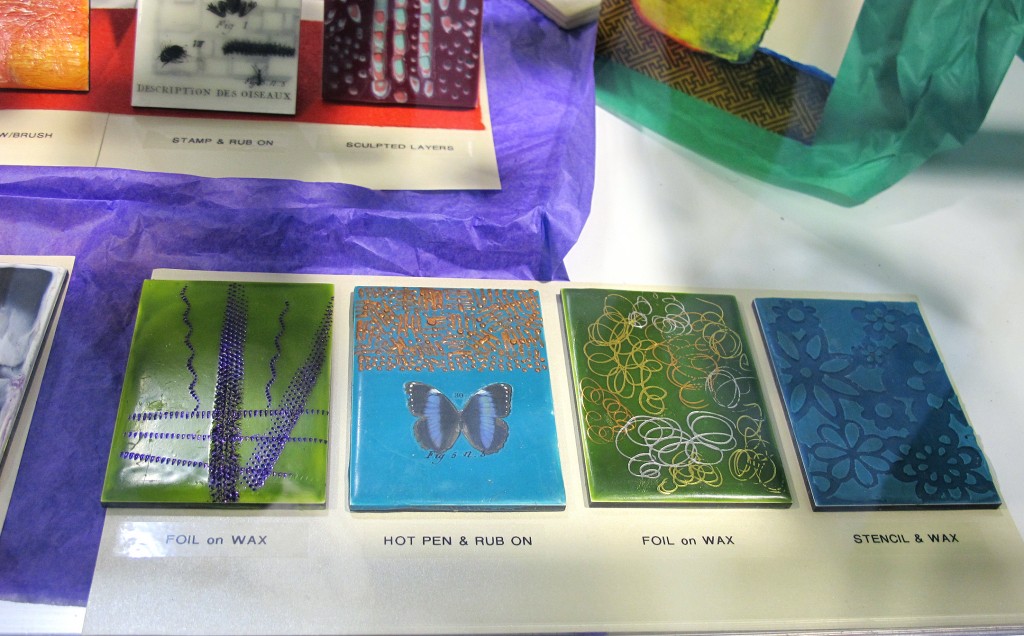 Here are a couple of finished pieces that were on display: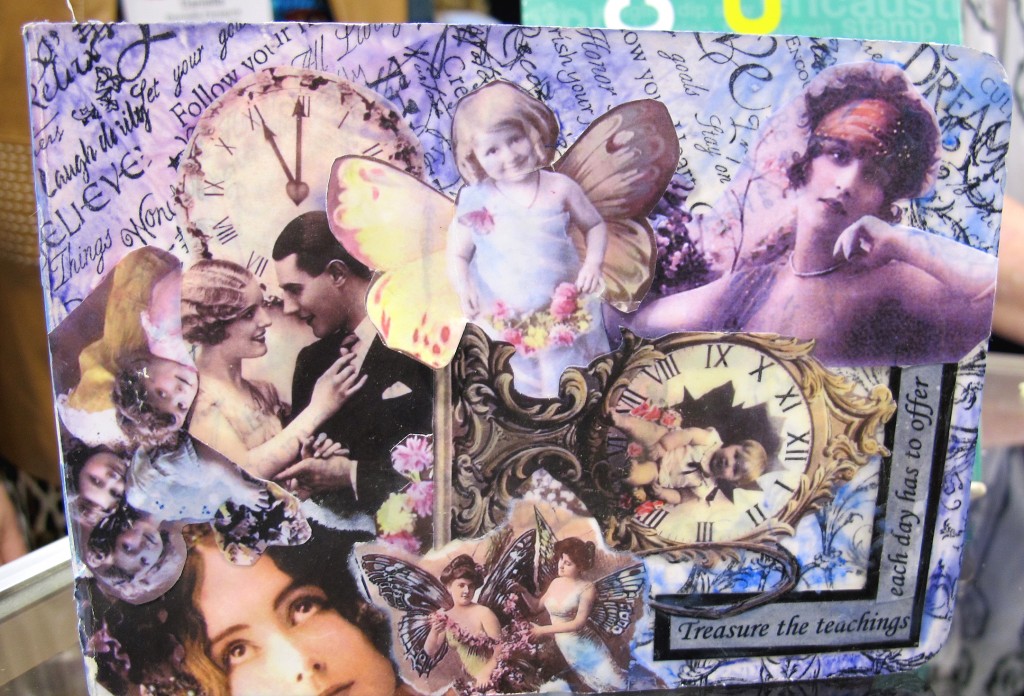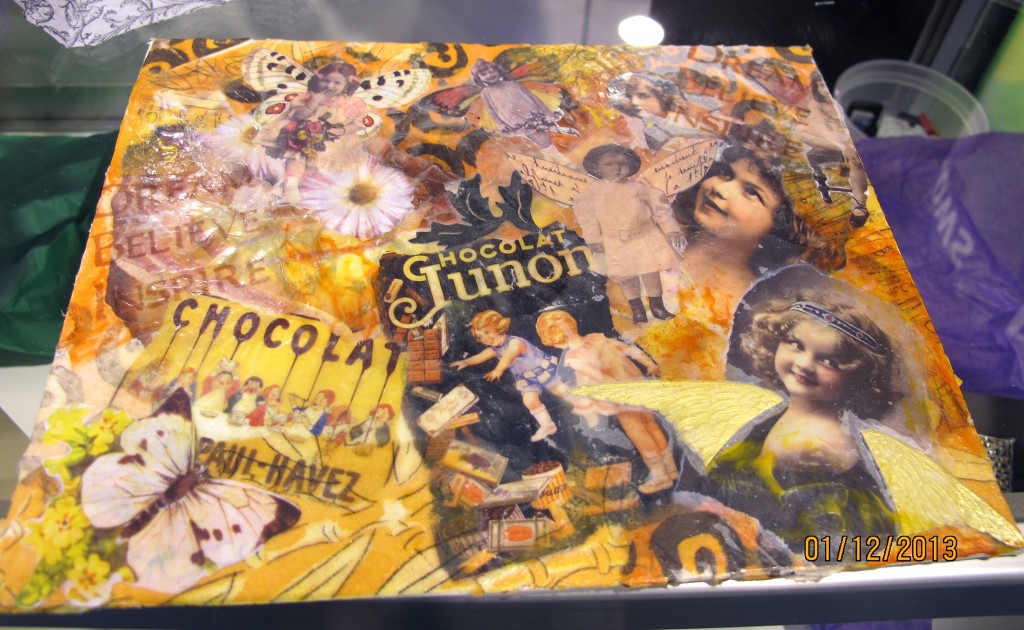 This picture shows a napkin with a picture of Queen Elizabeth on it and how the lady incorporated it into her cover: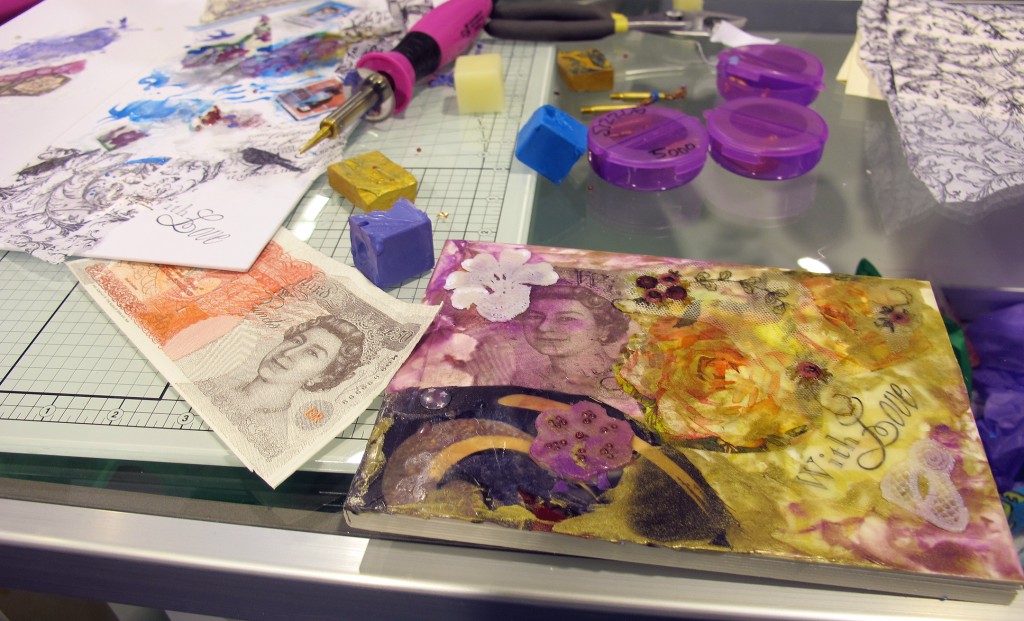 I plan on going back to Purple Cow's booth so I can learn more about this technique.
I haven't knitted in years, but this display using Bernat yarn caught my eye.  The afghan was so soft.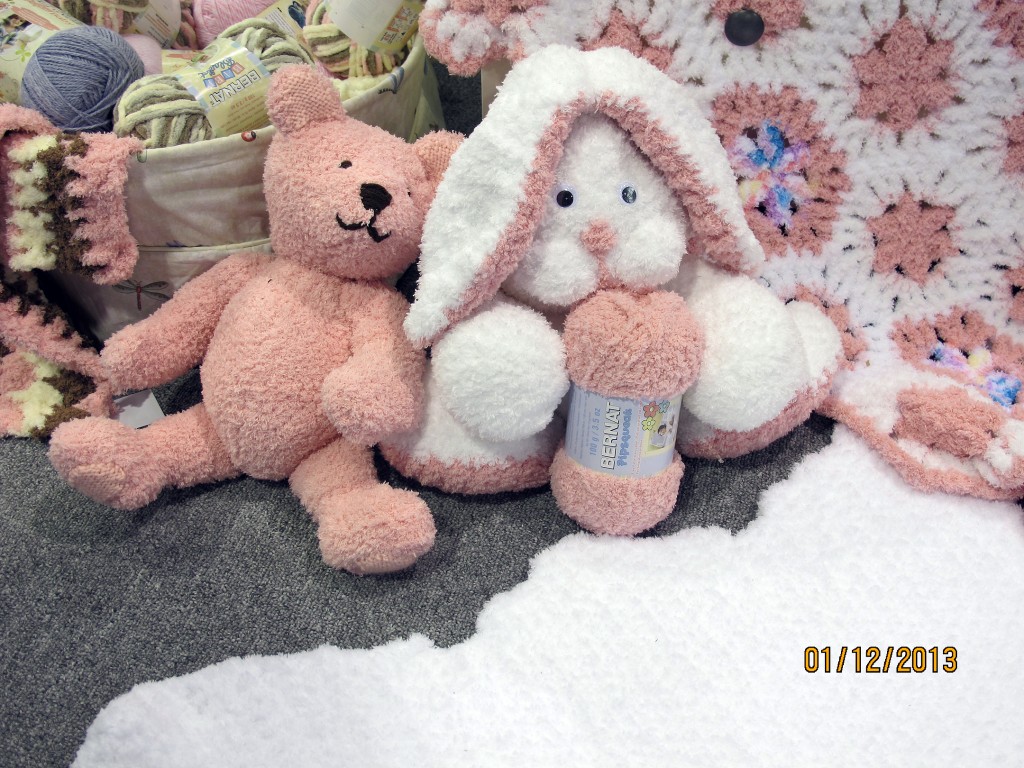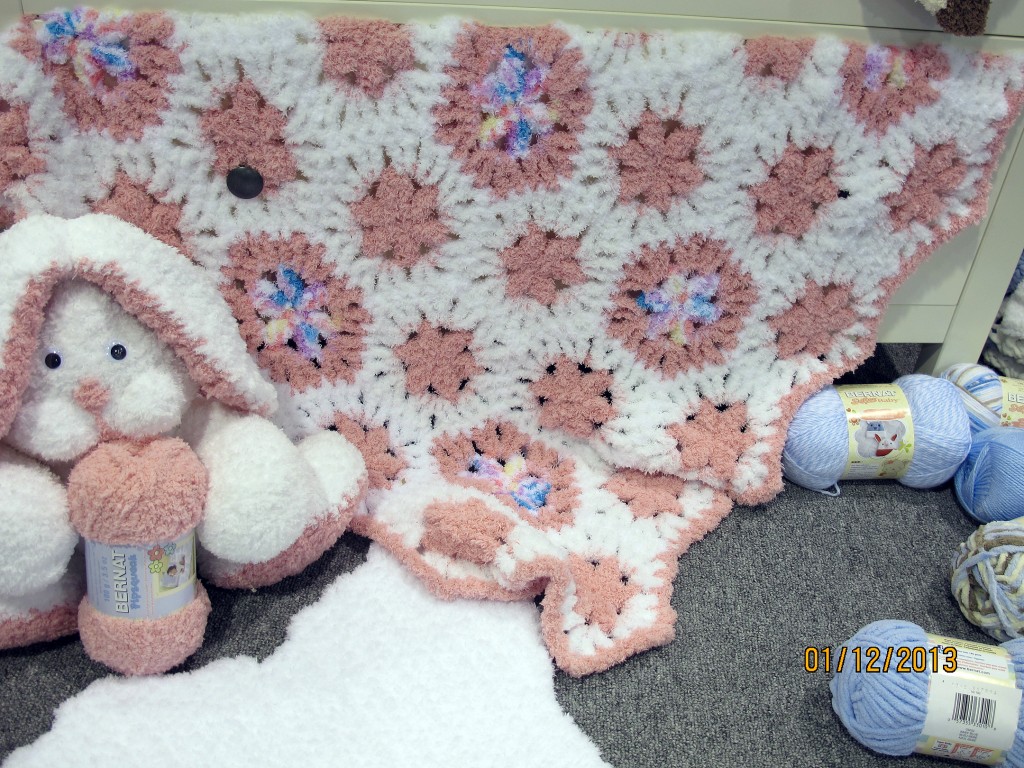 I have a lot more pictures to post, but for some reason it is taking forever to upload them onto my blog.  I have been working for several hours now just to get these up.  Since I want to be back at the show when they open in the morning, it's time to call it a night.
My final picture will be of my one purchase today.  I hadn't planned on buying this, just knew that I was going to at some point.  I had my dear hubby at the show with me today, and when we stopped in the booth to look at Klic-n-Kut's Zing die cutting machine, he must have noticed me drooling because he said to go ahead and buy it.  The lady said they brought a machine with them and it is at their hotel.  She is bringing the machine to the show tomorrow and I can bring it home with me.  I am very excited!  It will be a week or two before I can play with it though — I have several embroidery orders I have to get out first.