This is a quick and fun card I created for Father's Day using the new Cricut Chalkboard Fonts cartridge.  I was inspired by some chalkboard art that I saw on Pinterest.
The card is a standard A2 size (4 1/4″ x 5 1/2″).  On the black cardstock, I inked the edges with white ink.  While doing so, I managed to smear the ink all over myself — and on the front of the cardstock, too.  So I took a sponge and lightly went over the front to make it look like a chalkboard that had recently been erased – which is the look I was going for anyway.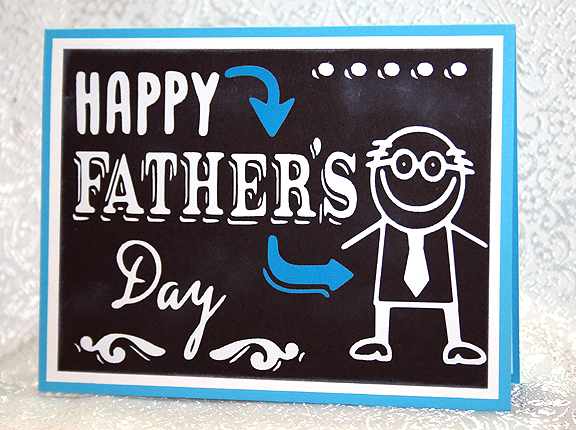 The dad is from the Cricut Car Decals cartridge.  I like the way the Chalkboard Font looks with cuts from the decal cartridges.
The font I picked to use on "Father's" has lots of very small pieces.  Because I knew I would never be able to glue all those small pieces of cardstock to the front of the card, I chose to cut everything from vinyl.  I still had to be very careful when weeding the vinyl to make sure those small pieces stayed in place.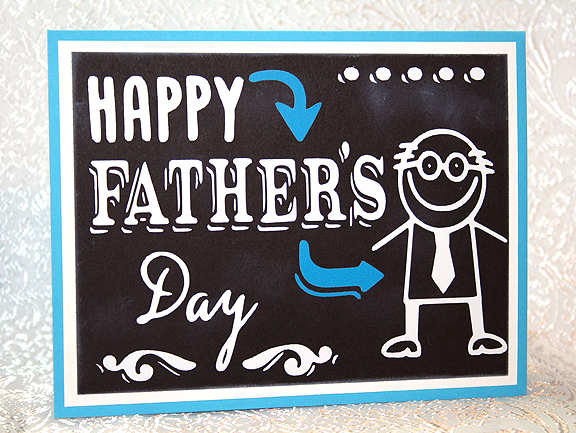 Cricut cartridges — Car Decals, Chalkboard Fonts

Vinyl
Ink