I wanted to make a special birthday card and only knew that I wanted to use some of my beautiful Graphic 45 paper (that I seem to be hoarding) to make it.  I went looking on the web for some inspiration and it didn't take long for me to decide on my design.
I found a card sketch on Stuck On U Sketches that I liked and got out my paper.  All the printed paper is from A Ladies' Diary collection.  The base of the card, the solid black cardstock, is from Bazzill.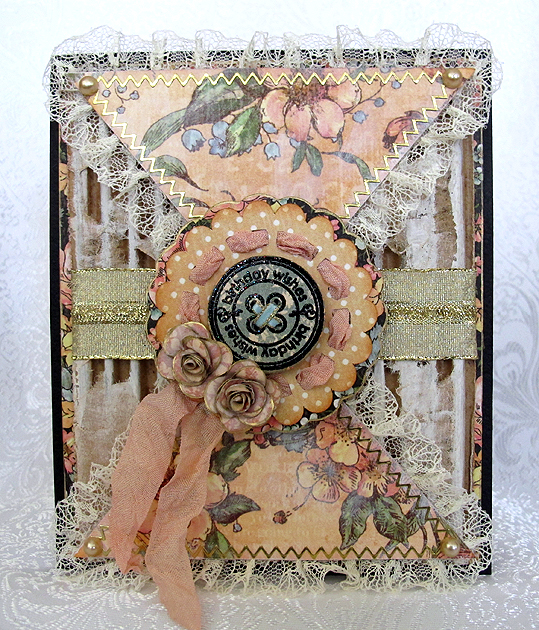 The background is a piece of corrugated cardboard — I removed one of the layers so you can see the ribs.  Then I took some gesso and dry brushed it on.  I wrapped a piece of gold ribbon from my stash around the middle.
I cut the triangle pieces in Cricut Craft Room using George & Basic Shapes.  I dry brushed some gesso on the triangles and glued lace trim around the edges using Farbri-Tac glue.  The gold trim around the edges is stickers.  I attached pearls at the corners.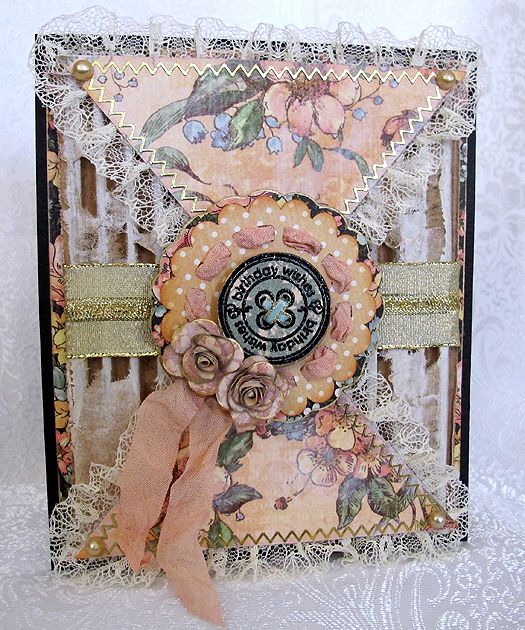 The scallop circle is from Cricut Alphabet, <Doily12>, and it is cut at 2.5″.  I used a Krylon 18kt. Gold Leafing pen to go around the edges of the shadow scallop.  I dyed some seam binding using Tattered Angels Glimmer Mist and threaded it through the holes in the doily, leaving the tails to hang down.
The birthday button in the center of the scallop is a new stamp and die set that I just got from Whimsy Stamps.  I heat embossed the sentiment using Stampendous Stardust embossing powder.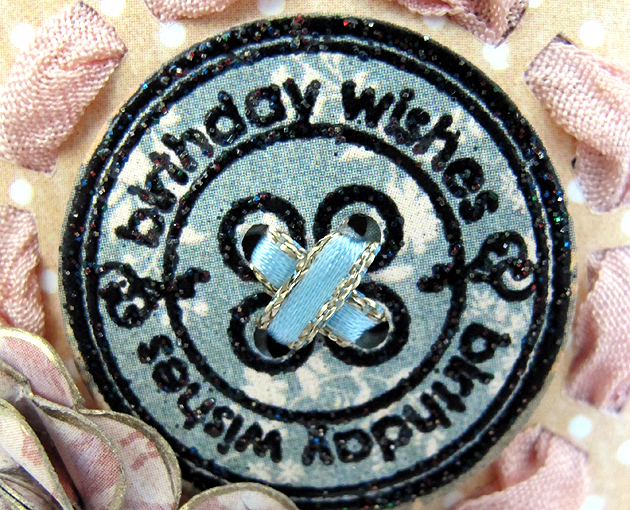 The two small roses were made following this tutorial, from Scraps of Life's blog.  I used a flower shape from Paisley, Layer1 + <Shoes1>, cut at 4.5″.  I dry brushed the layers with gesso and used the gold leafing pen on the edges of the petals before I assembled the flowers.    I love how tiny they are — they are under 1″ across.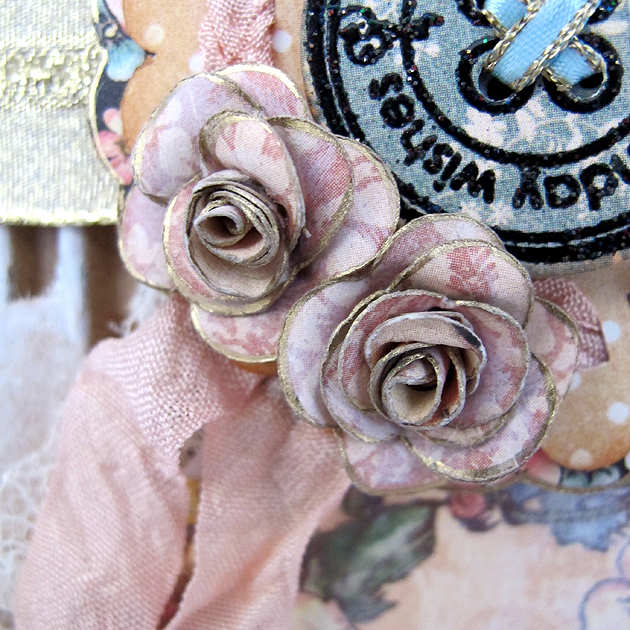 The scallop layer and the button are attached to the card using foam pop dots.
On the inside of the card, I edged the black floral layer with the gold leafing pen.  I still have to do my sentiment layer.  I think I will write it first before attaching it.  If I make a mistake, then I can just redo it rather than having my blunder permanently attached to the card.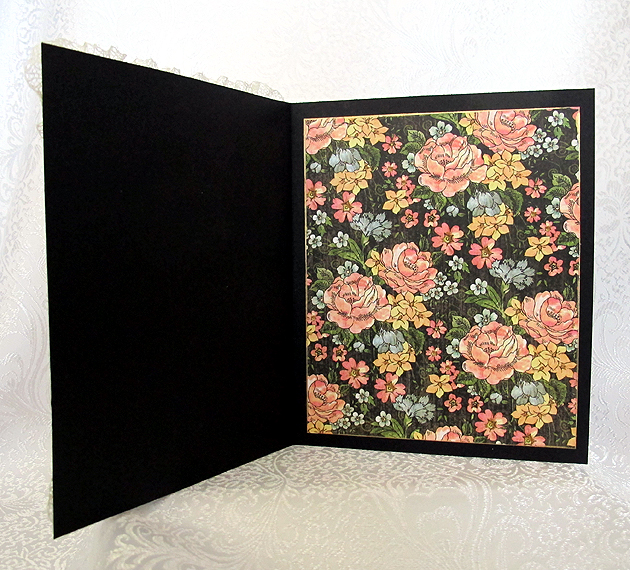 Graphic 45 A Ladies' Diary collection
Bazzill cardstock
Cricut Craft Room
Cricut cartridges:  Cricut Alphabet, George & Basic Shapes, Paisley
piece of corrugated cardboard
ribbon from my stash
seam binding
Tattered Angels Glimmer Mist
Stampendous Stardust embossing powder
gold border stickers
self-adhesive pearls
Gesso
Krylon 18kt Gold Leafing Pen
Whimsy Stamps — Everyday Button Sentiments and Button Die
Fabri-Tac adhesive