The first thing I have to say is how excited I am again — my penguin shaker ornament card was one of the winners at the Fantabulous Cricut Challeng Blog.  Thank you so much FCCB!!
Now on to the Cricut Circle magazine challenge, which I forgot all about when I made my penguin shaker ornament last week.  I posted my ornament card on the Cricut message board, and a fellow Circlet asked me if I was going to enter my card in the Circle magazine challenge.  She was even kind enough to give me the link.  I went to the website and reviewed the rules and saw that the project must be newly created, so I figured my penguin card would not qualify — especially since it had just won a challenge.  With time running out on the magazine challenge, I decided to create a new shaker ornament card especially for it. 
For this challenge, which is only open to Circle members, the project has to have at least four Cricut cuts and also use one other Provo Craft product — like the Cuttlebug, Yudu, etc. 
I made another shaker ornament card, only this time I put a deer inside.  I used Core'dinations Core Couture cardstock for the ornament — I like it's glittery look.  I used the ornament from Joys of the Season cartridge.  I used Cricut Design Studio to weld two ornaments together to make the card.  I also welded a rectangle from George and Basic Shapes to the bottom so that the card can also stand alone if it is not hanging on the tree.
The deer is one of my favorite cuts and he is from the Cindy Loo cartridge.  The snowy hills are from Country Life, the trees from Christmas Cheer, the poinsettias from Winter Woodland, and the tag is from Very Merry Tags.  I cut the poinsettias from white cardstock and inked them blue.  I edged them using a Krylon Silver Leafing Pen and added silver Stickles to the centers.   
I used my Cuttlebug to emboss the background cardstock in the shaker using the Snowflakes embossing folder.  I also embossed the tops of the ornament, which I cut from silver metallic cardstock, using the Herringbone embossing folder. 
I used a Martha Stewart border punch to make the snowflakes that shake around in the card, using the negative cuts from the punch.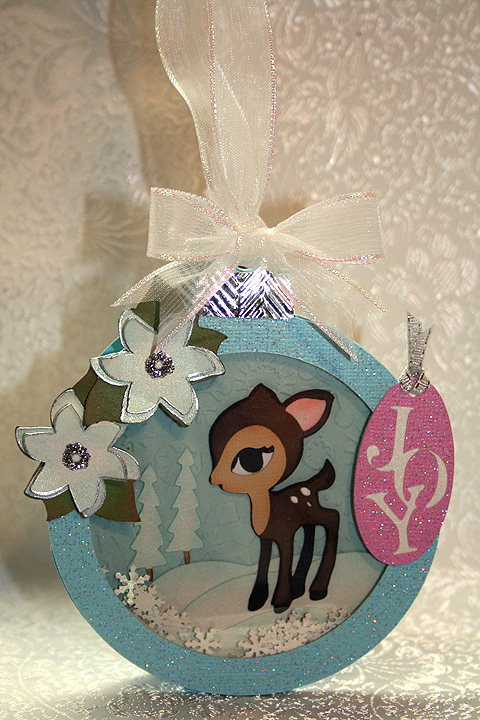 As I did on the penguin ornament card, I put the silver tops on the insides and back of the card.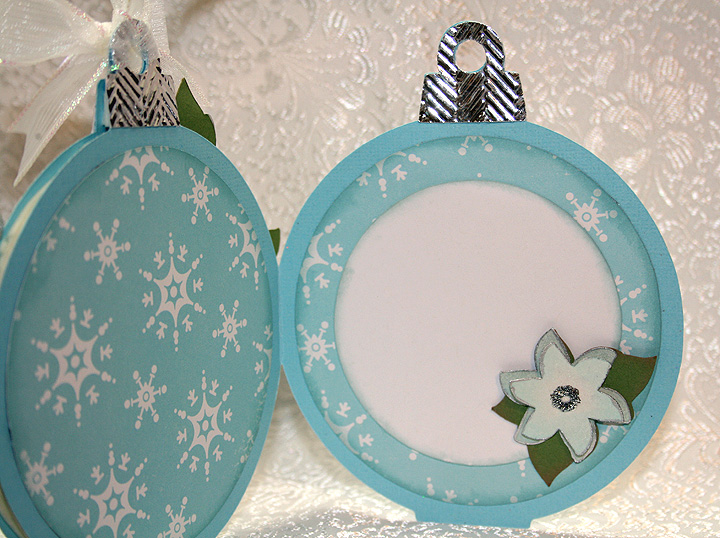 Core'dinations Core Couture cardstock
Cricut cartridges:  Christmas Cheer, Cindy Loo, Country Life, George and Basic Shapes Joys of the Season, Very Merry Tags and Winter Woodland
Cuttlebug embossing folders:  Herringbone and Snowflakes
Martha Stewart snowflake border punch
Silver Stickles
Krylon Silver Leafing Pen