Whoo hoo — I'm back with my second layout.  I haven't posted in quite some time, but I am so excited because my first layout won in the Provocraft contest that was held in conjunction with the launch of the new Cricut Expression E2.  I was the next-to-the-last winner announced on Provo's Facebook page and couldn't believe my eyes when I saw my layout pictured on their wall.
This is my first "major award"  — and what did I win?……A new Cricut Expression E2 — whoooo hoooo.  It has already arrived and I hope to start playing with it soon.  Thank you so much Provo Craft!!
I created this layout to enter in the latest Cricut Circle Blog weekly challenge, which ends in just a few hours.  This is a sketch challenge and you have to follow the sketch posted on the blog.  It always takes me time to come up with inspiration, particularly when doing layouts.  Hopefully as I gain more experience the ideas will come more quickly. Now for a little background info about this layout.  Erin (my daughter and co-conspirator on this blog) is currently living in Taiwain and is a huge Disney fan.   She has visited all five parks many times.  She got bit by the Duffy Bear bug while on a visit to Tokyo Disneyland.  Duffy is Mickey Mouse's teddy bear, sewn by Minnie Mouse to keep Mickey company while traveling.  Notice his face is shaped like Mickey's head.  While Duffy was exclusive to Tokyo Sea, he is now being featured at Disney World, Disney California Adventure, and Hong Kong Disneyland. Erin brought me a Duffy and Shellie May (the girl version, and still only available at Tokyo Sea) on one of her visit's home.  She has since given me a Duffy bear from Hong Kong Disneyland, and I added two of my own from California Adventure.  While Erin's bears have traveled all over the world (Japan, Hong Kong, France, the Netherlands, Belgium, Germany, Switzerland, Luxembourg, Tahiti, Belize, to name a few), my bears are content to reside mainly in California. Living in Taiwain, Erin is about 15 hours ahead of our time here in California.  For Cinco de Mayo, she posted pictures of one of her Duffy bears celebrating Cinco de Mayo on her Disney travel blog, Pooh's Travels.   She dressed him in his outfit from Mexico and shows him sitting at the dinner table with a meal of chicken taquitos and mango margaritas spread out before him.  As soon as I saw her post I knew I had to do something special with one of my Duffy bears for Cinco de Mayo so I could send pictures to Erin. As my hubby and I had plans to go to Acapulco restaurant for dinner on May 5, I dressed my bear in his serape and sombrero and he tagged along.  Yep, we took a bear to dinner!  The older I get the less I seem to care if people think I'm crazy! I took a couple of pictures of him sitting in the booth with chips and salsa.  And my hubby is the one who put the chip in Duffy's paw and moved the salsa close to him.  But the coolest part was that the restaurant had this beautiful young lady acting as a greeter for Cinco de Mayo and she was all dressed up in a gorgeous outfit from Mexico.  On the way out of the restaurant I asked her if Duffy could take a picture with her and she obliged.  I couldn't wait to get home and send the pictures to Erin. When I first saw the pictures, I thought Duffy looked like he was sitting in a cantina and a song immediately came to mind — El Paso, by Marty Robbins.  So I included the first two verses when I sent Erin the pics and decided to include them on my layout too.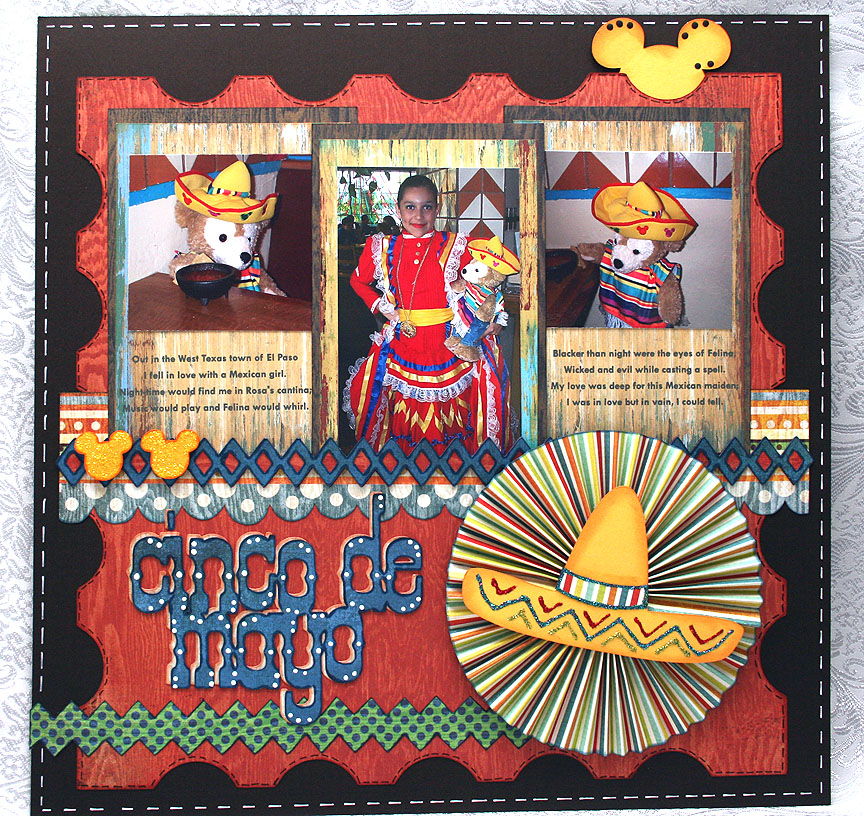 The patterned paper I used on this layout is from Basic Grey, their Life of the Party collection.  The cartridges I used are Elegant Edges for the stamped background mat and the diamond trim at the bottom of the pictures, Old West for the title, Mickey & Friends for the Mickey heads (I welded one to a rectangle for the tag that pulls out at the top), and Wild Card for the sombrero.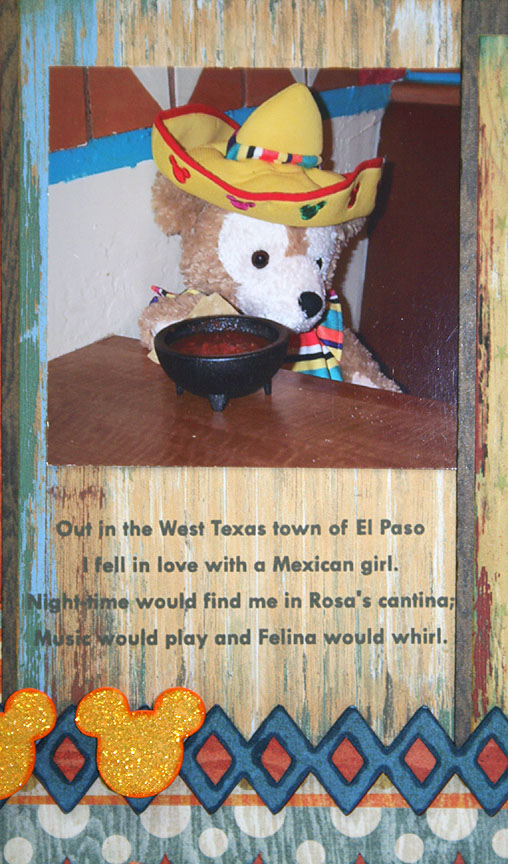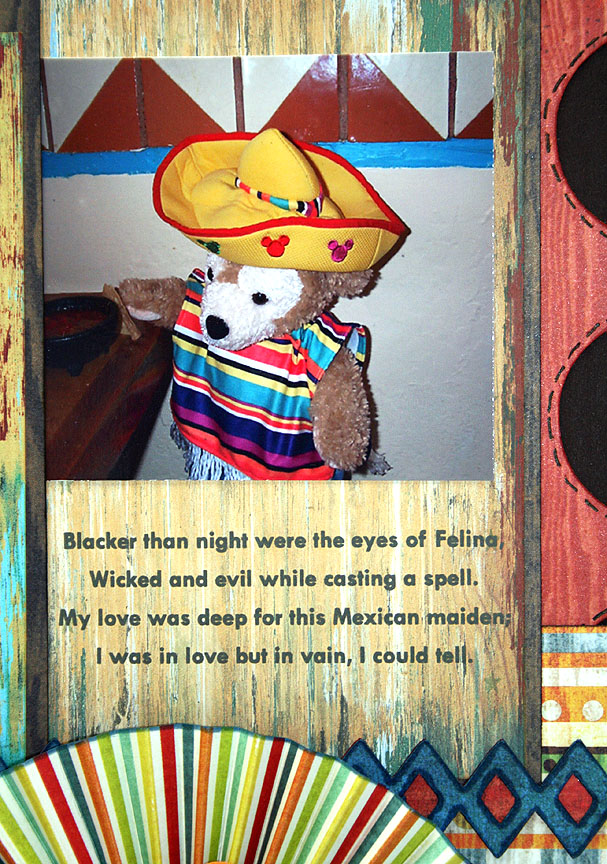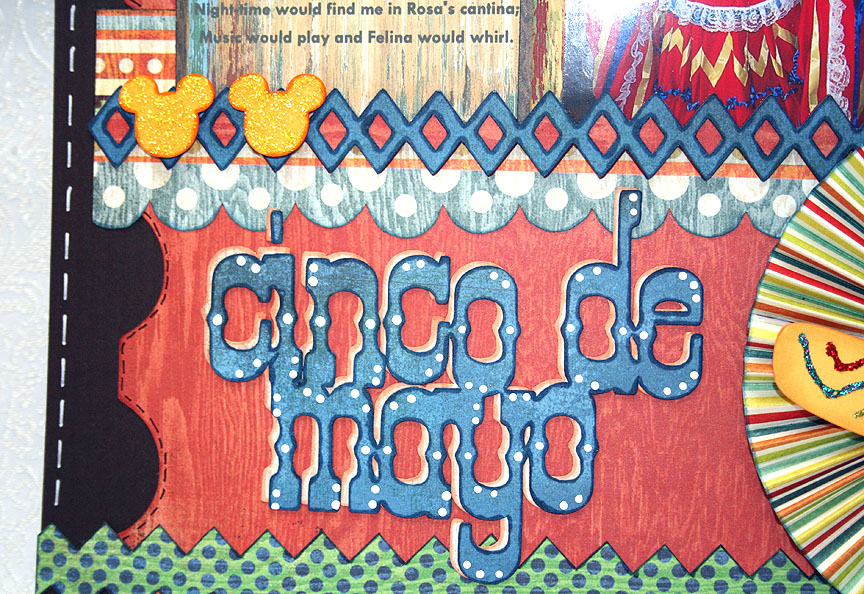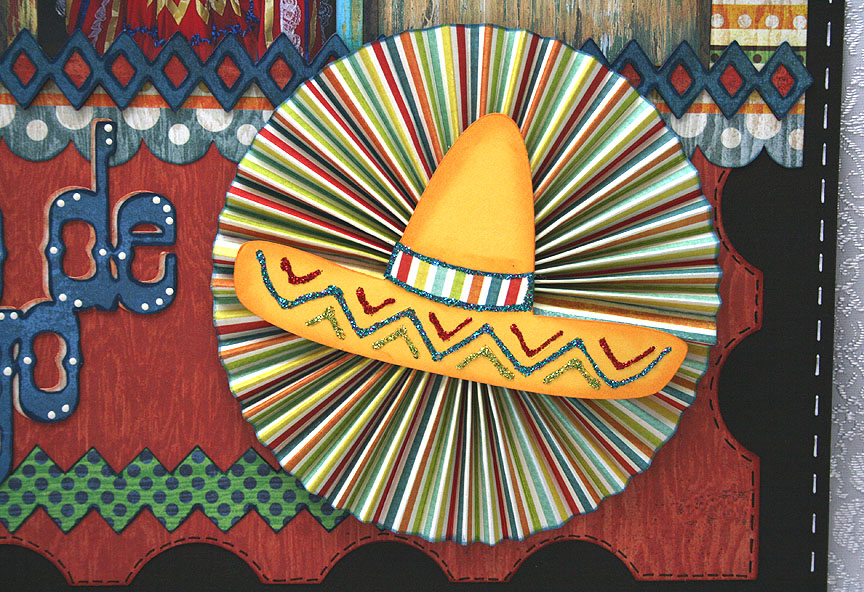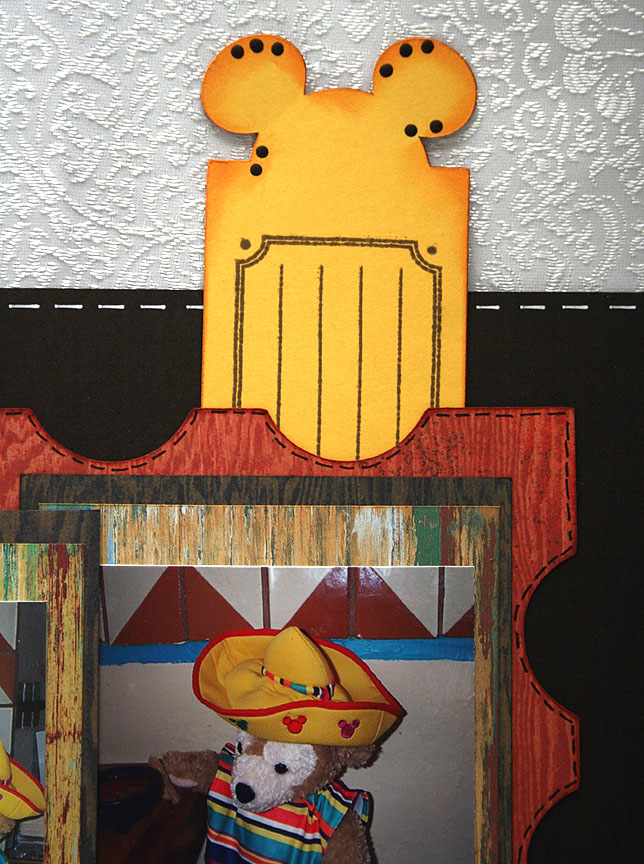 Basic Grey — Life of the Party
Cricut cartridges:  Elegant Edges, George & Basic Shapes, Mickey & Friends, Old West, Wild Card
Stickles