Erin asked me to make a birthday card for her to give to one of her friends and she requested something with an 80's video arcade game on it, like Pac-Man.  I found a print card showing Pac-Man eating dots and heading towards a birthday cake.  So I did my version of that card using my Cricut.
I first printed a maze from the game that I found online.  I thought it would make a neat background for the card.  I designed Pac-Man in Cricut Craft Room, using the George & Basic Shapes cartridge.  I used a circle and laid a triangle over it (not using the weld feature) to make the mouth.  His eye is a black faceted stone from my stash — I think I got them at Joann's.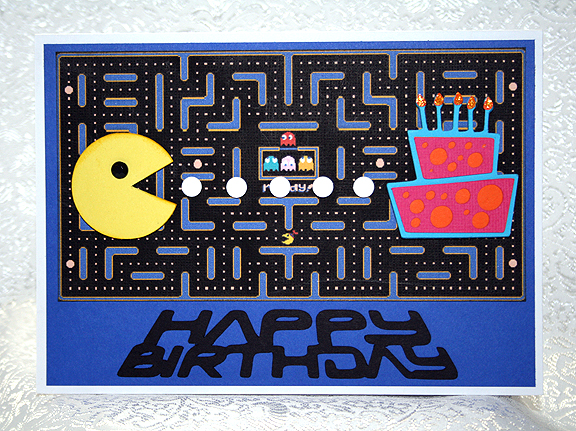 The white dots are from an EK Success punch — I think it's called Swiss Cheese. The birthday cake is from Life's A Party and I added orange Stickles for the flames on the candles.  Pac-Man, the white dots, and the birthday cake are all popped up with foam dots.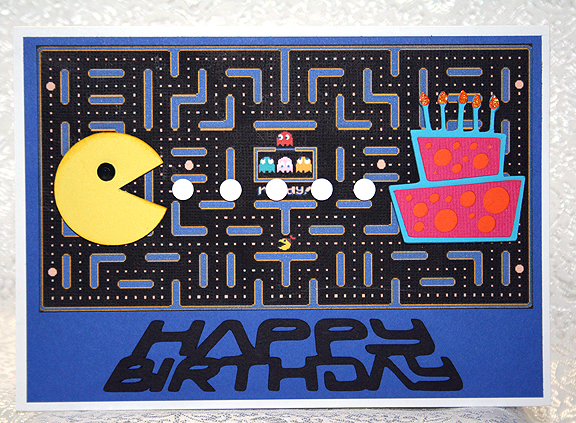 When I was laying out the card in Cricut Craft Room, I happened upon a really neat sentiment that I thought would be great with this card.  It is from a project cartridge called Space Party.  But wouldn't you know it, it was one of the few cartridges that I didn't have.  I looked at other fonts, but nothing grabbed me like the Space Party sentiment.
So I went on eBay, found a Space Party cartridge that wasn't being bid too high and placed a bid.  I ended up getting it for less than $2.50 — can you believe that?  Still, I hope I use it for more than just the sentiment on this one card!
This was a pretty quick and easy card to make — and Erin was very happy with it.  I even made an envelope for it using my We R Memory Keepers Envelope Punch Board.
I am going to enter this card in the Cricut Circle Challenge, which is to use or try something new.  Since I have never used Space Party before, I figure that will satisfy the requirements.  And I used the Swiss Cheese punch, which I have owned for some time and have never used either.
Cricut cartridges used:  George & Basic Shapes, Life's A Party, Space Party

EK Success Swiss Cheese punch
Stickles
Faceted stone from stash