I made this card for the Bakery Challenge at Bitten by the Bug 2.  This is a theme challenge and you have to create a project using something you would find in a bakery.
My inspiration will definitely give away my age, but the bakery theme brought back childhood memories of when the Helms Bakery trucks used to come to neighborhoods in So. California in the 1950's.  I remember my mom putting the blue Helms placard in the corner of the picture window in our living room.  That told the driver to stop at our house.  The Helms motto was "Daily at Your Door."
The truck was just like having a bakery parked in front of your house.  The driver would pull out drawers filled with baked goodies — so yummy.  The Helms truck delivered the bread that my brothers and I grew up on.
For my bakery truck, since it delivers to whimsical woodland creatures, I changed the name to Elms Bakery.  I created a shaped card using the milk truck from the Cricut cartridge, Pop-Up Neighborhood.  I tried to keep the colors true to the original Helms trucks.  My cardstock is a mix of both Bazzill and Core'dinations.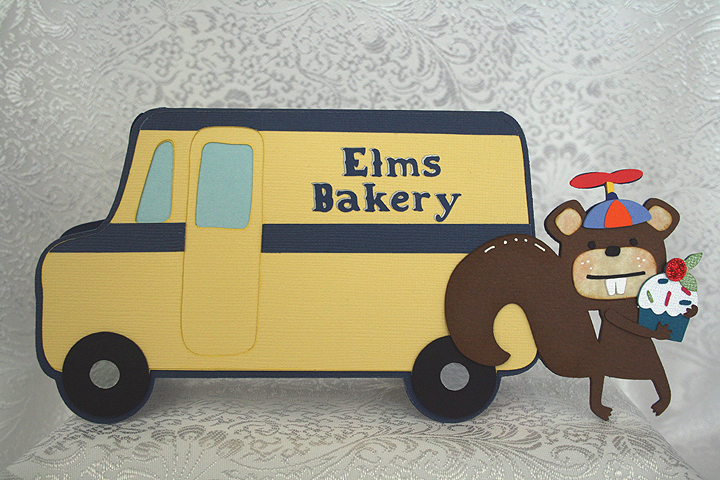 For the base of the card, I welded the squirrel from the Birthday Bash cartridge to the truck in Design Studio.  I made the card so it will just squeeze into a #10 envelope.  The lettering on the side of the truck is done in vinyl and the font is from Noah's ABC Animals cartridge.  I cut the lettering twice, in two colors, so it looks like it has a shadow layer.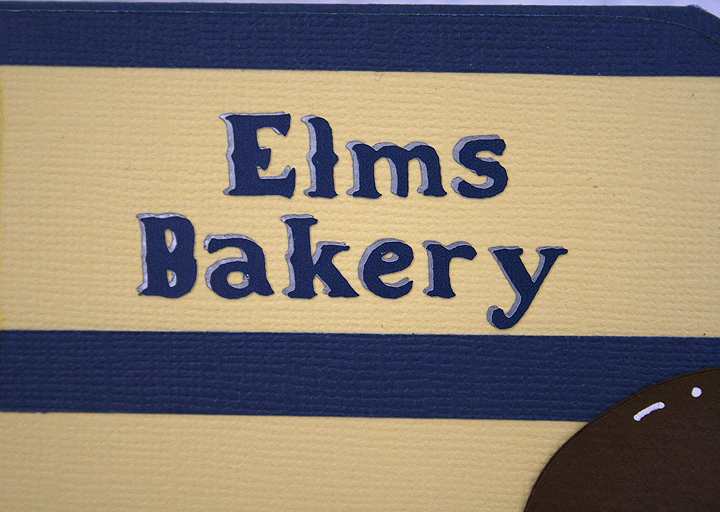 For the squirrel, I decided to put a beanie cap on his little head.  I used Baby Steps cartridge to cut the cap portion. To make the propeller on top, I used a number "8" and deleted the inside cuts in Design Studio.  Then I took the sizing handles and squished the "8" close together.  The little post that the propeller attaches to is a small rectangle from George & Basic Shapes.
I cut the cupcake from Birthday Bash and placed it in the squirrels arms.  I used red Stickles on the cherry.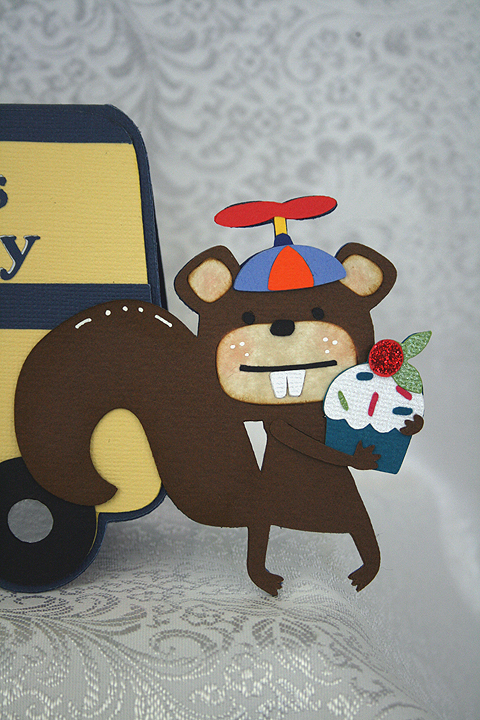 I decided to make this a birthday card, so I cut a sentiment from Birthday Bash to put inside.  I also stamped another sentiment on the opposite side.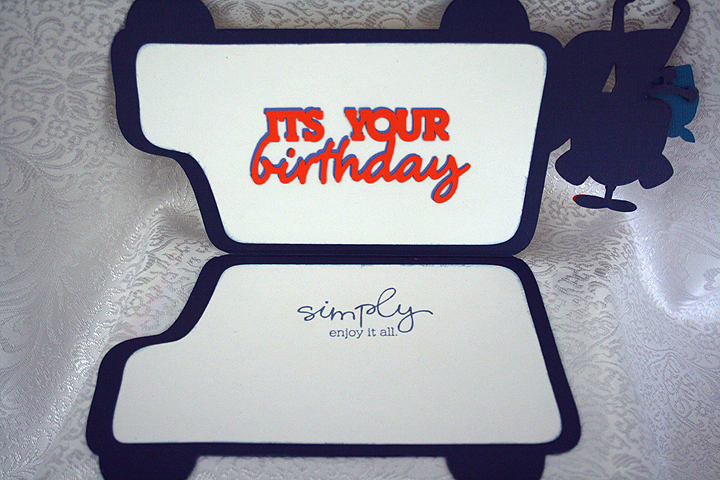 Cricut Cartridges:  Baby Steps, Birthday Bash, George & Basic Shapes, Noah's ABC Animals, Pop-Up Neighborhood
Cardstock:  Bazzill, Core'dinations
Vinyl
Stickles