Here's another card that I made for several challenges and I had a lot of fun making it.  Unfortunately it will be my last card for a while.  The next couple of weeks are going to be filled with embroidery and trade shows.  CHA is coming up at the end of the month and Erin is flying home from Taiwan to attend with me. 
There's lots of sparkle on this card as the little snow bird makes his winter home in a warm mitten.  The solid cardstock is from Bazzill and the patterned paper is called Snowflake Waltz and is from Daisy Bucket Designs.
I wanted to do a cardinal for my bird, but I wanted a chubby little guy and I couldn't find one on any of my Cricut cartridges.  I found a cute bird on Straight from the Nest and decided to use him.  As I was laying out the card in Design Studio, I kept trying to figure out how to make the bird into a cardinal shape.  My solution was to use a lower case "v" from the Mickey Font cartridge.  I turned it upside down and welded it to the top of the bird's head.  I used Copic markers to color the dark spot on his face.  I'm pleased with how he came out.
The circles are cut from the George and Basic Shapes cartridge and I used my Cuttlebug to emboss both of them.  The mitten is from Simply Charmed, the large snowflake is from Joys of the Season, "Snow Bird" is from Straight from the Nest, and the bird's scarf is from 3 Birds on Parade. 
I added lots of bling to this card.  I heat embossed the large snowflake on the front using holographic embossing powder.  I put some fine snow on the sentiment using Martha Stewart glitter.  The coarser snow is also from Martha Stewart.  The small snowflake on the mitten is a Martha Stewart punch.  I added rhinestones to the centers of the snowflakes.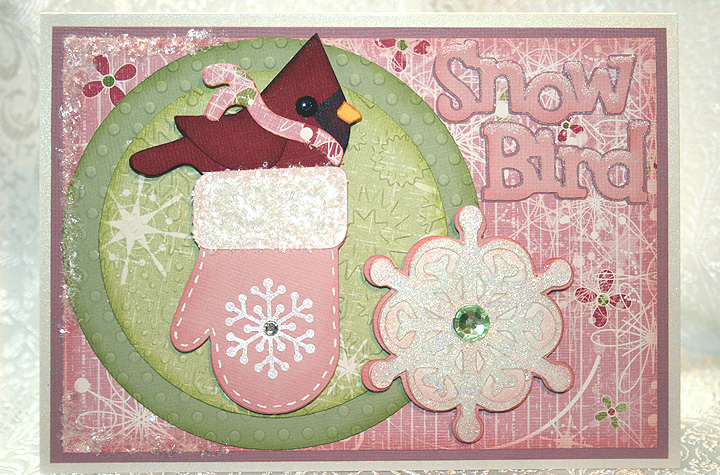 While I was working on this card, the song "Snowbird" by Anne Murray kept running through my head.  I printed part of the chorus and put it on the inside of the card.   The snowflake on the inside is from Joys of the Season.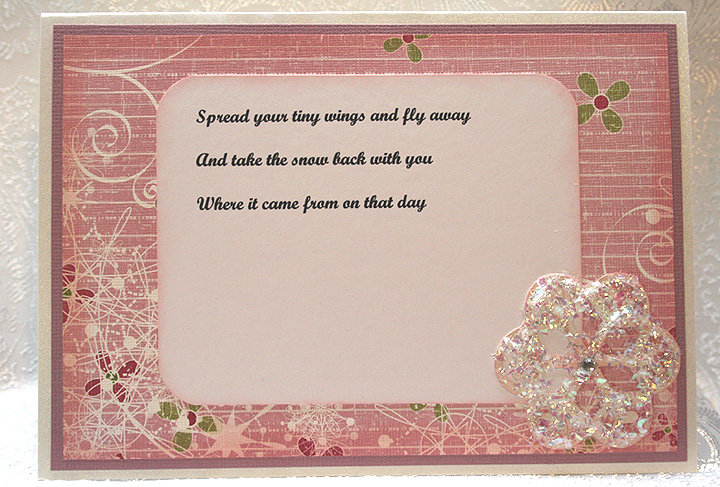 Here are the challenges I am entering and the requirements for each:
Jitterbuggin – For the Birds Challenge – follow the sketch, add a Cricut bird and use something pink.
Fantabulous Cricut – Challenge #42 Winter Warmies – create a project using some type of winter clothing or accessory.
Cooking With Cricut – Glittermania! – glitz up your project.
The Cuttlebug Spot – Inspired by a Song – find inspiration for your project in a song.
Bazzill cardstock

Designer paper – Snowflake Waltz from Daisy Bucket Designs

Cricut cartridges:  3 Birds on Parade, George and Basic Shapes, Joys of the Season, Mickey Font, Simply Charmed, and Straight from the Nest.

Cricut Design Studio

Cuttlebug

Copic markers

Ranger holographic embossing powder

Martha Stewart punch

Martha Stewart glitter

Rhinestones from stash