What a stressful weekend — and we found out the hard way that stress can have an adverse effect on dogs too.  About two weeks ago we found an abandoned kitten in our backyard, and it had a cold.  We started feeding it and even got antibiotics from the vet to give it.  We also started contacting every cat rescue organization in our area and always got the same answer — they could not take in any more cats.
Yesterday around noon we took Fifi, our 10 year old rescue Pomeranian/Chihuahua mix, outside.  She does not like cats but we thought she had been tolerating the kitten being in the yard.  The kitten was becoming tame and yesterday it came up to Fifi and started wrapping itself around her.  I could instantly see that Fifi was stressing out.
We knew something was amiss because Fifi had been having some digestive issues.  Seeing her reaction to the cat, I was sure it was coming from stress.  After that incident, Fifi refused to go back in the backyard.  She would only go out in the front yard, which requires us taking her out on a leash.
When it came time for Fifi to eat, she did not finish her dinner.  We started keeping a close eye on her.  About an hour later she threw up.  Around 1 a.m. we knew something was seriously wrong so we took her to an emergency animal clinic.  Fifi had intestinal bleeding and a temperature of 105 (normal for dogs can be up to 102).   They started her on an IV, antibiotics and gave her some medication for her stomach.
The dr. said it is not uncommon for small dogs to get so stressed out that it causes intestinal bleeding.  We were able to talk to our regular vet today (even though it is Sunday) and she suggested we have the cat out of the yard when Fifi comes home.  We are hoping we get to bring her home around 7 p.m. tonight.
Luckily the animal shelter is open today and we planned on loading up the poor kitten and taking it in.  Steve called a rescue lady that he had talked with yesterday (before Fifi got so bad) and when she found out we were taking it to a shelter she came over and picked up the kitten.
So the kitten stressor is gone and we hope Fifi will come home and be able to recover completely.  I will be taking her to see her own vet tomorrow and hopefully gain some insight to keep this from happening again.  This has been such a huge ordeal on the whole family — we were trying so hard to find the kitten a home.  I had no idea we were harming our dog in the process.  I so wish everyone would spay and neuter their pets.
OK, now on to my card.  I was able to put this together but wasn't sure I would get it posted in time for the challenge I am entering it in.  Luckily I made it with a few hours to spare.
I made this birthday card for the On the Farm Challenge at Bitten by the Bug 2, which requires you to use any farm animal cut from any Cricut cartridge.  I selected the girl milking the cow from the Country Life cartridge.   My main reason for choosing this cut was that I had a sentiment stamp that I thought would be perfect with it.  The sentiment is from a set by Elzybell, who sadly is no longer making them.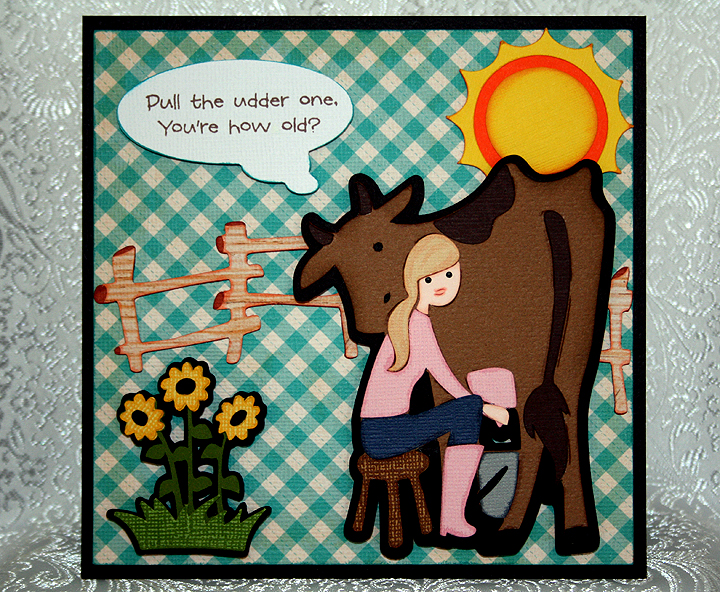 I printed the checked background paper on my Imagine, using the Best Friends cartridge.  The fence and sun are from Pooh & Friends.  I printed the wood design on the fence, again with my Imagine, using the Snapshot: Nature cartridge. The girl milking the cow and the sunflowers are from the Country Life cartridge.  The thought balloon with the sentiment is from Cuttin' Up.  All cuts, with the exception of those printed on the Imagine, were made using scrap cardstock. The girl and cow, sentiment and the flowers are popped up using foam dots.
And to show I learned something from this challenge, let me tell you about my cow.  She is a Brown Swiss.  The breed originated in the mountains of northeast Switzerland and was declared a dairy breed in the United States in 1906.  I'm not sure that the dark brown marking on her back is accurate, but if not then my Brown Swiss has a dark chocolate beauty mark on her.
After seeing the card assembled, it makes me wonder if there are many women working around cows who wear pink boots!  Well, my milk maid likes her stylish pink boots.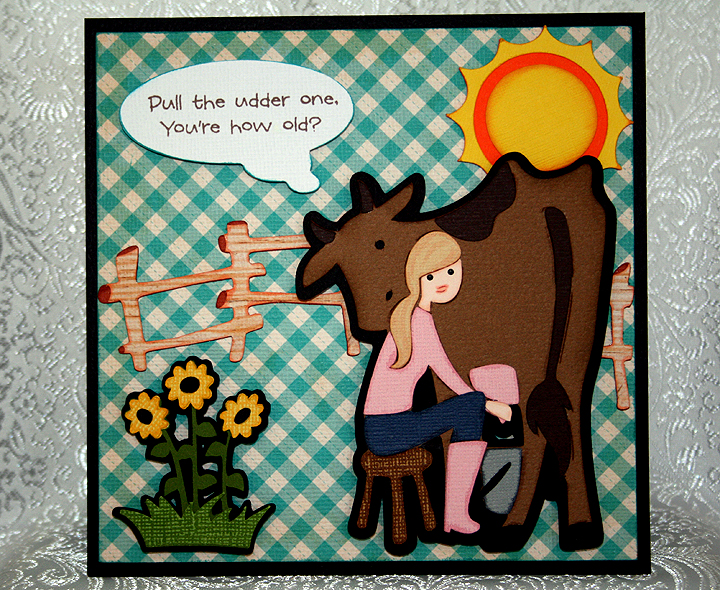 For the inside of the card, I printed another square of checked paper on my Imagine and added some sunflowers to the lower corner.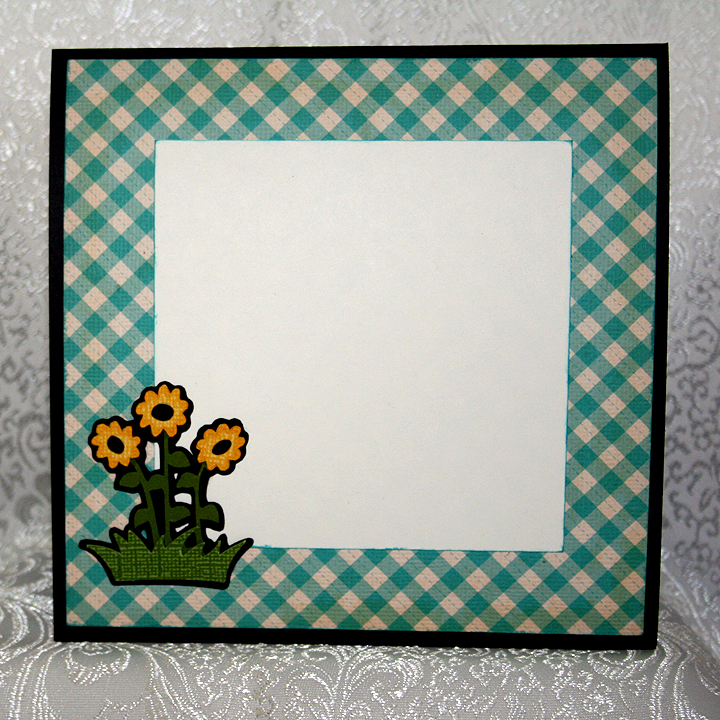 Cricut cartridges:  Best Friends (Imagine), Country Life, Cuttin' Up, Pooh & Friends, Snapshot: Nature (Imagine)
Elzybells stamps