I haven't posted in a quite a while.  I'm still busy with the business, so that is a good thing.  I decided to take a little down time and make a card.  The nice thing is that this card fits so many challenges that are starting off the new year. 
I made a whimsical snowman, who is looking up and telling Mother Nature to "bring it on!"  He is all prepared — he has his snow shovel at the ready.
The patterned paper is by Die Cuts With a View (DCWV) — from one of the holiday stacks that I picked up at Jo-Ann's.  I cut the snowman with my Cricut using the Doodlecharms cartridge.  I used Design Studio to hide his face so I could move his nose to the top in order to have him looking up into the sky.  I sure hope this is what he looks like, and not some strange looking snowman/unicorn creature.
The snow shovel is cut from the Sesame Street Friends cartridge, the snowman's scarf from 3 Birds on Parade, the large snowflakes from Accent Essentials, and the snow flurry swirls are from Calligraphy.  I printed the sentiment on the computer using a free font that I downloaded.  It has little snowmen faces peeking out of the letters.  I colored the letters using Copics.
I cut the flurry swirls from a transparency sheet (acetate) so they would be clear.  I then took some white paint and dabbed on them to give them a little opacity, but not too much.  I wanted them to remain in the background when I glued on all the small snowflakes, which I made using a Martha Stewart snowflake border punch.  I used the negative cuts (the part that usually gets thrown away).  Gluing those little snowflakes was a tedious job.
The finishing touches include a small metal star charm hanging from the snowman's scarf and some rhinestones in the centers of the large snowflakes.  The charm was gold but I thought it looked too stark on the card, so I took my Copics and changed the color.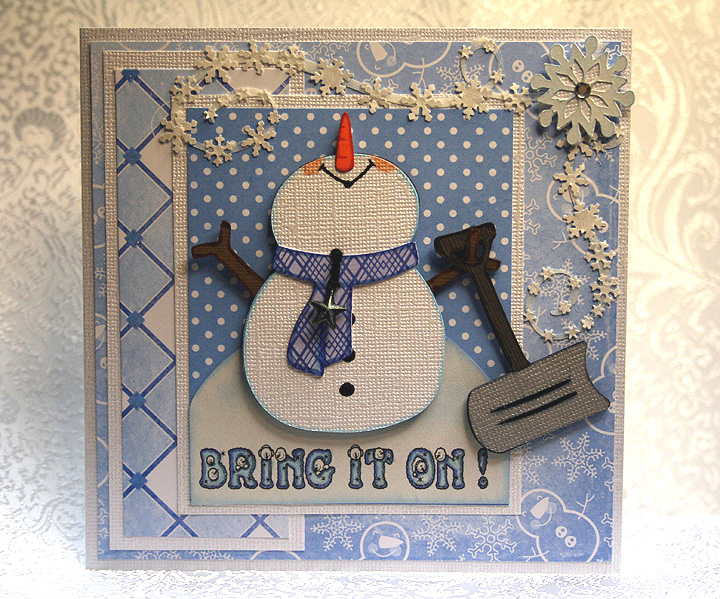 I placed three of the large snowflakes on the inside of the card: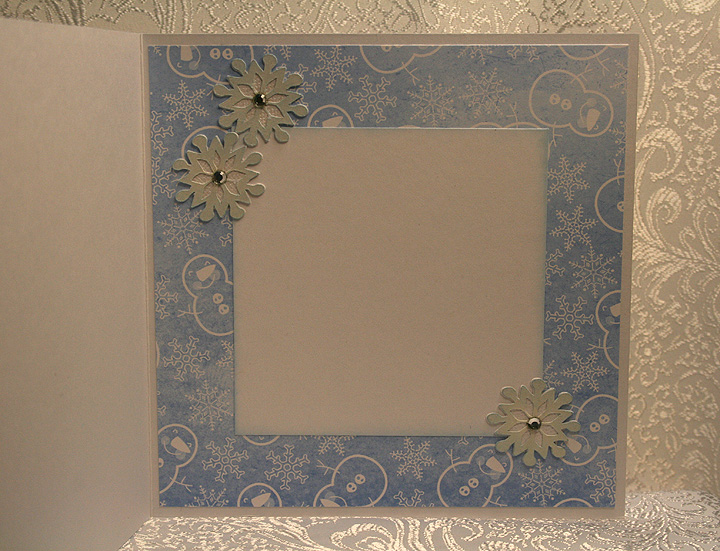 Here are the challenges that I am entering :
Circle Blog Weekly Challenge #15:  Feeling Frosty!  The requirements are to use white paint, a snowflake and something metal.  I think I covered all of those bases with this card.
Jitterbuggin' Challenge – Sketch 29 – Let It Snow!:  The requirements are to follow the sketch, use blue somewhere on the card, and include something snow related.
Fantabulous Cricut – Challenge Me Monday #41 – Snowy Delights:  The requirements are to create a project using snow or snowflakes.
Cooking With Cricut – Snow Fun!:  The requirement for this challenge is any project with snow or winter-time activities.
Made By Momo:  Make something with a snow theme.
My Sheri Crafts Challenge #39 – Winter:  What winter means to you. 
DCWV patterned paper
Cricut cartridges used:  Accent Essentials, 3 Birds on Parade, Calligraphy, Doodlecharms, and Sesame Street Friends
Clear acetate (transparency)
Martha Stewart snowflake border punch
Charm from stash
Rhinestones
Copics