I made this card for a special challenge on the Cricut Message Board.  April is Autism Awareness month and the challenge was to make a project using the Cricut and a puzzle piece, which has come to represent autism awareness.
My card seemed to take on a life of its own.  At first I did not have a clue what I was going to make, and finally decided to do something Disney.  With that decision made, I remembered that a few years ago Disney had puzzle piece pins at Disneyland, for the pin trading craze. I started searching and was able to get a few.
Then I had to decide how to incorporate the pins in the card.  I looked on the web and found instructions to make a card out of a manila file folder, so I went with that design. It has 4 pockets inside, one for each pin.  Instructions for the card can be found here:  http://www.splitcoaststampers.com/resources/tutorials/accordionfilefolder/
Since so many people from all over are contributing to this challenge, I went with "It's a Small World" for the outside of the card.  I chose three words from the lryics and used them on the card, cut in the shape of puzzle pieces.
On the inside I used a phrase or word unique to the particular character and attached the matching pin.  Here is my card:
And here are the individual tags with their pins attached in the corner: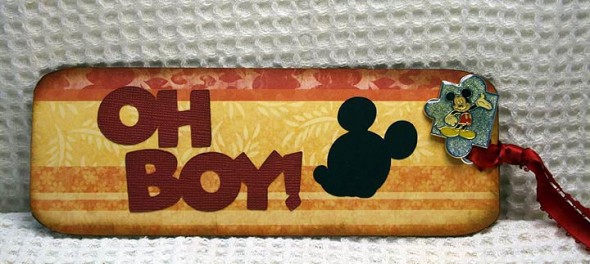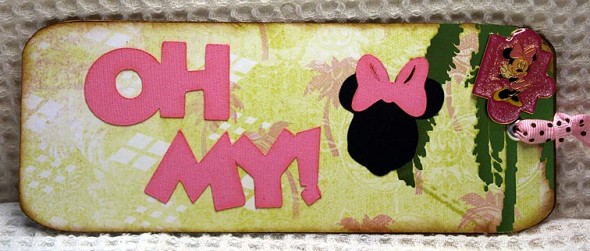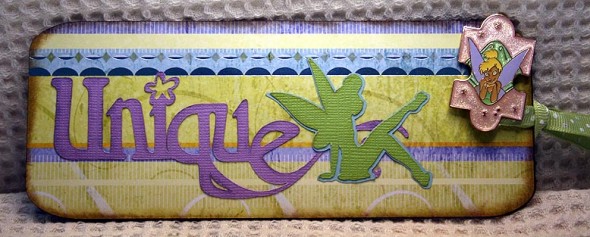 – Posted by Linda