Since time is running out to enter the challenges on the Cricut Circle Message Board, I made this tag to enter into two different categories.  Actually, I think it qualifies for three.  The first is the XO Three in a Row, the second one is Everything's Coming Up Rosettes, and the third is All Mixed Up.
For Maria's XO Three in a Row challenge, you have to pick three items from a Tic Tac Toe board and incorporate them into your project. I chose the bottom row, which is Flower, Ribbon (or Twine), and Stamp.
For Colleen's Everything's Coming Up Rosettes, you have to make a project and use a rosette on it.
For Di's All Mixed Up challenge, you need to use a piece of fabric on your project.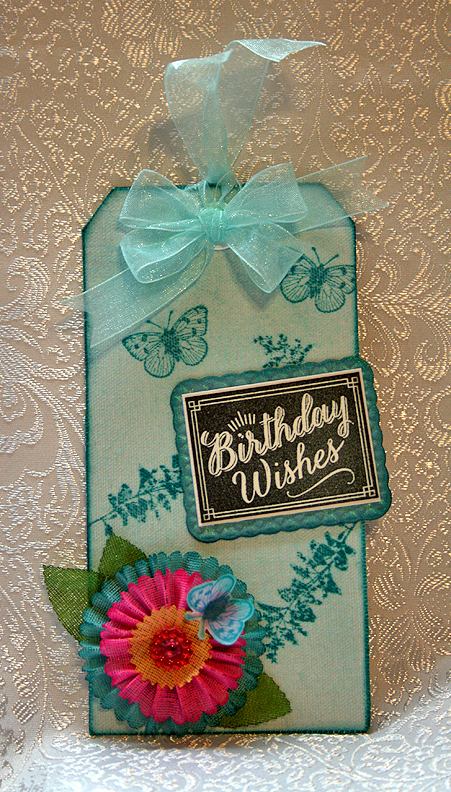 I covered the tag with sticky back canvas and then inked it using Peacock Feathers Distress Ink.  I stamped the images on the canvas using the same ink.
I used this tutorial from Tammy Tutterow for my tag, because I wanted to make the flower out of crinoline and she has step-by-step instructions.  I used a Tim Holtz rosette die to cut the crinoline and then sprayed them with Lindy's Stamp Gang's Starburst Sprays to get the beautiful colors.   The leaves are from a Spellbinders die, also cut from crinoline.  I stamped a butterfly on vellum and added it to the flower.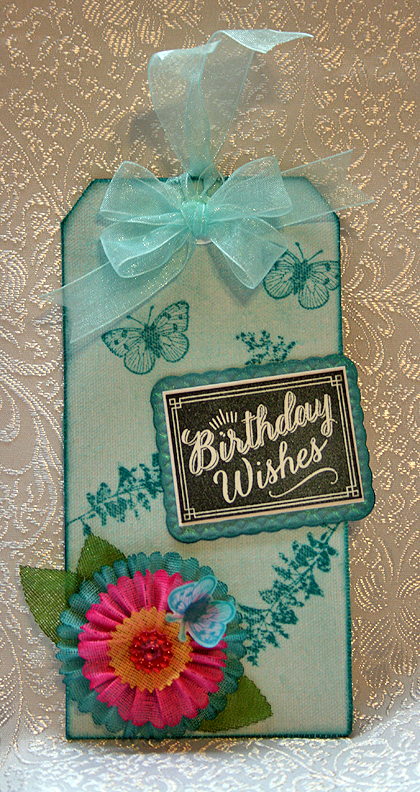 All that was left was the sentiment and bow, which I made using my Bow-it-All.
Ranger Sticky Back Canvas
Tim Holtz rosette die
Crinoline (from Jo-Ann's)
Distress Ink
Lindy's Stamp Gang Starburst Spray