I wanted to make a birthday card for my sister-in-law and I wanted to create one that was very whimsical — and I hope I succeeded.  I enjoy making shaped cards and when I found the All Shaped Up Challenge on Bitten by the Bug 2, the idea for my card was hatched.
I love the pig with the pinwheels in the Geico commercials.  You can't help but smile when one comes on TV, and I have been wanting to do something along those lines for while now.   I decided to make my pig a girly girl and give her a fancy party dress, complete with a birthday party hat.
I started laying out my design in Cricut Craft Room.  Unfortunately, the program still has issues and I ran into some of them while creating this card — and ended up wasting time.  I find CCR so frustrating at times that bad words will just start popping out of my mouth.
When I got ready to cut my card, Cricut Craft Room was down and I could not log in.  I kept getting a message that the program couldn't connect to the internet.   I kept trying and after an hour or so, I was able to log in and cut my layers.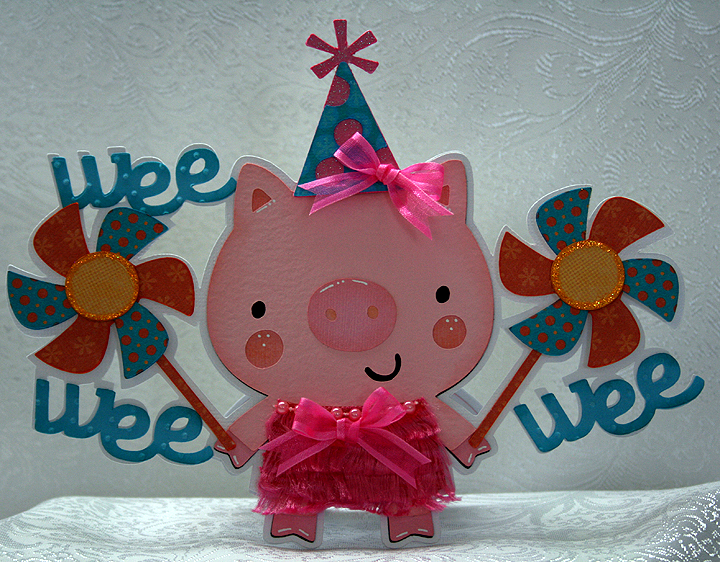 All the solid color cardstock is from Bazzill, except for the glitter cardstock on the hat — that is from Core'dinations. The patterned paper I printed on the Imagine using the Blast Off cartridge.
I used Create a Critter for the pig and pinwheels and B is for Boy, a Lite cartridge, for the "wee" words.  I welded them all together to form the base of the card.  I used the Swiss Dots folder and my Cuttlebug to emboss the words.  I found some eyelash-type yarn at Joann's that I used for her dress, layering it so it looks like a fringe dress — reminds me of a flapper dress.  I added some pearls at the neckline and a bow on both the dress and hat.  I used Stickles on the center of the pinwheels.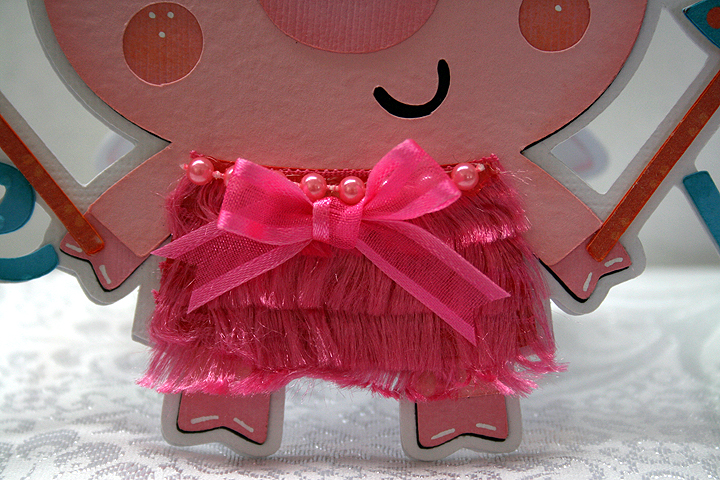 The inside of the card features a computer-generated sentiment.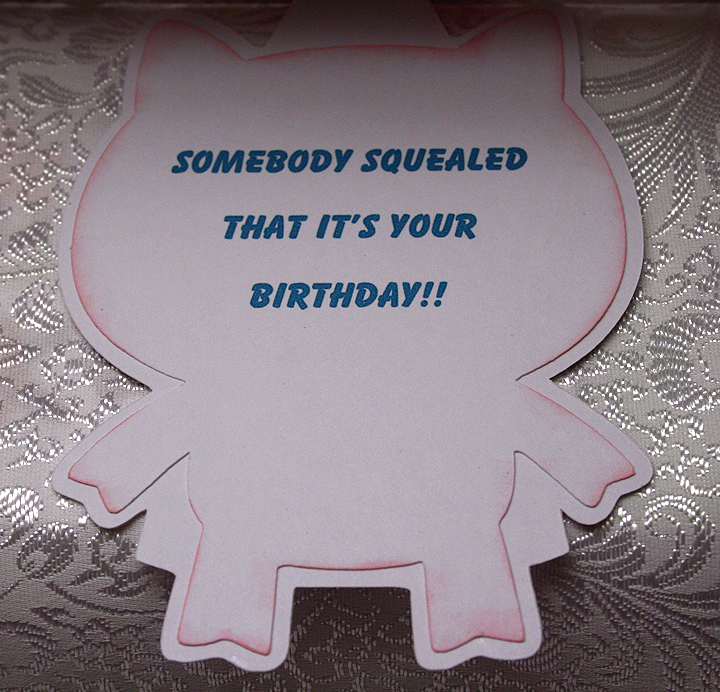 I hope this little piggy card brings a smile to my sister-in-law's face.  I need to make an envelope so I can get it in the mail.  Since it is a over-sized card, I will probably send it in a padded envelope.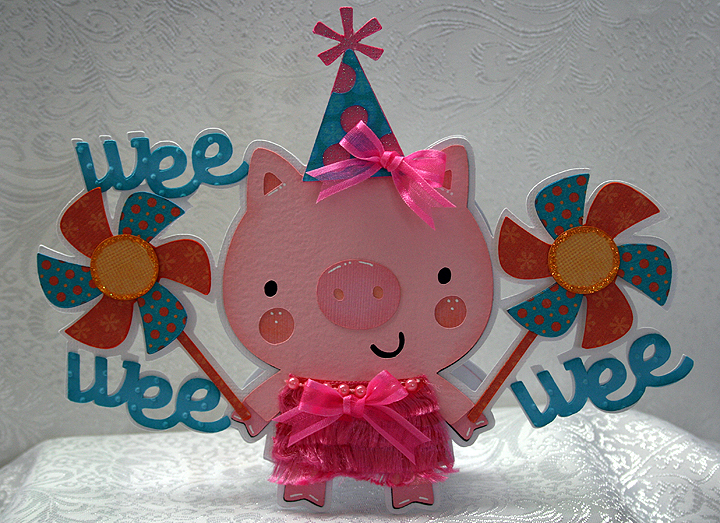 I am also entering this card into the following challenges:
Cricut Chirp Challenge #6 – Create a Critter Craft:  use any animal Cricut cut on your project
Scrappy Moms Stamps – Terrific Tuesday Challenge – Shape Up:  create a shape project
Cricut cartridges:   B is for Boy Lite, Blast Off (Imagine), Create a Critter
Cuttlebug:  Swiss Dots embossing folder
Bazzill cardstock
Stickles
Yarn, pearls, ribbon