This week's challenge over at Jitterbuggin' is to follow the sketch, use green on your card and, of course, use your Cricut.  When I was planning this card in my head, it was going to be lavender.  But when I started picking out my paper, it suddenly became mostly green.  I wanted a card that looked like spring and when I saw this paper, I knew I wanted to go with daisies. 
I have sewn most of my life, and when Erin was young I made most of her clothes.  I loved making frilly dresses for her for Easter and dotted swiss was a favorite fabric.  The corners on my card are my papercrafting version of dotted swiss and lace.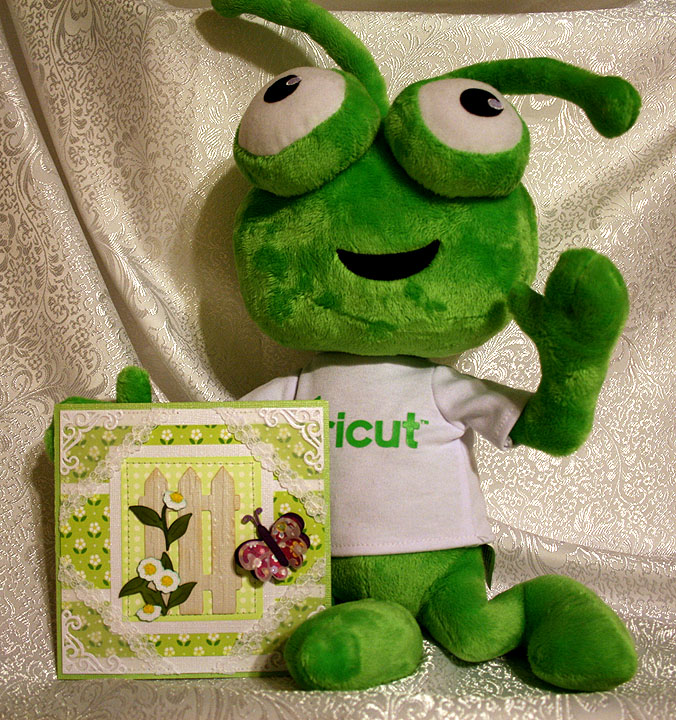 The daisy and dot print papers are from a pack by Martha Stewart that I got on clearance at Michaels some time ago.  The solid cardstock is Bazzill.  The corners are made from vellum and I ran them through my Cuttlebug using the Swiss Dots embossing folder.  I stitched some lace on the edge of the corners and then stitched the corners to the card.  I used my Cuttlebug again to cut some  fancy small corners out of white Bazzill that I glued in the uppermost part of the vellum corners.  The die I used for this is from a 4-pack called Vintage.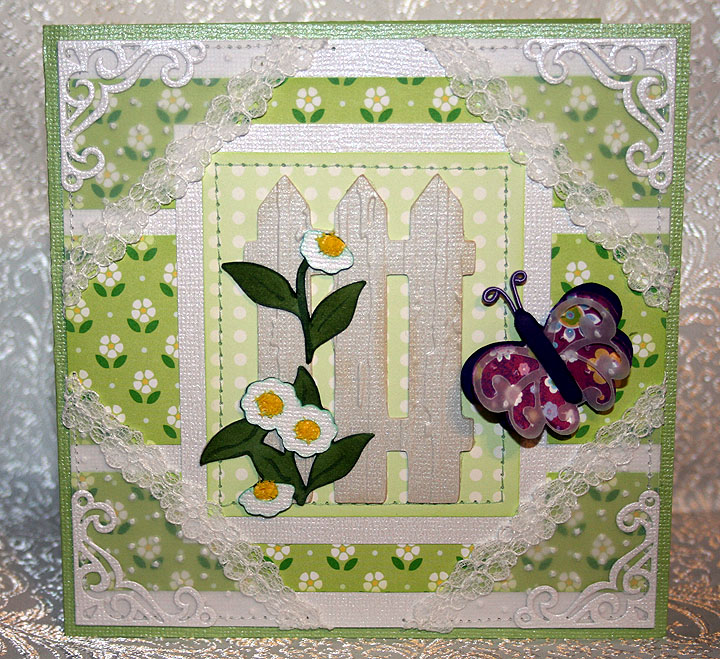 I used my Cricut and cut the fence and daisies from the Bloom Lite cartridge.  I cut everything out twice so I could layer them.  I ran the fence section through the Cuttlebug using the Distress Stripes folder so it would look like wood.  I inked the edges of all the cuts and used yellow Flower Soft in the center of the daisies.  The butterfly is from Graphically Speaking and I cut three layers, the top layer being vellum.  I used DMC Memory Thread for the antennae.  This was my first time using it and I love how easy it is to work with.  I pop-dotted the butterfly to the front of the card.
When I cut the flowers for the front of the card, I cut extras so I could use them inside.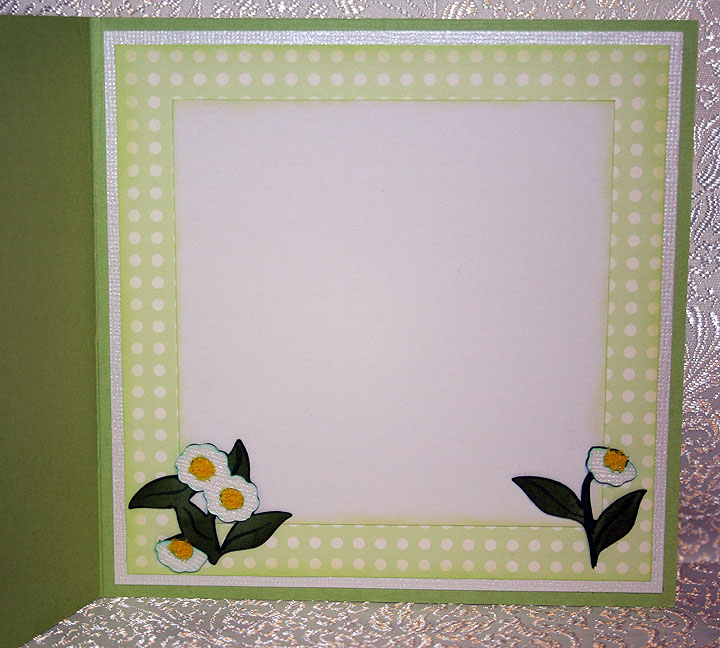 I found another challenge that my card qualifies for, so I am very excited.  It is always nice when you can bundle challenges together.  This newest challenge is at the Crafty Creations Challenge Blog and is called In Stitches.  Your project has to include some stitching. 
Bazzill cardstock
Martha Stewart paper
Vellum
Cricut Design Studio
Cricut cartridges:  Bloom Lite and Graphically Speaking
Cuttlebug embossing folders:  Distressed Stripes and Swiss Dots
Cuttlebug Vintage die
Flower Soft
DMC Memory Thread