Erin and I just finished up day 2 of the show and we are both so tired.  We spent the first day wandering all over, but today we started walking the show at one wall and are working our way towards the opposite side of the hall. 
Of course we began the first day at Provo Craft's booth, and judging by the crowds in their booth, it is one of the more popular spots.  Provo Craft is doing a raffle at 3 p.m. each day and they are handing out tickets that have to be validated in order to be entered in the drawing.  To validate your ticket, you have to do fun things — like participate in a Make & Take, attend three of the many demonstations in their booth, or participate in a  survey.
When you receive your tickets for the raffle, Provo Craft is also giving away a cute stuffed Cricut.  They have a contest to see where you take Cricut and to enter this one, you need to take a picture of Cricut somewhere in L.A.  Today they announced three winners of the photo contest and each received a new Expression!  I loved one of the photos — the woman held her Cricut alongside a police car, capturing Cricut and the LAPD logo on the side of the car. 
Erin took lots of pictures the first day of the show.  Here are some from Provo Craft's booth.  I'll begin with a shot of the new Cricut logo: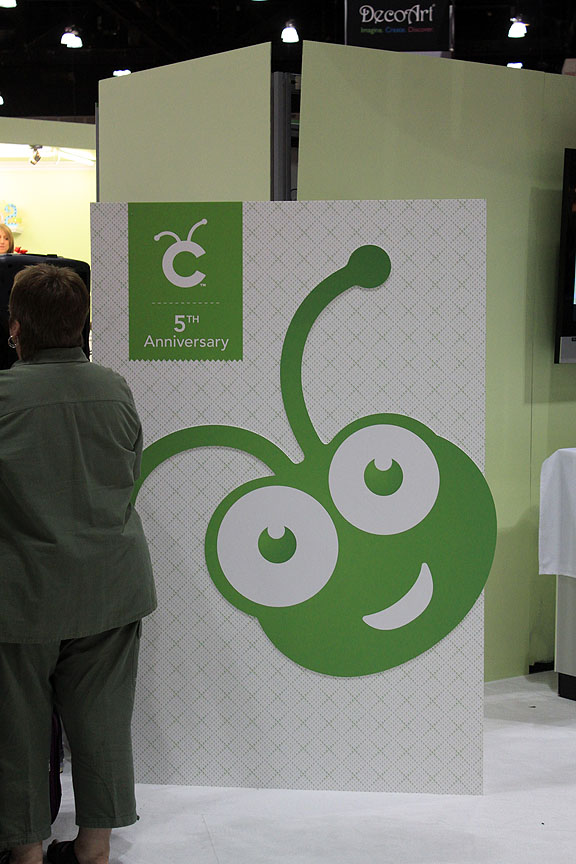 Here are some pictures of new Cuttlebug folders coming soon.   They are bringing out some fun new ones called All-In-One Embossing plates.  I was able to give them a try today at one of the demo stations.  You begin with the All-In-One 6″ x 9″ folder.  There are several different plate sets that you arrange on the folder to make your own custom embossing folders.  You can pick and use the pieces you want, or each set comes with an overall embossing plate too.  Because the All-In-One 6″ x 9″ folder has a thicker base, you just need to use the two "B" plates on top of it when running it through the Cuttlebug.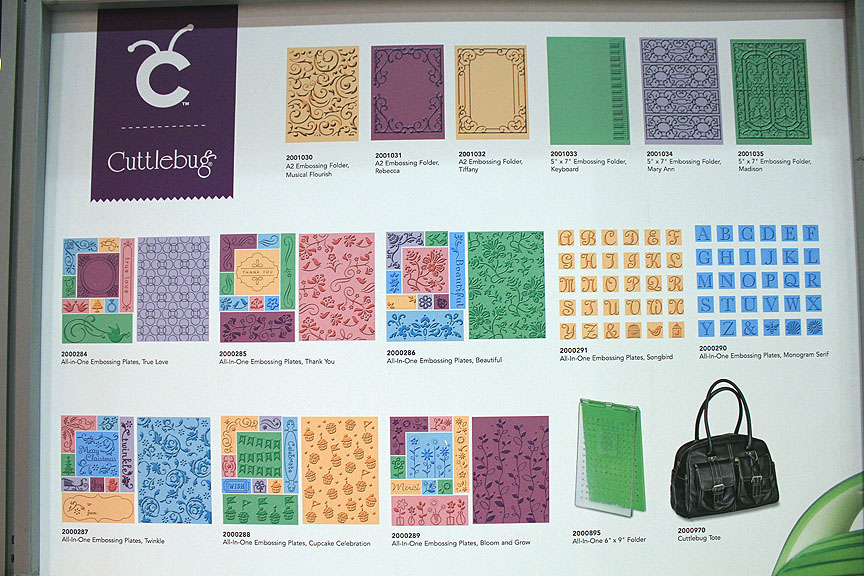 Close-up shots of the new Cuttlebug products: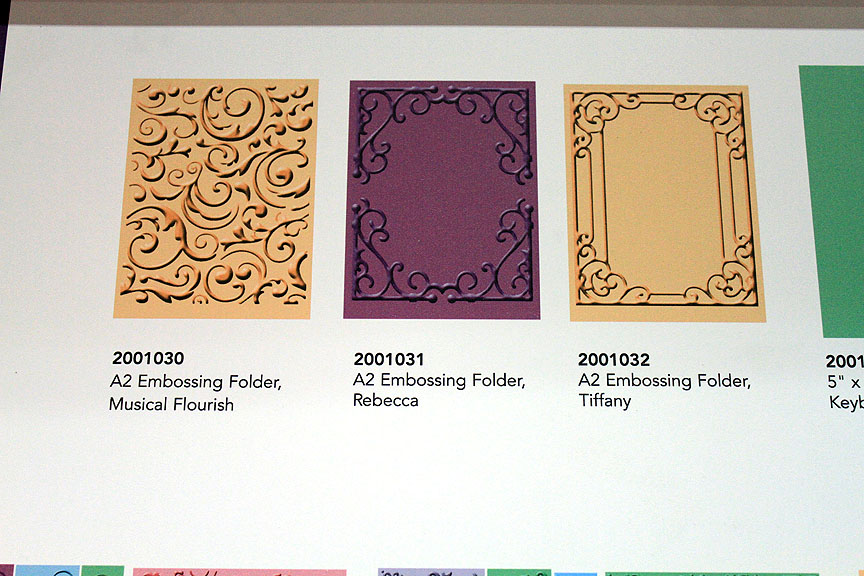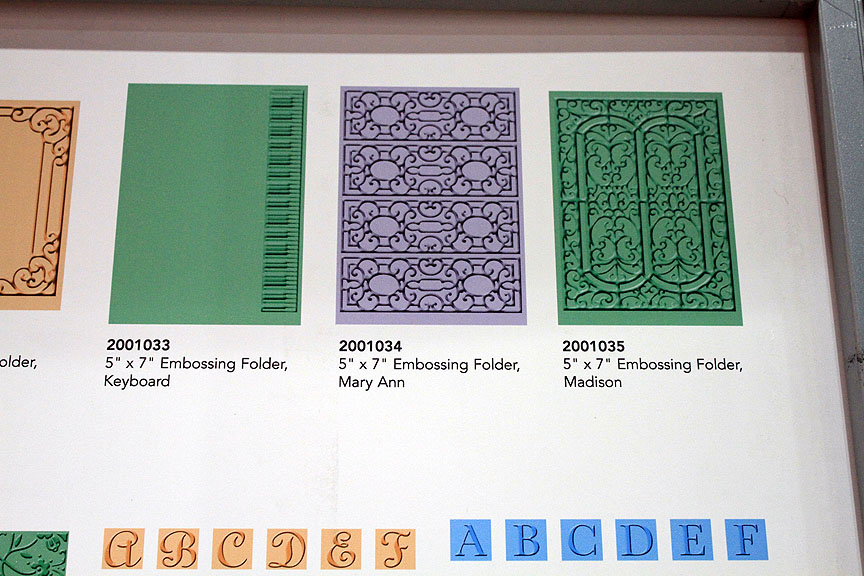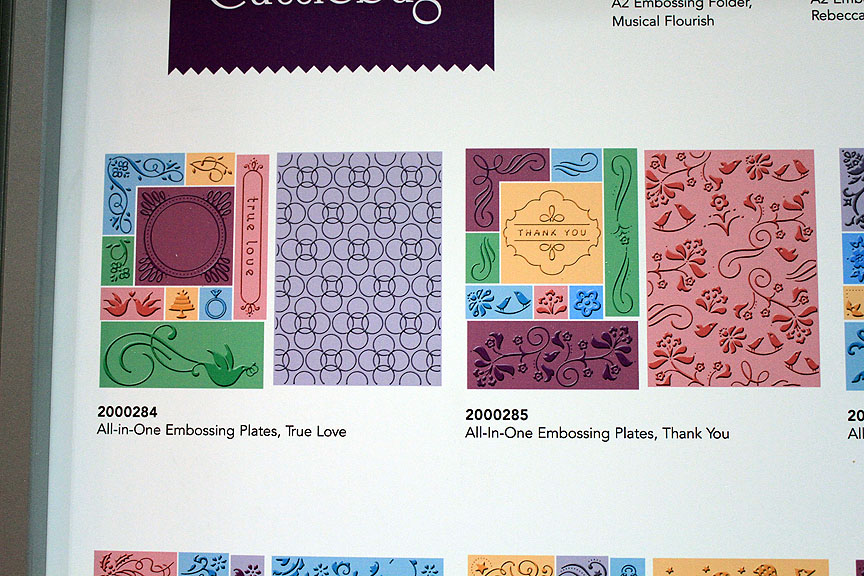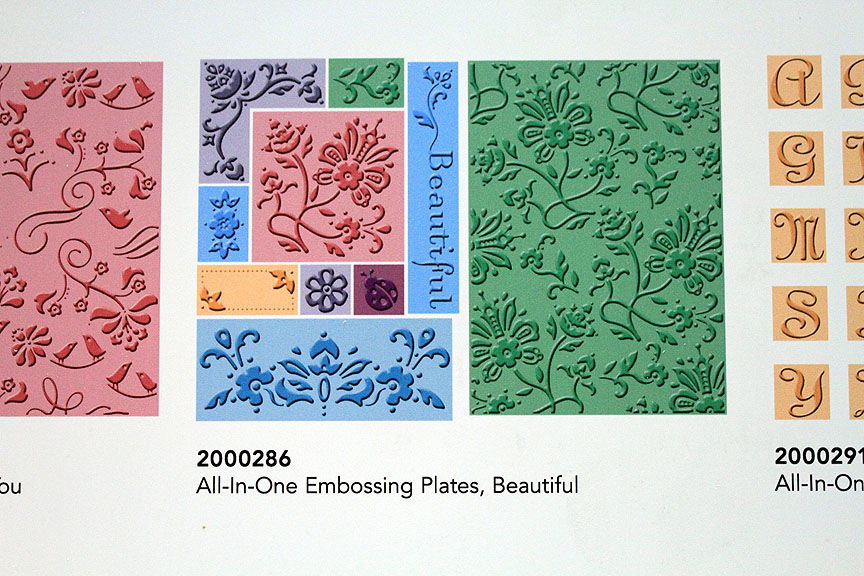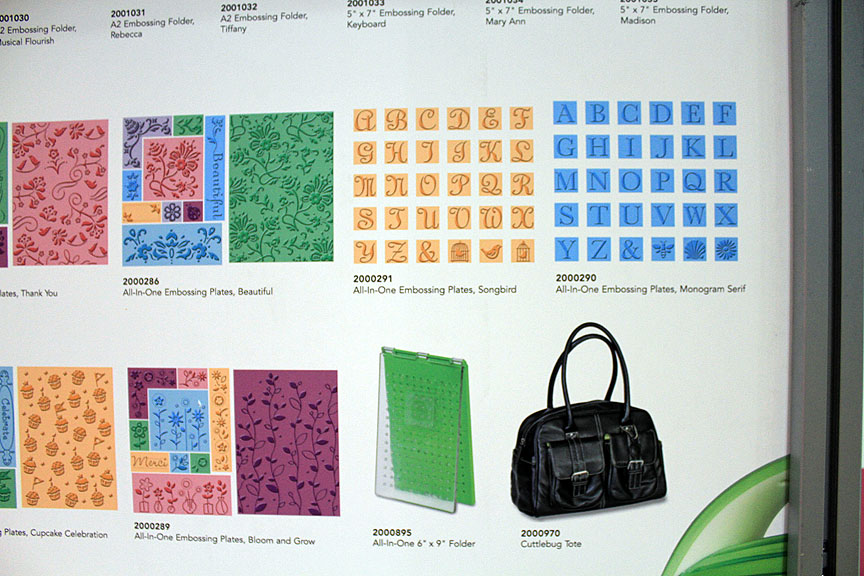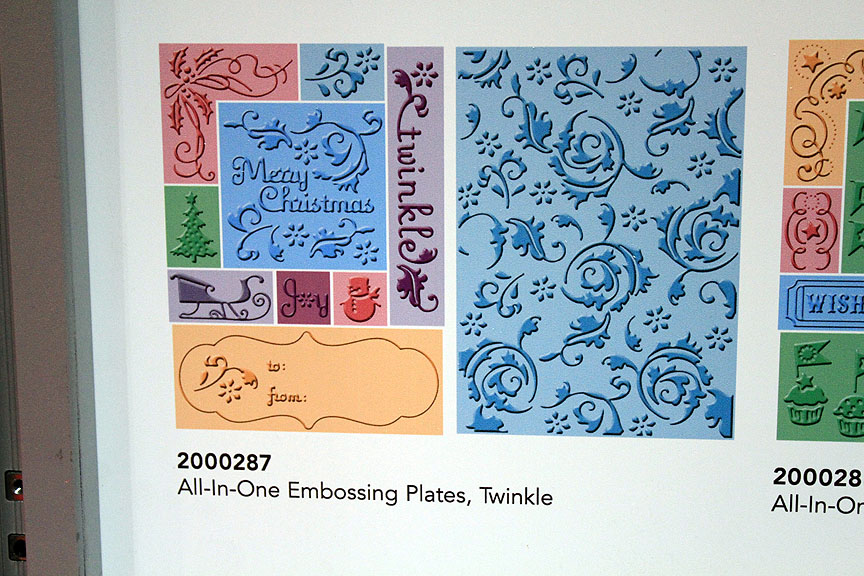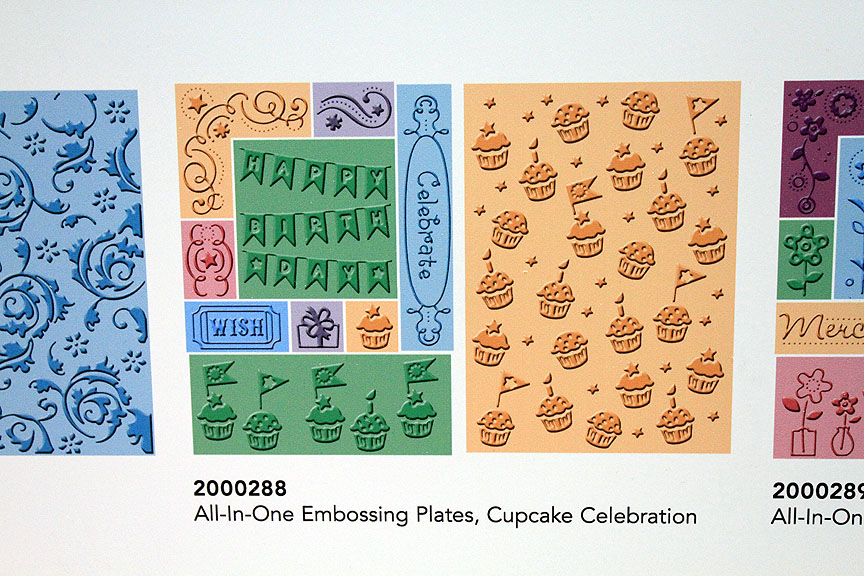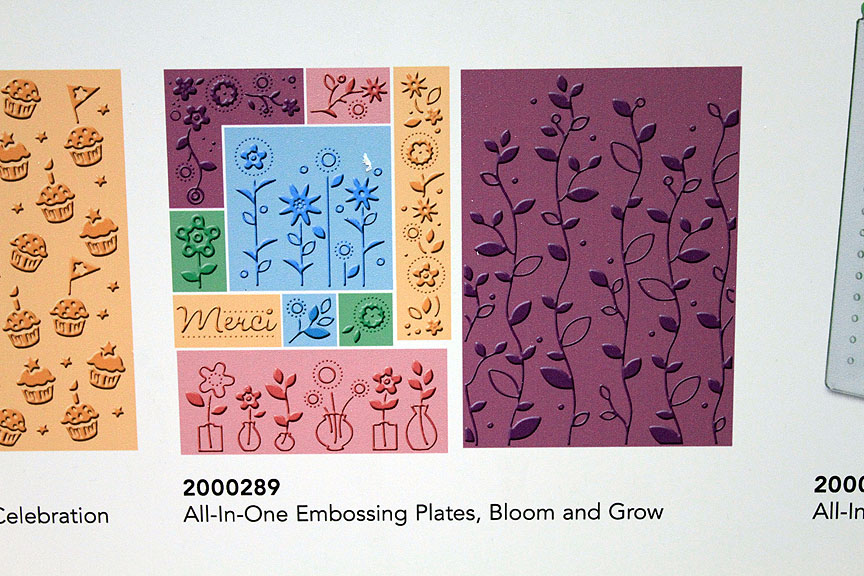 I got to meet two of the Cricut Circle Design Team members today, Shantaie Fowler and Cindy Royal.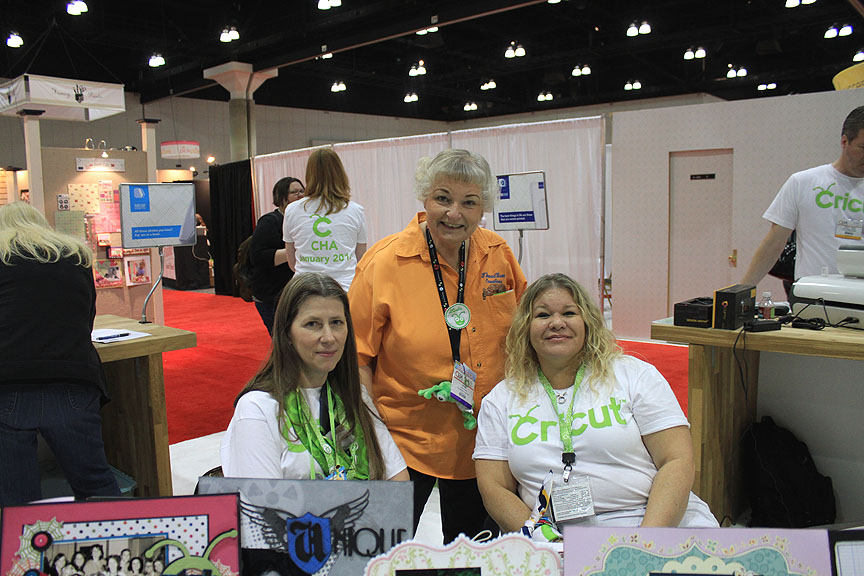 On April 27, the new Cricut Expression 2 will debut on HSN.  This machine has some cool new features.  It uses both regular Cricut cartridges and also the Imagine cartridges.  It will be able to cut the images and layers from the Imagine cartridges, but obviously it will not print. 
It has a new touch-screen feature that will eliminate using the overlays.  It also will also have Wi-Fi capability.  The "shoulders" on the machine (the colored end pieces) will be interchangeable so you can switch colors. 
The Provo rep we talked to yesterday told us the new Expression 2 will initially be available on HSN and then may move into other markets, but the anniversary release will be a limited edition machine. 
I asked today if we will be able to use the Gypsy and Jukebox with the new Expression2 and was told yes, it will be compatible with both products.  Check out the light by the blade on this new machine.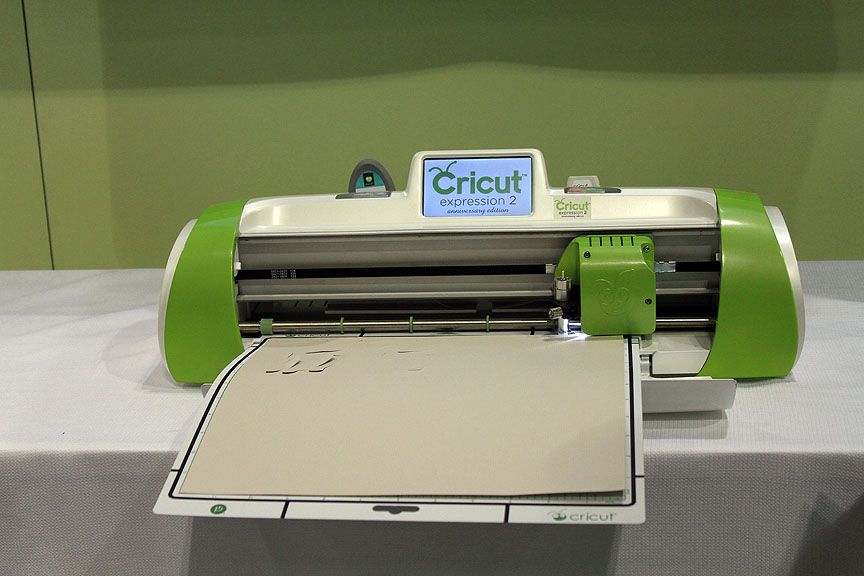 Another new exciting product is called Cricut CraftRoom, which will be an online site where you can design.  The rep said it will be compatible with both PC and MAC.  And the best part, it's free!  I was able to sit and play with a Beta version for quite a while on Sunday.  While I was working in CraftRoom, the rep told me they are working on a shadow feature where you will be able to automatically add a shadow to any of your cuts.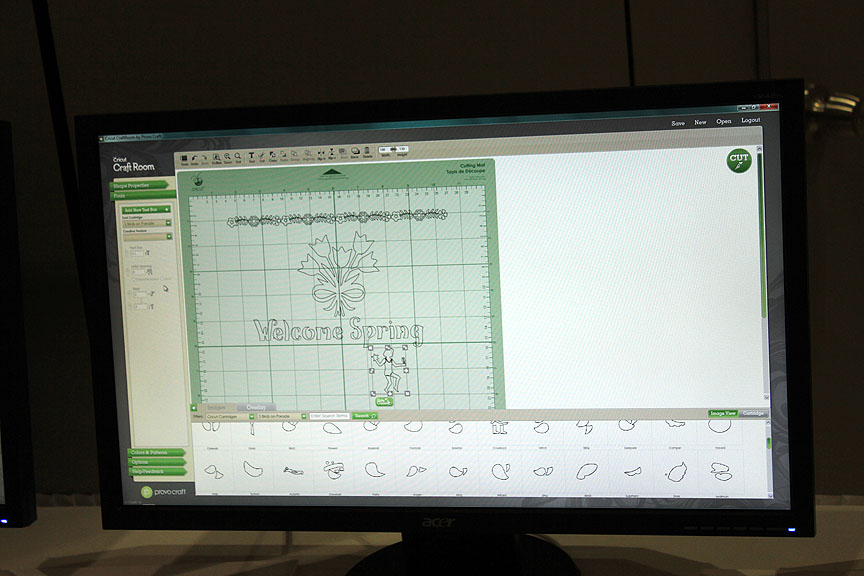 Ok, so while exploring CraftRoom I looked at the list of cartridges and noticed some names that are not familiar to me.  I was able to look at some of the images on the screen, so I am wondering if these are going to be some new cartridges.  Here are the names:
American Alphabet
Beep Beep
Bump in the Night
Crocs Rule
Damask Decor
Elegant Edges
Happy Graduation
Love You a Latte
Luau
Martha Stewart Nature
Recess
Spring Fever Holiday
Spring Fever Seasonal
Storks Delivery
Summer Bliss Holiday
Summer Bliss Seasonal
Sweet Shop
Ultimate Creativity
Winter in the Air Holiday
Winter in the Air Seasonal
Yee Haw
There are two Make & Take stations set up in Provo Craft's booth and the projects change daily.  Yesterday we made a pirates wood frame and a cupcake holder, complete with a yummy cupcake.  This is from the cupcake station.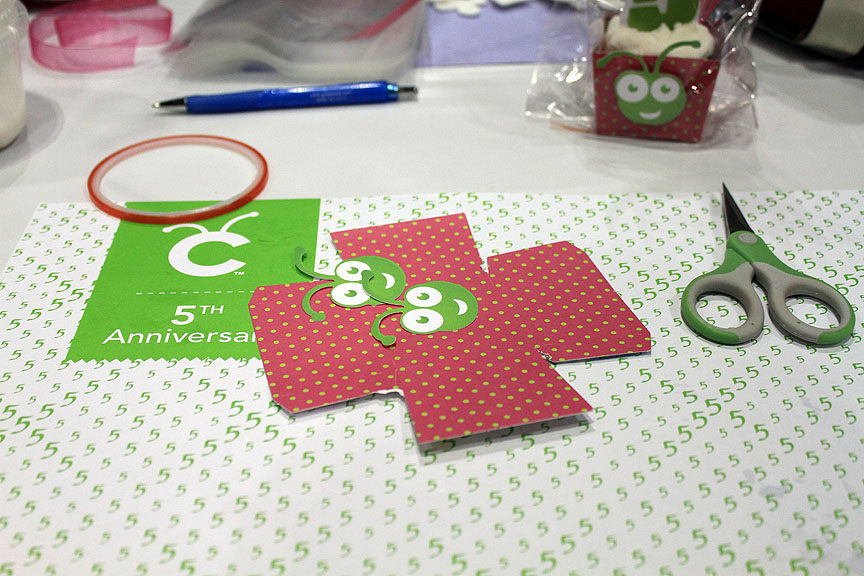 Provo Craft offers several classes daily, but you have to arrive early to sign up.  The classes fill up fast.  Erin and I arrived at the show around 10:30 a.m. this morning and the classes were already gone.  We are going to try and get there at opening tomorrow and see if we can get a class.  This picture is from a class Jinger and Robyn (My Pink Stamper) were conducting on Sunday afternoon.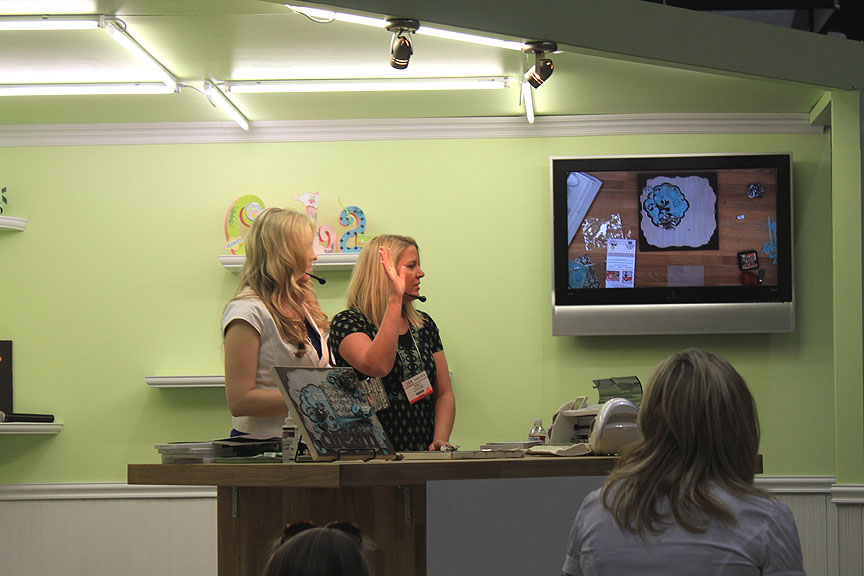 As I stated above, Provo Craft is doing a daily raffle in their booth at 3 p.m.  These are pictures from the first day's raffle.  Jinger drew a ticket and the winner came onstage.  Then the fun began — the winner could chose to take a cartridge (Birthday Bash) or spin the Cricut wheel, where prizes ranged from an Imagine to a high-five from the Cricut himself.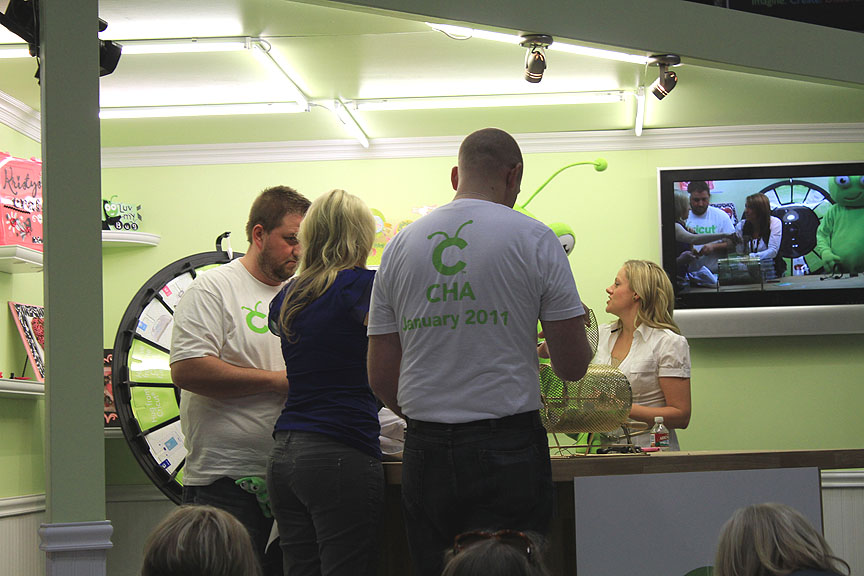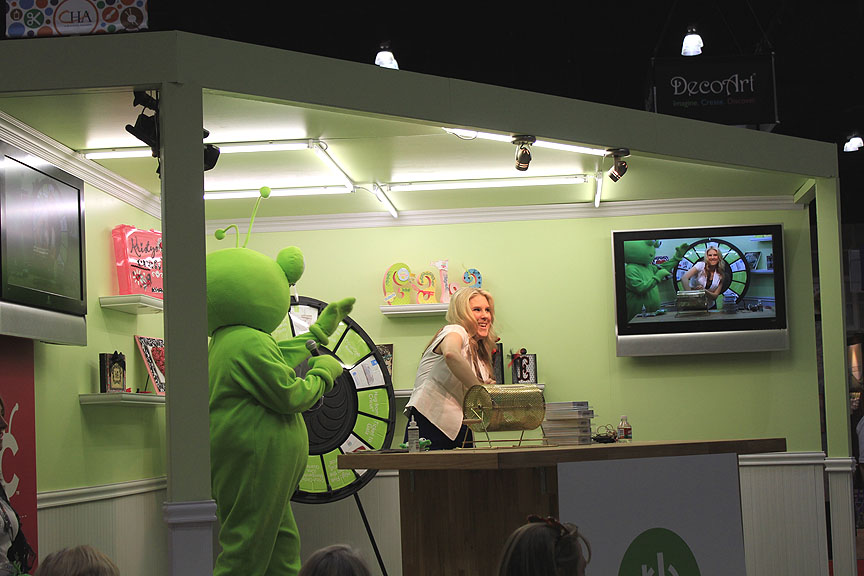 The first name drawn was Erin's, which was such a surprise because she says she never wins anything.  Since she already has Birthday Bash, she chose to spin the wheel.  Round and round it when until it landed on the Your Story Photo Machine. 
Everyone chose to spin the wheel and most were lucky — one won the new Yudu Cardmaking Machine, another won a Circle membership, but only one lady did not win.  Well, she won a high-five from Cricut himself, but as she was walking off, Jinger handed her the Birthday Bash cartridge.  So everyone was a winner!