Ho, ho, ho!
Who wouldn't go!
Ho, ho, ho!
Who wouldn't go!
Up on the rooftop
Click, click, click
Down thru the chimney with
Good Saint Nick
The above chorus is the inspiration for this card.  I haven't made a card in so long that I finally took a little time and came up with this card for this week's challenge at Jitterbuggin.  Now I have to put all the papercrafting supplies away and get back to embroidering. 
I don't know why, but this card seemed to take forever to make.  I'm glad I didn't keep track of the hours I have in it — it would probably be embarrassing to admit I took that long.  
The challenge was fairly easy — no sketch to follow or any requirements other than to use a Santa on your card.  I sure hope Santa Paws counts because he is certainly busy up on the wooftop with his little kitty helper.
I laid the card out in Design Studio and used a house from the Cricut Lite cartridge Jolly Holidays for the roof.  The house is over 10″, but I laid it on the mat so that the house part was off the mat and the only part that cut was the roof.  I wanted the roof to fill the entire front of my card, which is 5.5″ square.  The house design I used has Santa's feet hanging out of the chimney, but I trimmed them off for this card.  I also used the hide contour feature of Design Studio to hide the footprints in the snow that are on this particular house. 
The patterned paper is all from various DCWV paper stacks and the solid white cardstock on the front is Pearls from Core'dinations. 
Santa Paws is cut from Paper Pups.  The cat is from ZooBalloo and his hat is from Jolly Holidays.  I printed the sentiment directly on the Pearls cardstock, leaving an extra space between the words so I could add a small rhinestone.  The strands of lights are from Create a Critter and I glittered the bulbs.  The snow on the roof is from Martha Stewart.  I added bows from 1/8″ ribbon to give a festive look to the lights.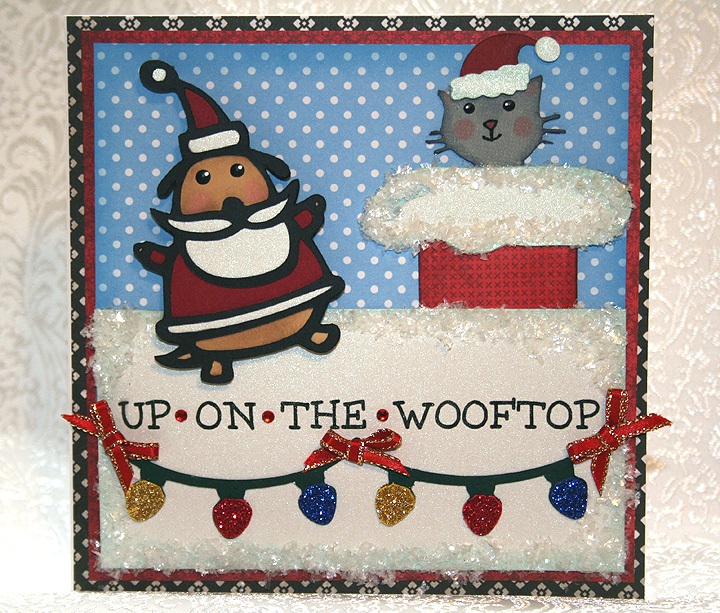 I cut Santa's sack from Paper Pups and put it on the inside of the card.  The sentiment is a $1 stamp that I got at Michaels.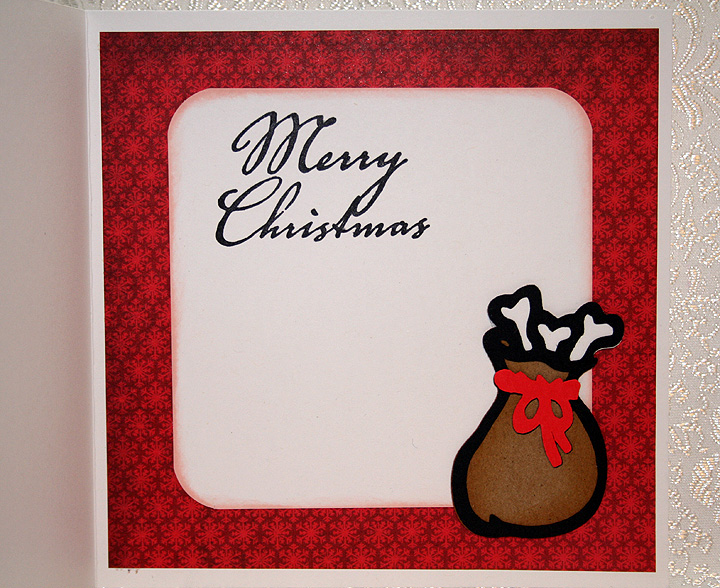 Cricut Design Studio
Cricut cartridges:  Create a Critter, Jolly Holidays, Paper Pups, Zooballoo
DCWV — various paper stacks
Core'dinations Pearl cardstock
Martha Stewart Snow
Glitter, rhinestones, rubber stamp — all from Michaels $1 bins
Ribbon from stash