It has been quite a while since I made a card.  Erin, my darling daughter and the other half of this blog, came out to visit from Taiwan for a month.  We spent a lot of time at Disneyland and had lots of fun.  And we did a lot of shopping.  We went to Michaels so many times — even hit three different stores in one day.  On one of our last shopping trips, we both bought a Cricut Gypsy.  Thanks to so many online tutorials, I am slowly learning how to use it. 
For this card I used my favorite Cricut owl cut, which is from the Disney Happily Ever After cartridge.  I decided to make him a snow owl and wanted the card to be all sparkly and pretty.  The solid cardstock for the card base is Bazzill Bling and the patterned paper is from Heidi Grace, the Frost Blvd collection.   
I cut a snowflake from When It's Cold Outside and cut a circle in the middle of it so the little owl can look out.  The sentiment is cut from Winter Woodland.  I heat embossed both cuts all over using a Versamark Dazzle stamp pad and Ranger holographic embossing powder. 
I used a Martha Stewart corner punch from the Snowfall Punch Around the Page combo for the snowflakes on the corners of the light blue square.  I used two other Martha Stewart snowflake punches to add some extra snowflakes by the sentiment and on the inside of the card.  And I added a lot of rhinestones.
The final embellishment I did was to wrap some yarn around the fold of the card.  I love mini albums and the ribbon and charms that hang from the binding, so I attempted to duplicate that look.   After wrapping the yarn around the card, I threaded some snowflake sequins and beads on thread and attached the thread to the yarn.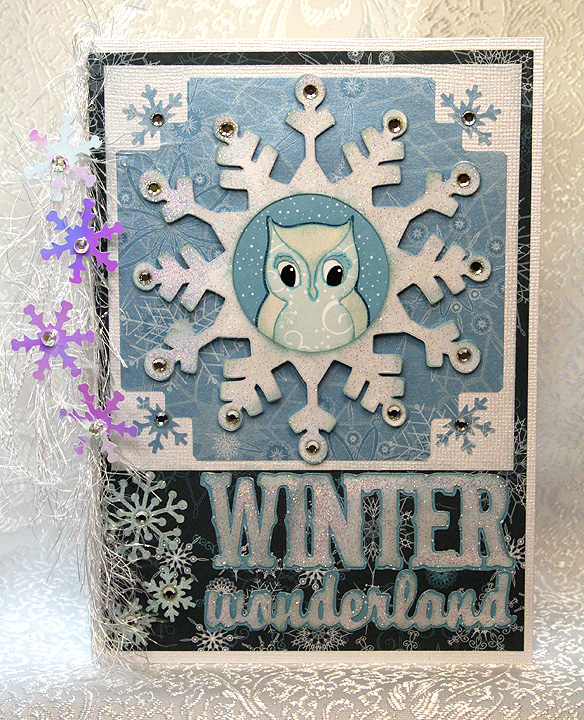 For the inside of the card, I sprinkled snowflakes on both sides and added more rhinestones.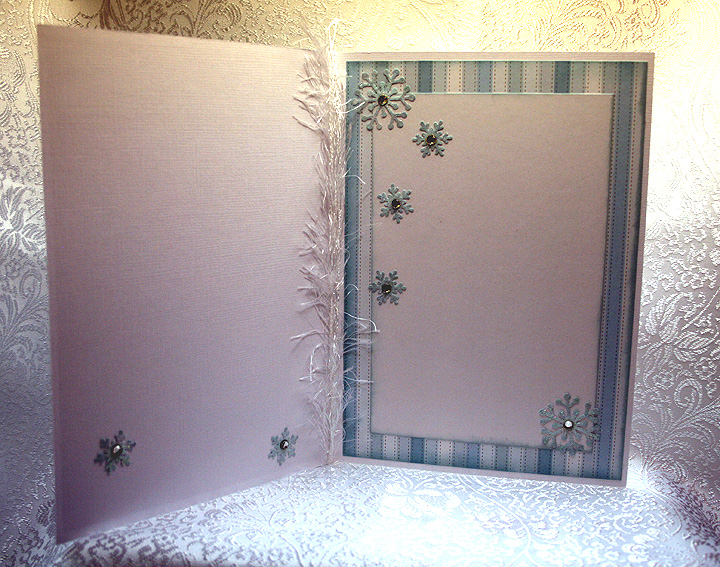 I am going to enter this card in two challenges.  The first is Jitterbuggin's Wise Guys challenge and this week the sketch is optional.  The only requirements are to use a circle and a square, include an owl and a Cricut cut.
The second challenge is Fantabulous Cricut's Challenge Me Monday #34, Bird Bonanza.  For this challenge you have to create a project that has something to do with a bird. 
Bazzill Bling cardstock
Heidi Grace patterned paper, Frost Blvd collection
Cricut cartridges:  When It's Cold Outside, Happily Ever After and Winter Woodland
Versamark Dazzle stamp pad
Ranger holographic embossing powder
Rhinestones, snowflake sequins and yarn from my stash