The challenge this week at Jitterbuggin' is to follow the sketch, use primary colors (red, blue, yellow) and use the Cricut.  Sherri's sketch shows a school theme, which we can use, or we can choose use any theme we want.  I stuck with the school theme because it goes well with primary colors.
This card came to me fairly quickly.  I decided to use "teacher's pet" as my sentiment, literally in this case.  As you can see, I chose a dog as my teacher's pet.  The Cricut cartridges I used are Hello Kitty Greetings for the books and apple, Paper Pups for the dog, and Locker Talk for the sentiment and hall pass inside the card.  Oh, I used one more cartridge — Give A Hoot for the zig zag border that I placed the sentiment on. 
My patterned paper is DCWV's Grade School pack and I used the glittery argyle pattern for the front of the card.  I had a scrap of blue paper from that pack that had a bee printed on it and it just fit the front of my card.  The pup is cut from Core'dinations cardstock and I popped him up using 3D foam pop dots.   I used Glossy Accents on the apple and also on the nose of the dog.  I did some faux stitching with a white Sharpie Poster-Paint marker.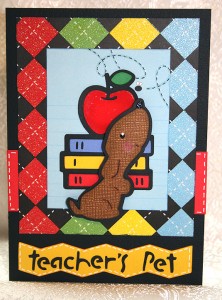 On the inside, I used a Stampin' Up ticket corner punch.  I tied a piece of jute through the hole in the hall pass.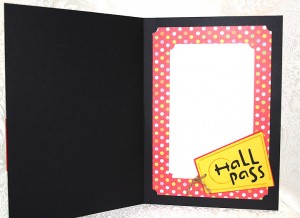 DCWV Grade School paper pack
Core'dinations cardstock
Cricut cartridges:  Hello Kitty Greetings, Paper Pups, Locker Talk, and Give A Hoot
Ranger Glossy Accents
Sharpie Poster-Paint marker
Stampin' Up ticket corner punch
3D foam pop dots and jute from stash